Motorola and Microsoft Foldable Phone Patents, and the new Samsung Galaxy S8 Lite
Renders of Samsung's Galaxy S8 Lite shared on Weibo showcase the phone's design, while Motorola has been granted a patent that describes a foldable phone, which has the screens on the outside.
As can be seen in the image, the new smartphone has not any significant differences compared to the regular Galaxy S8. It has an Infinity display with curved edges, while the rear will continue with the glass build. A dedicated Bixby button is found on the device's frame, along with a fingerprint scanner on the back of the phone.
While the display size is identical to its flagship counterpart at 5.8-inches, the resolution is lower, and tops out at 2220 by 1080 pixels. The back of the phone has a 16-megapixel camera, and inside, there's a Snapdragon 660 chip instead of the Galaxy S8's Snapdragon 835 chip, 4GB of RAM and 64GB of internal storage, and a 3,000mAh battery.
The device could be launched in China in later this month, although there's not any official word.
Separately, Lenovo's Motorola was granted with a patent showing a smartphone that folds out into a tablet, pretty much like other foldable phone patents out there. What makes this one a bit more interesting, however, is not the phone itself but the addition of a case cover. The phone, when folded, has the screens on the outside. This solves the problem with current flexible displays that can't yet be completely folded down flat like paper.
The patent also describes a design for a case accessory. The case functions as the base for using the foldable phone in tent mode. Most importantly, it adds wireless charging capabilities.
The Motorola patent's filing date was 2016, but it was granted last month.
Microsoft has also applied for a patent that shows off a tablet-like device that can fold inwardly or outwardly. The device has two main displays which can be seen when the device is opened up, but it also includes a third display on the hinge.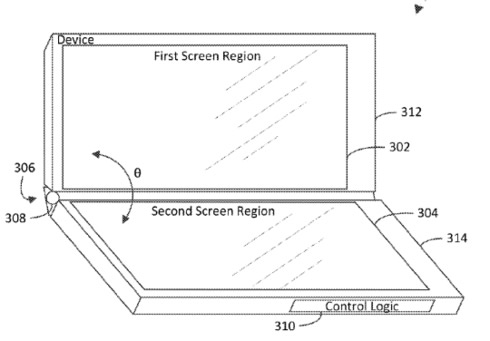 Microsoft has previously applied for a hinge patent for a folding device.