Microsoft Teams Up With Entertainment Leaders For Xbox 360
Just as the rumors indicated, Microsoft is bringing video from a number of providers beyond the ones it initially announced to the Xbox 360 in its fall update, including big guns like Verizon and Comcast. The company plans to roll out the next generation of TV entertainment on Xbox LIVE. It has nearly 40 world class TV and entertainment providers coming to Xbox LIVE including: Bravo, Comcast, HBO GO, Verizon FiOS and Syfy in the U.S.; BBC TV and radio in the U.K.; Telef?nica in Spain; Rogers On Demand in Canada; Televisa in Mexico; ZDF in Germany; and MediaSet in Italy, that will begin rolling out to consoles in more than 20 countries this holiday.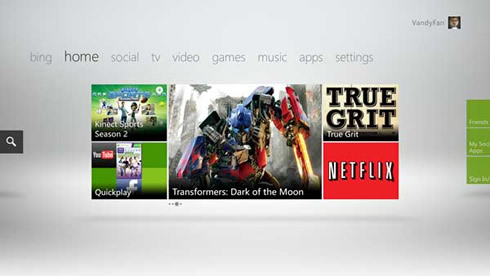 "Today's announcement is a major step toward realizing our vision to bring you all the entertainment you want, shared with the people you care about, made easy," said Don Mattrick, president of the Interactive Entertainment Business at Microsoft. "Combining the world's leading TV and entertainment providers with the power of Kinect for Xbox 360* and the intelligence of Bing voice search will make TV and entertainment more personal, social and effortless."
These new TV and video providers announced today join Microsoft's existing lineup of TV and video entertainment partners already on Xbox 360 - AT&T, Netflix and Hulu+ in the U.S., TELUS in Canada, BSkyB in the U.K., Canal+ in France, Vodafone Portugal, VimpelCom in Russia, and FOXTEL in Australia.
In addition to adding TV providers and names in sports, the biggest names in Web video, news and music are also coming to Xbox 360, including AlloCine, Dailymotion, iHeartRadio, MSN with MSNBC.com, "The Today Show," TMZ, VEVO and YouTube.
Xbox LIVE currently has 35 million members worldwide who spend 2.1 billion hours a month on the service, which saw three times the growth in video consumption last year, Microsoft claims.
Microsoft's Entertainment Partners on Xbox 360 (New and existing)
| | |
| --- | --- |
| • | ABC iView – Australia |
| • | AlloCiné – France, Germany, Spain, U.K. |
| • | Antena 3 – Spain |
| • | Astral Media's Disney XD – Canada |
| • | AT&T** – U.S. |
| • | BBC – U.K. |
| • | blinkbox – U.K. |
| • | Bravo – U.S. |
| • | BSkyB** - U.K. |
| • | Canal+* - France, Spain |
| • | Channel 4 – U.K. |
| • | Channel 5 – U.K. |
| • | CinemaNow (Best Buy) – U.S. |
| • | Comcast – U.S. |
| • | Crackle – Australia, Canada, U.K., U.S. |
| • | Dailymotion – Available in 32 markets |
| • | EPIX – U.S. |
| • | ESPN** – U.S. |
| • | Facebook** – Available in all 35 Xbox LIVE markets |
| • | FOXTEL** – Australia |
| • | GolTV – Spain |
| • | HBO GO – U.S. |
| • | Hulu – Japan |
| • | Hulu +**– U.S. |
| • | iHeartRadio (Clear Channel) – U.S. |
| • | Last.fm**– U.K., U.S. |
| • | LOVEFiLM – Germany, U.K. |
| • | Manga Entertainment – U.S. |
| • | Maple Leaf Sports & Entertainment/Real Sports – Canada |
| • | MediaSet – Italy |
| • | MSN with MSNBC.com – Canada, France, Germany, Italy, Japan, Mexico, Spain, U.K. |
| • | MUZU.TV – France, Germany, Italy, Spain, U.K. |
| • | Netflix**– Canada, U.S. |
| • | Rogers On Demand Online (RODO) – Canada |
| • | RTVE – Spain |
| • | SBS On Demand – Australia |
| • | Syfy – U.S. |
| • | Telefonica – Spain |
| • | Televisa – Mexico |
| • | "The Today Show" – U.S. |
| • | TELUS** – Canada |
| • | TMZ – U.S. |
| • | Twitter** – Available in all 35 Xbox LIVE markets |
| • | UFC – Canada, U.S. |
| • | Verizon – U.S. |
| • | VEVO – Canada, U.K., U.S. |
| • | VimpelCom** – Russia |
| • | Vodafone Portugal** – Portugal |
| • | YouTube – Available in 22 markets |
| • | ZDF – Germany |
| • | Zune**– Australia, Austria, Belgium, Canada, Denmark, Finland, France, Germany, Ireland, Italy, Japan, Mexico, New Zealand, the Netherlands, Norway, Spain, Sweden, Switzerland, U.K., U.S. |