Microsoft Previews The New Windows Live Essentials
Microsoft will update the free Windows Live Essentials suite of software and services to make make it easier to communicate and share from your Windows PC. Windows Live Essentials 2011 is a suite of free programs. These include Photo Gallery and Movie Maker, Messenger, Mail and Sync. When you download Windows Live Essentials, you can install all of these programs at once or install just the ones you want.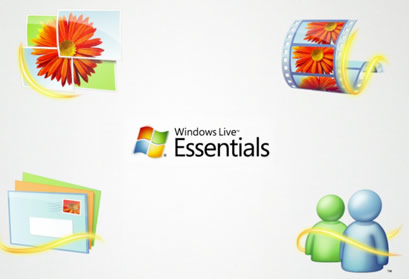 What's new in Windows Live Essentials
Photo Gallery
- Photo Fuse: Photo Fuse allows you to take the best parts of multiple photos to combine them into one photo with an easy-to-use editing tool.
- Facial recognition: Facial recognition technology allows Photo Gallery to find pictures that have people in them and deduce who is in those pictures based on who you have tagged in past pictures.
- Retouch: Whether it's a blemish, scratch, bruise or stain, Photo Gallery's Retouch feature enables you to make it look like it never happened.
- Batch auto adjust: Take your photos from good to great in seconds by clicking auto adjust. In a matter of moments, your photos - exposure, color balance and sharpness will receive a fine-tuning
- Find Tab: Photo Gallery's new Find Tab allows you to naturally filter your photos by faces, names, dates, geo-locations, descriptive tags, folder titles or any combination.
- Easy import: With Windows 7, it's easy to get photos and videos off your devices and organized on the computer quickly.
- User interface: Windows Live Photo Gallery and Movie Maker use the same scenic ribbon toolbar that is in Windows and Microsoft Office, putting all the right tools at your fingertips.
Movie Maker
- AutoMovie themes: AutoMovie will add a theme to your photos and videos in minutes that includes transitions, a title, captions and a music soundtrack. You can use these same themes in Photo Gallery's slideshow mode.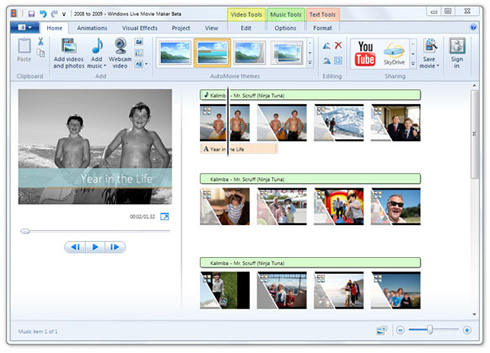 - Video and audio editing: Movie Maker's editing makes finding and including the sweet spot of each video clip a snap. It also allows you to tailor your movie?s soundtrack to set the right mood with easy audio editing.
- Save in high-definition formats (720p and 1080p): Save the movie you created in Movie Maker in a high-definition format that can be burned to a DVD using Windows DVD Maker.
- Share online: Publish your creation to Facebook, Flickr, YouTube or SkyDrive with the extensibility to add plug-ins for other online sharing sites right out of the gate.
- Share in more ways: Save a movie in 1080p or to a portable device
Sync
- Sync folders across your PCs (and Macs): Windows Live Sync keeps folders you choose, such as documents, pictures, music and more, in sync across your computers so you can work or play wherever you want. Update a file on one computer, and it will automatically sync to the rest when they're turned on and connected to thinternet. Once your folders are synchronized, your files are available on the computers to which you've synchronized even when you don?t have internet access.
- Remote desktop: Leave your PC online, and you can access its files and apps virtually anywhere from http://devices.live.com. Find your PC among the list of devices on the website, and click "Connect to this computer" to remotely control your PC.
Mail
- E-mail account aggregation: Windows Live Mail can help you manage multiple e-mail accounts, calendars, RSS feeds, contacts and newsgroups in one place.
- Offline access: E-mails sent or calendar edits you make while offline will be queued up and synced next time you have an internet connection. Any activity in your mail accounts or calendars online will automatically sync with Windows Live Mail. Once synced, Windows Live Mail will allow you to access your previously downloaded e-mails and calendar regardless of connectivity.
- Shared calendars: Access, view and edit calendars that have been shared with you right from Windows Live Mail.
- Windows Live Messenger integration: Reply to a friend with an instant message right from Windows Live Mail. You'll know they're online because their presence is integrated right into the e-mail header.
- Inbox management tools: With conversation-threading reduce, you now have the convenience of viewing your messages in alternate and organized ways that you choose. In addition, the quick views organize and find selected types of items (unread mail from contacts only, flagged e-mails, all mail across inboxes, etc.) across your e-mail accounts, newsgroups and feeds.
- Slim Cal: Instantly view your calendar without navigating away from the context of your inbox.
- Photo e-mail: Send hundreds of photos up to 10 GB via link in one e-mail. Add captions, layouts and edit your photos from within Windows Live Mail.