Microsoft Introduces The Microsoft Health And Band
Microsoft is entering the marhet of wearable gadgets with a new platform called Microsoft Health, designed to make it easier for you to track your personal fitness, along with its first wristband, the Microsoft Band. Microsoft Health will unite data like steps, calories, heart rate and more from different health and fitness devices and services to give you insights on the data collected. Available on Windows Phone, iOS and Android, it is a new security-enhanced cloud platform that stores and analyzes all of this data.
Microsoft Health will work with with UP by Jawbone, MapMyFitness, MyFitnessPal and RunKeeper today – with support for more devices and services to come.
Microsoft also announced the Microsoft Band. It is actually a "smart band" designed to be worn 24 hours a day for people active at work or at the gym. It has 10 smart sensors for 24 hour heart rate monitoring, calorie burn measurement, sleep quality tracking and more. The Microsoft Band will keep you connected at a glance with smart notifications including incoming calls, emails, texts and social updates as well as access to Cortana from your Windows Phone device.
Alerts and notifications
Text Messaging: Get your text messages right on your wrist.

Calls: See incoming call and voicemail notifications on your band.

Calendar: Microsoft Band stays in sync with the calendar on your phone, reminding you of important events throughout the day so you can be where you need to be.

Email: Monitor and preview email activity right on your band, so you don't have to pull out your phone in the middle of your lunch date.

Smart notifications: Choose which alerts you get on your wrist. Change the notification settings on your phone and your Microsoft Band will match.

Watch mode: Turn on "Watch Mode" to always display today's time and date without pressing any buttons.
Facebook & Facebook Messenger: Stay up to date on Facebook without having to check your phone. Get the latest posts, comments, photo notifications, and personal messages on your band.

Twitter: Tweets, mentions, retweets, messages, new followers. Set your preferences on your phone and see it all on your wrist.

Cortana: If you're using Windows Phone 8.1, you can take notes and set reminders with your voice using Cortana personal assistant.

Weather: Get real-time weather conditions and a 5-day forecast to plan your week.

Finance: Create a watch list for select stocks in your Microsoft Health app. View the latest ticker activity right on your wrist.

Starbucks: No need to reach for your wallet. Enjoy coffee on the go with your Starbucks card ready to scan at arm's length.
Timer & Stopwatch: Time your laps or your entire workout with the stopwatch. Set alarms to wake up silently or remind you to go for a run.

Do-not-disturb mode: Tap the icon on your band to turn all notifications off.

Personalization: With your choice of background designs and colors, let Microsoft Band reflect your personality.

Display: The full color touch display is bright and easy to read, even in direct sunlight.

Bluetooth 4.0: With Bluetooth 4.0, your data syncs to your phone in the background, so Microsoft Band is always up to date. You don't have to log in to get the latest.
The Microsoft Band is now available in limited quantities in the U.S. at MicrosoftStore.com and starting October 30th at Microsoft Retail Stores for $199 (U.S.).
With the Microsoft Health Windows Phone app, you can personalize your Microsoft Band. You can check out your wellness goals and your fitness data like your heart rate, steps, calorie burn, and sleep quality as well as maximize your fitness with Guided Workouts, 24-hour heart rate monitoring and automatic activity counting. You'll also be able to configure email previews and at-a-glance calendar alerts and take notes and set reminders with Cortana. The Microsoft Health app is available from the Windows Phone Store.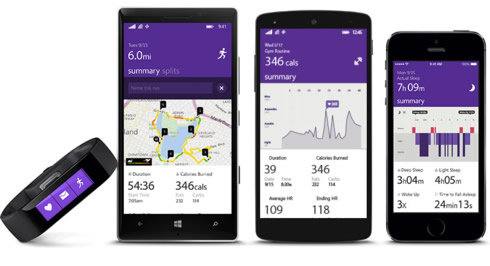 Microsoft Health is a fit for Microsoft because of the company's lineage in cloud platforms and health and fitness data. Microsoft HealthVault, which allows people to gather, store and share health information with medical providers on a security-enhanced platform, has existed for nearly a decade. Add in MSN Health & Fitness and Xbox Fitness and the company has a long history of helping people manage and learn from fitness data.
Specifications Microsoft band
Band material: Thermal plastic elastomer with adjustable fit clasp
Display:

Size: 11mm x 33mm
Type: Capacitive 1.4" TFT full color display
Resolution: 320 x 106 pixels

Battery life: 48 hours of normal use; advanced functionality like GPS use will impact battery performance
Average charge time: Full charge in less than 1.5 hours
Battery type: Dual 100mAh rechargeable lithium-ion polymer batteries
Operating temperature ranges: -10°C to 40°C (14°F to 104°F)
Maximum operating altitude: Approximately 12,000m
Warranty: 1 year limited warranty for manufacturing defects
Sensors:

Optical heart rate sensor
3-axis accelerometer/gyro
Gyrometer
GPS
Ambient light sensor
Skin temperature sensor
UV sensor
Capacitive sensor
Galvanic skin response
Microphone

Additional technology:

Microphone
Haptic vibration motor

Connectivity: Bluetooth 4.0 (Low Energy)
Supported mobile devices: Works with Windows Phone 8.1 update with Bluetooth, iOS 7.1 and later: iPhone 4S, 5, 5C, 5S, 6, 6 Plus and Android 4.3-4.4 phones, with Bluetooth.
Charge cable connector: Magnetically-coupled connector to USB
Water resistance: Dust- and splash-resistant
What's in the box:

Microsoft Band
USB magnetic connector cable
Safety & warranty document
Quick Start Guide