Logitech G Introduces Its Best Gaming Mouse Yet - The G900 Chaos Spectrum
Logitech G is introducing the Logitech G900 Chaos Spectrum, its best gaming mouse yet with professional-grade wireless, featuring wireless technology, advanced optical gaming sensor, flexible design and customizable lighting.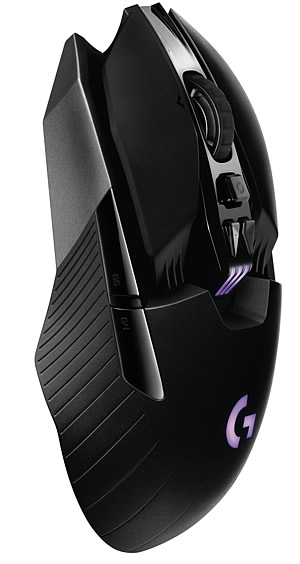 The company claims that the new mouse outperforms both wireless and wired competitors with its one-millisecond report rate and highly optimized 2.4GHz wireless connection. Thanks in part to the clock-tuning technology that reduces power consumption, you can play continuously for 32 hours on a single charge (24 hours with default lighting). When you're running low on power, the Logitech Gaming Software (LGS) Battery Assistant will notify you. There's no need to stop playing to recharge as the mouse switches between wireless and wired modes when plugged in. Since a full charge from empty takes about two hours, you're never attached to the cord for long.
The Logitech G900 Chaos Spectrum features the PMW3366, Logitech's optical gaming sensor with exclusive clock-tuning technology. The PMW3366 precisely interprets every hand movement onto the screen for responsive performance, even at high sensitivity. It has zero smoothing or filtering across the entire DPI range (200-12,000 DPI).
Going beyond ambidextrous, the Logitech G900 Chaos Spectrum can be transformed into a left- or right-handed mouse, using the included magnetic button covers. The mouse is constructed for a non-prescriptive grip that accommodates a variety of palm, claw and fingertip holds. Using LGS, lighting color and brightness can be programmed to match your style, system and environment from a palette of up to 16.8 million colors.
A metal spring tensioning system and mechanical pivoting hinges are built into the main left and right keys. This system reduces the pre-travel distance between the buttons and switches, while also minimizing the force required to click, enabling faster recovery after each click.
The wireless gaming mouse weighs in at 107g.
It is expected to be available in the U.S. and Europe beginning April 2016 for a suggested retail price of $149.99 and €179.