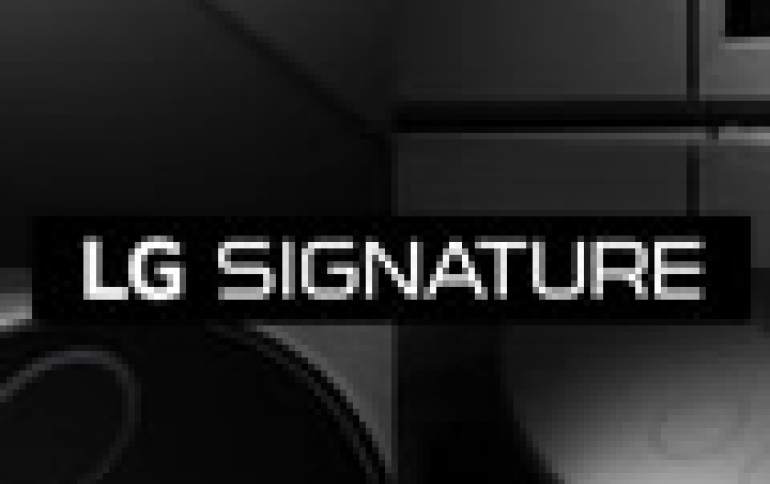 LG Promotes New 'Signature' Brand for Home Appliances and Consumer Electronics Products
LG Electronics will use the LG SIGNATURE brand to promote its latest home entertainment and appliance product lineups, during CES 2016. Sales of the new products will commence in North America, Europe and Asia soon after CES next month.
The LG SIGNATURE lineup was selected and designed by a team within the company with input from design experts. LG SIGNATURE will initially consist of a television, refrigerator, washing machines and air purifier, with more products to be added as the brand expands.
LG is offering a brief preview at www.LGSIGNATURE.com. Outdoor pedestrians at Times Square, New York City and Piccadilly Circus, London will be able to see the video on LG billboards starting today.
LG also said that its new webOS 3.0 operating system is not only intented for use on OS smart TVs. The OS is now also verified by UL, a global testing and certification organization, for its compatibility with Internet of Things (IoT) devices in the home. With a proprietary IoTV app, LG's 2016 SMART TV lineup delivers smart home management functions via webOS 3.0 to control LG smart appliances through LG SMART TVs running webOS 3.0.
Once connected, the status of the various appliances appear on the LG SMART TV's display, acting as an interface between users and devices. Through the TV screen, users can control specific home appliances such as refrigerators, air conditioners or washing machines connected via Wi-Fi or wires. With webOS 3.0, homeowners can adjust the brightness of the lights in the room or change the temperature setting of the air conditioner.
UL has verified a series of LG webOS 3.0-enabled OLED and UHD TVs and LG's IoT technology will be demonstrated at the Smart Home zone of LG's CES booth from January 6-9.
Vacuum cleaner meets augmented reality technology
LG will unveil an upgraded lineup of its CordZero collection at CES 2016 which will be headlined by HOM-BOT Turbo+, the first robotic vacuum cleaner equipped with augmented reality technology.
LG's robotic vacuum cleaner employs augmented reality technology in a smart feature called Home-Joy. This new user interface allows consumers to issue instructions to the vacuum cleaner by designating areas that need extra cleaning using the camera of any smartphone. Simply tap on the part of the room in the image to clean and HOM-BOT Turbo+ goes to that exact location and begins cleaning.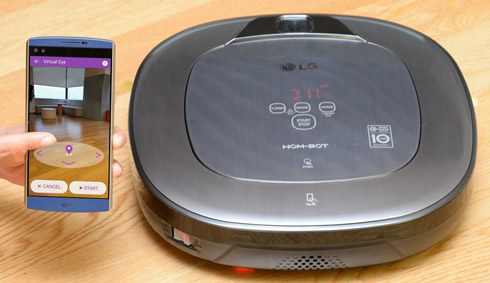 HOM-BOT Turbo+ features Triple Eye camera sensors which record the surrounding area - including the ceiling - to track where it has already cleaned. The camera located on the front of the HOM-BOT Turbo+ enables other smart features such as Home-View and Home-Guard. The Home-View feature transmits a real-time feed to owners' smartphones, enabling them to remotely control the HOM-BOT Turbo+ and clean the home anytime, anywhere. The Home-Guard feature gives consumers extra security and peace-of-mind by sending photos of inside the home to a paired smartphone when the HOM-BOT Turbo+ senses movement.
The HOM-BOT Turbo+ intelligently navigates consumers' homes and avoids obstacles such as stairs thanks to Robonavi, an intelligent software system that utilizes the robot's dual CPUs to make fast directional decisions.