Lexar 64GB Jumpdrive S45 review
1. Meet the Lexar 64GB Jumpdrive S45
We are looking at the Lexar 64GB Jumpdrive S45, a tiny flash storage device designed to be plugged into the USB port of your laptop, TV, or car stereo system, and expand its storage capabilities.
As you see below, the obvious advantage of the drive is its size - its compact, low-profile design means you can plug it in and forget it-it's always at the ready for storing and accessing files. You can store and transfer photos, videos, and files at USB 3.0 speeds - up to 150MB/s read and 45MB/s write.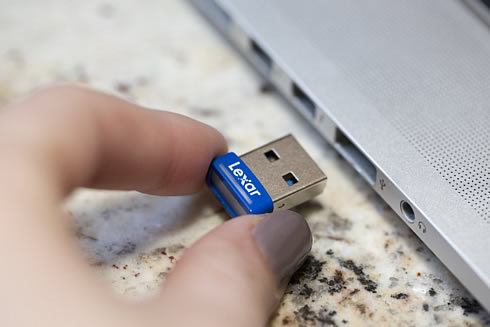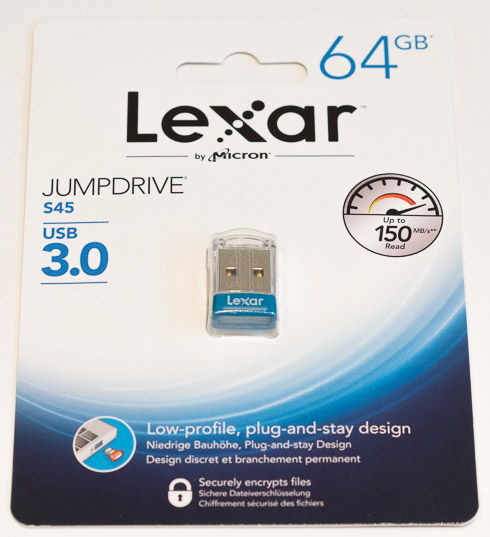 The drive also includes a security software and it's available in a range of colorful capacity options (16GB-128GB). The EncryptStick Lite software is a security solution with 256-bit AES encryption to help protect your essential files against corruption, loss, and deletion. You can create create a password-protected vault that automatically encrypts data. And for peace of mind, files that are deleted from the vault are securely erased and can't be recovered.
Product highlights
Low-profile, plug-and-stay design
Stores and transfers content quickly with USB 3.0 performance (up to 150MB/s read and 45MB/s write)
Securely protects files using EncryptStick Lite software, a security solution with 256-bit AES encryption
Compatible with PC and Mac systems
Backwards compatible with USB 2.0 devices
Three-year limited warranty
Capacities:
16GB in orange (up to 150MB/s read, 20MB/s write)
32GB in blue (up to 150MB/s read, 30MB/s write)
64GB in teal (up to 150MB/s read, 45MB/s write)
128GB in black (up to 150MB/s read and 45MB/s write)