Lenovo Packs Power Into "Tiny" Desktop with ThinkCentre M93p
Lenovo today announced the latest generation of its "Tiny" ThinkCentre desktop PC - the ThinkCentre M93p, which packs high performance into a small form factor measuring just the width of a golf ball (34.5 mm). Lenovo also introduced the latest generation all-in-one (AIO), the ThinkCentre M93z AIO and the ThinkCentre M83 and E93 desktops. All of the new ThinkCentre desktops are powered by the 4th generation Intel Core processors.
With up to the latest 4th generation Intel Core i7 processors with Intel vPro, the ThinkCentre M93p packs performance into a tiny form factor. The M93p also offers and an optional Solid State Hybrid Drive (SSHD) and can be mounted to the wall to save additional space with a VESA mount. Lenovo's "Smart Power On" feature allows the user to power up the desktop directly from a wired or wireless keyboard and an Always On USB port with RapidCharge technology allows charging of connected devices, even when in sleep mode.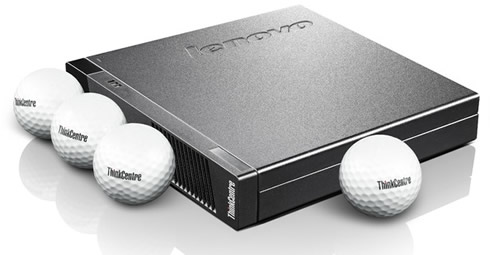 Also available in a new Small Form Factor Pro model with dual graphics and dual hard disk drive support, the M93 offers expandability of a mini-tower at just 50% of the size.
The ThinkCentre M93p/M93 is currently available starting at $749.
The ThinkCentre M93z is built for business collaboration with its full HD 23-inch LED display. With a wide viewing angle, anti-glare and optional 10-point multi-touch screen, the Windows 8 certified M93z offers high desktop performance in an all-in-one package. Business professionals can engage in conference calls with Microsoft 1080p Lync qualified VoIP solutions.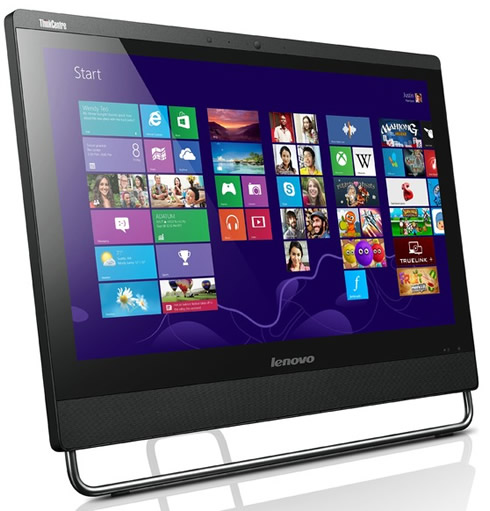 The ThinkCentre M93z is equipped with up to 4th Generation Intel Core i7 processors and SSHD2. Intel vPro Technology enables increased manageability and security with speedy data encryption and decryption, protection from unauthorized access and remote management. The detachable, tool-less chassis design allows for easy access and simple setup of stands. Lenovo's Trusted Platform Module security chip and support for the latest software security and physical chassis protection complete the device's features.
The ThinkCentre M93z desktop, with touch and non-touch versions, is available beginning this month starting at $1,269 and $1,029 respectively.
The ThinkCentre M83 is built for businesses armed with up to 4th generation Intel Core processors and optional SSHD for improved performance. Available in the small form factor pro model, the M83 provides tower expansion ability. It is available beginning this month starting at approximately $699