Lenovo Intel Phone Received China Mobile Network Entrance License
Lenovo K800, the first smart phone with Intel Medfield platform,
has reportedly
received the China Mobile Network Entrance License from China National Telecommunication Equipment Certification Center, Ministry of Industry and Information Technologies (TECC MIIT). This means Lenovo has paved all its way up for the launch of the first Intel Smart Phone Lenovo K800 to the largest mobile phone market in the world.
The Intel-based phone, which drawed media attention in CES2012, has a 4.5-inch screen with the resolution reaching 720p (1280x720 pixels), plus a pixel density of 326ppi. From the photos released by TECC MIIT, the phone looks simple from both front and back: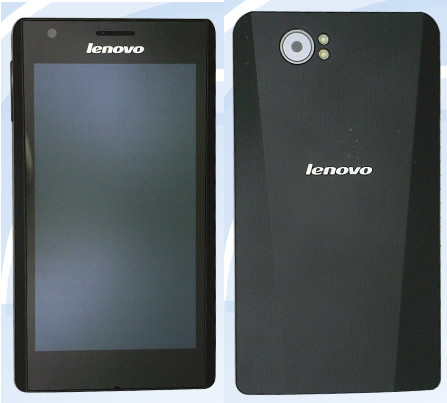 As the main features of the first Intel Smart phone, the Lenovo K800 is equipped with one Intel 1.6GHz Atom Medfield processor, which features 32-nanometer process, and the lowest to the highest main frequency from 600MHz to 1.6GHz. This low power single core processor can reach two-cores by virtual Hyper-Threading technology. The chip comes with 512KB of L2 cache (up to the core level of the ARM Cortex-A15), using dual-channel LPDDR2 program, with PowerVR SGX 540 GPU. Lenovo K800 is equipped with a 1970 mA battery case, in theory, will receive up to 14 days of standby time eight hours of 3G talk time, and four consecutive 15-hour music playback time. According to the information released from TECC MIIT, the Lenovo K800 first comes with Android 2.3 Gingerbread system, and is expected to upgrade to Android ICS 4.0 system shortly.
The Lenovo K800 is also equipped with a built-in 8 Million pixels (8MP) camera, auto-focus and high-speed continuous shooting, as well as 1080p full HD video recording function. In addition, it also supports WCDMA networks and Wi-Fi wireless Internet access, GPS navigation, memory card expansion, Blue tooth technology, and because the machine uses a Lenovo customization Clover UI and built-in localization of Chinese Service such as Sina, Netease, Sohu, so there are media reports that the first launch of K800 is targeted in China market.
In a separate progress from Lenovo, Lenovo launched an Android App Store for the Enterprise. The Lenovo Enterprise App Shop enables IT managers to customize and publish Android corporate apps in an online store, and to purchase volume apps with license management for end users.