4. Final words
Before testing those new cases for well known mobiles phones we were curious about the build quality. After using them for a while, I have no further doubt that Krusell knows how to make quality products that are also affordable priced.Both cases have been proved to be what users want either in terms of installation, good fit, durability and overall build quality.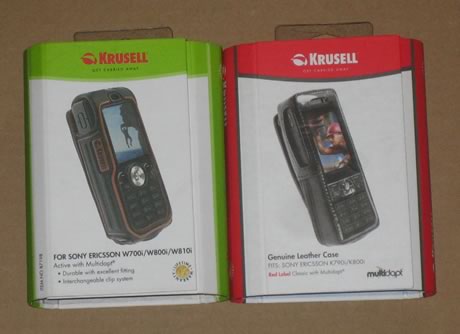 Either Green or Red labels aim for different audiences and for sure have their own positive/negatives. The only drawback we found is that you need to unzip the back in order to use your mobile's digital camera. But I guess its just a matter of getting used to it. In addition, the extra back protection makes the phone look a bit bulkier.
Both cases perfectly fit in the mobile phones and they elegantly protect them without sacrificing functionality.
As a last word, we should say that those products are smoking hot. If you are looking for a brand new case for Sony Ericsson W700/W800/K750/K800/K810i the Red/Green Krusell labels are a perfect choice, available for just $20~$30.