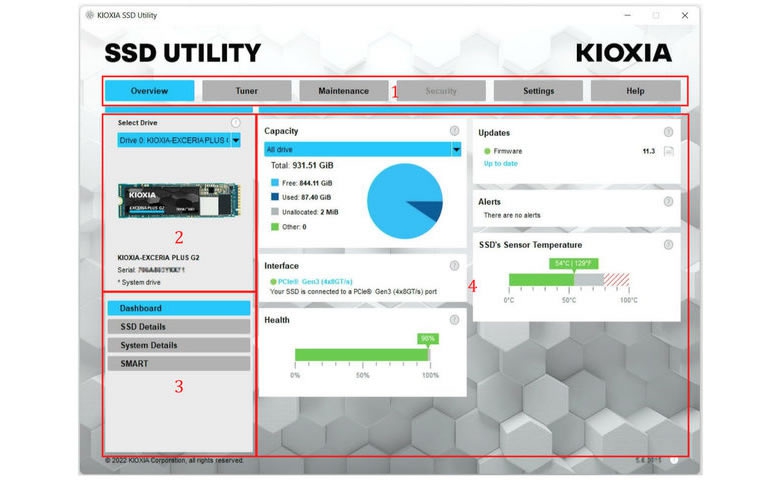 KIOXIA announces new SSD Utility management software compatible with Win111
KIOXIA today announced a new version of their SSD Utility Management software for their products v5.6.0015 with support for Windows 11. KIOXIA strongly recommend updating to the new version as it supports more products and improves stability. SSD Utility is a Graphical User Interface (GUI) based management software tool designed to help you maintain, monitor and tune your SSD!
Dashboard
Get a comprehensive real-time overview of system status, capacity, interface, health, updates, and more.
Maintenance
Every now and then we recommend you update your SSD's firmware to enhance performance and stability. Now you can easily update right here in SSD Utility.
Health Monitoring
Check in on how much life is left in your SSD, find out if your SSD is hooked up to the suitable ports, and set in the correct modes to achieve high performance.
SSD Tuner
This feature allows you to fine-tune your SSD. May quickly adjust the over-provisioning to enhance long-term performance.
Support
Support becomes efficient with the Save Support Package feature. Also, if you need help figuring out settings or troubleshooting an issue, SSD Utility links right to the support contact pages.
Supported drives
EXCERIA PRO SSD
EXCERIA PLUS G2 SSD
EXCERIA PLUS SSD
EXCERIA G2 SSD
EXCERIA SSD
EXCERIA SATA SSD
EXCERIA PLUS Portable SSD
More information
https://europe.kioxia.com/content/dam/kioxia/shared/personal/software/ss...
https://europe.kioxia.com/content/dam/kioxia/shared/personal/software/ss...