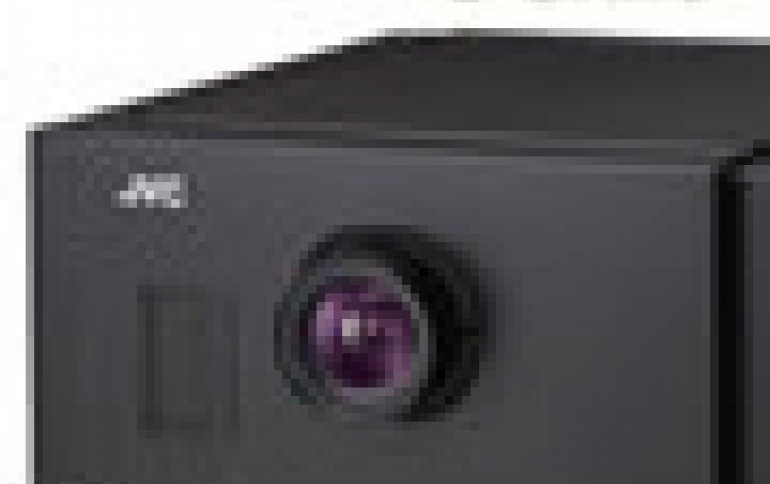 JVC To Release 8K Projector
Later this month JVC Kenwood will release in Japan the DLA-VS4800, the company's first 8K Super Hi-Vision projector. The projector takes advantage of JVC's e-Shift pixel technology to project a virtual resolutions of 8,192 ? 4,800 pixels. The projector's D-ILA display panel is half that resolution (4K, 4,096 x 2,400) but projects two images alternated at 120Hz, one shifted slightly diagonally. This creates the impression of a higher resolution display.
The device is also equipped with a wire grid polarization to achieve high accuracy, a native contrast of 10 000:1 and displays 12bit colors. Its 4500lm luminance has been achieved by using two high pressure mercury lamps of 330W.
The DLA-VS4800 is rated at 1,100 W and its weight is about 51kg. It's reatil price will not be lower than 2,500,000 Yen ($261k), without the 4 available lenses.
Japan is schedulling to start test broadcastings of 4K/8K content in 2016.
Model
DLA-VS4800
Display device
D-ILA 1.27 (4096 × 2400) × 3
Display technology
D-ILA" + "e-shift"
Display resolution
8192 × 4800
Projection lens
(sold separately)

GL-MS4011S 1: 1.1 ratio short focus lens
GL-MS4015SZ 1.5~1.84:1 ratio zoom lens
GL-MS4016SZ 1.5~1.84: 1 ratio zoom lens
GL-MS4021SZ 2.15 ~ 3.65: 1 ratio) zoom lens

Lamps
Two-lamp system - 330W ultra-high pressure mercury lamps
Lamp replacement
3000 hours ( When operating in Low mode)
Brightness
4500lm
Contrast

10000 1 (native)
Video inputs

DVI-D (Dual Link) 24-pin system × 4 (corresponding extended input 12bit), support HDCP
Sync terminal e-shift

BNC × 1
LAN

RJ45 × 1
USB
TypeB system (Slave) × 1
RS-232C
D-sub 9-pin system (male) × 1
Power supply
100V / 200V single-phase AC, 50/60Hz
Noise
55dB (A) (when operating in Low mode)
Power consumption
1100W (6W standby)
Size
660mm × 342mm × 783mm (W xH xD)
Weight
Approximately 51kg (without lens)