I/O: The next evolution of Google
This morning in Google kicked off its annual developer conference, and the announcements were exciting: Meet the Google assistant, the Alexa-like Google Home, the Allo and Duo messaging and video apps, Android N, Wear, the Daydream VR platform, Instant Apps and Google's first AI processor codenamed 'Tensor'. The Google assistant
Google says that the Google assistant is "an ongoing two-way dialogue between you and Google that understands your world and helps you get things done." It makes it easy to buy movie tickets while on the go, to find that perfect restaurant for your family to grab a quick bite before the movie starts, and then help you navigate to the theater.
The assistant will work across devices and contexts. So you can summon Google's help no matter where you are or what the context. "It builds on all our years of investment in deeply understanding users' questions," Google said.
Today Google gave a preview of three new products where you'll soon be able to draw on the Google assistant -- Google Home and Allo and Duo.
Google is entering into the voice-activated home device market. Google Home is a voice-activated home product that allows you to get answers from Google, stream music, and manage everyday tasks.
The device is a virtual agent that answers simple questions and carries out basic tasks. It's actually a small speaker you plug into the wall with always-listening, microphones that can hear you from across the room. It'll play your music, and control some of your home automation gadgets.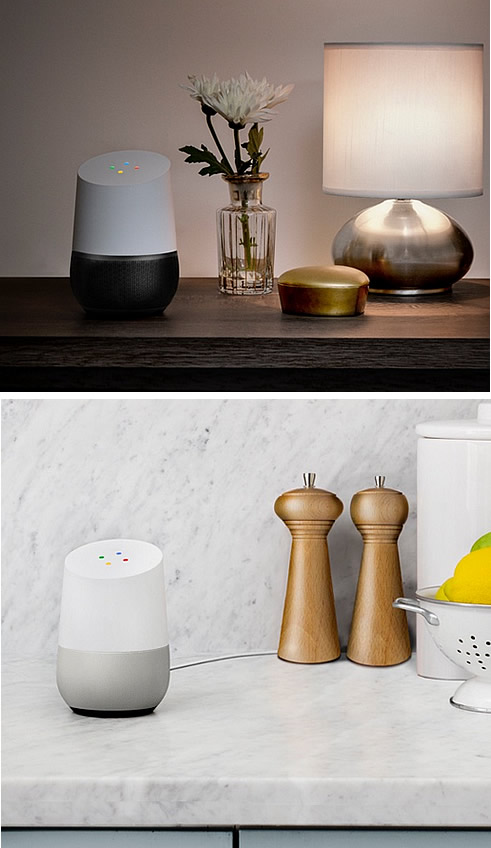 Google Home is designed with multiple rooms and speakers in mind from the start. And because it's using the Cast standard, you can talk to any speaker and tell it to play music on other speakers, just like you can with Google Cast Audio. It will work with Google Play Music, but it should also be able to handle any other service that supports Google Cast, like Spotify.
Google Home will come to market in the fall. The device will compete with Amazon.com's Echo, which was introduced less than two years ago. Amazon has already sold an estimated 3 million units.
Allo and Duo Allo is a new messaging app that also comes complete with the Google assistant.
Allo is based on your phone number, so you can get in touch with anyone in your phonebook. And with integrated machine learning, Allo has smart features to keep your conversations flowing.
Allo has Smart Reply built in (similar to Inbox), so you can respond to messages without typing a single word. Smart Reply learns over time and will show suggestions that are in your style. For example, it will learn whether you're more of a "haha" vs. "lol" kind of person. The more you use Allo the more "you" the suggestions will become. Smart Reply also works with photos, providing intelligent suggestions related to the content of the photo. If your friend sends you a photo of tacos, for example, you may see Smart Reply suggestions like "yummy" or "I love tacos."
Allo also features the Google assistant, helping you find information, get things done, and have fun. You can chat one-on-one with the assistant, or call on Google in a group chat with friends. The assistant in Allo lets you bring things like Search, Maps, YouTube and Translate to all your conversations, so that you and your friends can use Google together. The Google assistant in Allo understands your world, so you can ask for things like your agenda for the day, details of your flight and hotel, or photos from your last trip. And since it understands natural language patterns, you can just chat like yourself and it'll understand what you're saying.
For privacy reasons, Google has created Incognito mode in Allo. Chats in Incognito mode will have end-to-end encryption and discreet notifications, and Google will continue to add new features to this mode.
The second app announced today is Duo - a simple, fast one-to-one video calling app for Android and iOS devices.
Like Allo, Duo is based on your phone number, allowing you to reach anyone in your phonebook. And its simple interface fades away when you're in a call, so it's just the two of you.
One of features of Duo is Knock Knock, which shows you a live video preview of the caller before you pick up. Knock Knock invites you into the moment, making calls feel spontaneous and fun. Once you answer, Duo transitions you right into the call. Duo calls are in HD video (up to 720p) and audio. Google has optimized Duo to work well even on spotty networks, so if bandwidth is limited it adjusts quality so you're still able to connect. Google also transition calls between cellular and Wi-Fi, so you don't need to worry about what network you're on. Finally, all calls on Duo are end-to-end encrypted.
Both Allo and Duo will be available this summer on Android and iOS.
Android N, Wear, VR, and Instant Apps
Google also shared some details about what's coming in Android N, including better performance for graphics and effects, reduced battery consumption and storage, background downloads of system updates, and streamlined notifications so you can power through them faster, and updated emojis including 72 new ones.
The successor to Marshmallow Android OS has not been given an official name yet, so Google is asking everyone to suggest a name for it at Android.com/N.
On top of Android N, Google has built a new platform for high quality mobile VR called Daydream, and oulined plans for headsets that will compete with Facebook's Oculus Rift. Google's entry into the field of virtual reality came two years ago when it unveiled a cheap headset made out of cardboard. The company is poised to get more serious, given far more sophisticated options available for sale.
With Daydream, manufacturers including Samsung, HTC and Huawei will have smartphones capable of handling it. New Daydream headsets promise to be more comfortable and more immersive than the cardboard headset. Those Daydream-capable phones will slot into new Daydream VR headsets created explicitly for Google's new VR initiative.Google itself has designed a reference headset that it's been sharing with partners, along with a reference made-for-VR controller with a built-in orientation sensor that responds to where you are in both the real and virtual worlds.
Google is already distributing guidelines for the new controller with a few buttons, a touchpad and sensors to track its orientation and where it's pointing. The controller can be used to flip digital pancakes, throw things and cast a virtual fishing line.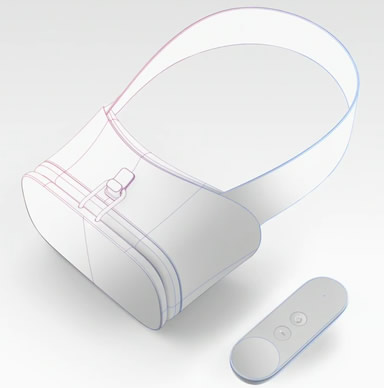 Apps and games will be coming to Daydream too, including Google's - like YouTube, Street View, Play Movies, Google Photos and the Play Store. Google will provide more details this fall.
Google also previewed Android Wear 2.0, including a revamped user experience and standalone apps that run right on the watch, no matter where your phone is or even if it's off.
Finally, Google is introducing Android Instant Apps - which let you run Android apps instantly, without requiring installation.
Today Google launched a big expansion of Firebase, its most comprehensive developer offering to date. Going beyond a mobile backend, the platform helps developers quickly build apps, grow their user base, and earn more money across iOS, Android and the mobile web.
Google's first chip is for Artificial Intelligence applications
Possibly the most importsnt announcement at Google I/O is the "top secret" Tensor Processing Unit, Google's first processor designed to speed up artificial intelligence.
Google said that its AlphaGo computer program that bested South Korean Go champion Lee Se-dol in March took advantage of the new microprocessor chip.
Google said that the Tensor Processing Unit is 10 times faster than alternatives Google considered for this work. The company believes its new chip will give it a seven-year advantage (!) over currently available processors when it comes to machine learning.
Google began using the Tensor Processing Unit in April 2015 to speed up its StreetView service's reading of street signs. The chip also is used in Google search ranking, photo processing, speech recognition, and language translation. The company plans to make the chips available as part of its Google Cloud Platform computing-on-demand service.
Microsoft is also using programmable chips called Field Programmable Gate Arrays to accelerate AI computations, including those used by its Bing search engine. IBM designed its own brain-inspired chip called TrueNorth that is currently being tested by Lawrence Livermore National Laboratory. And Nvidia has been pushing its chips, known as graphical processing units, into artificial intelligence as well.