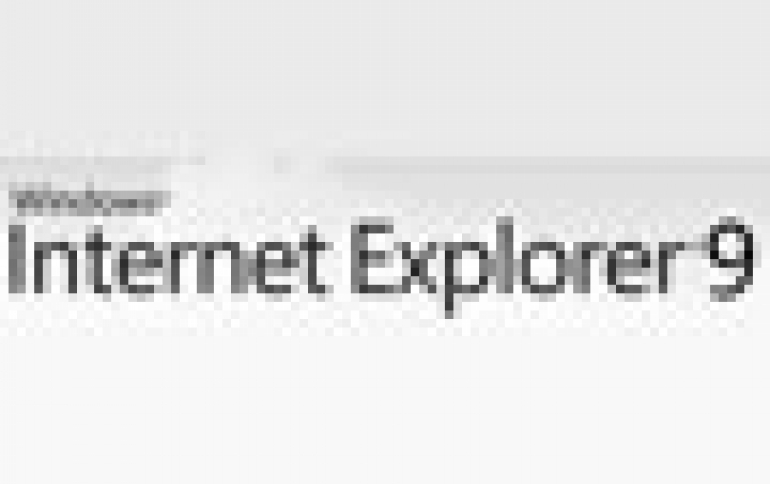 Internet Explorer 9 Preview Available For Download
Today, Dean Hachamovitch, general manager of Internet Explorer at Microsoft, unveiled the Internet Explorer 9 Platform Preview including expanded support for HTML5, hardware-accelerated graphics and text, and a new JavaScript engine, at MIX10. Together these allow developers to use the same markup and deliver graphically and functionally rich Web applications that take advantage of modern PC hardware through a modern operating system.
Microsoft also announced that it will contribute to the development of new features and enhancements in the jQuery JavaScript Library and shared the release of new software development kits (SDKs) for the Open Data Protocol (OData) that make it easier for developers to access data from the cloud to create cross-platform Web applications.
Microsoft detailed its support for a number of HTML5 specifications, including CSS3, Scalable Vector Graphics (SVG), XHTML parsing, and the video and audio tags using industry-standard (H.264/MPEG4 and MP3/AAC) codecs, among others. In addition, Microsoft demonstrated a new JavaScript engine that uses the multiple cores of today?s modern chips to effectively manage computing resources and improve Web performance. By combining increased interoperability with a new JavaScript engine and Direct 2D technology, Internet Explorer 9 enables Web developers to provide users with richer experiences that render more quickly and consistently.
Microsoft showed IE9?s new script engine, internally known as "Chakra," and the progress Microsofft has made on an industry benchmark for JavaScript performance. With the differences between script engines on benchmarks approaching the duration of an eye-blink, Microsoft described their approach for making real-world sites faster. Chakra compiles JavaScript in the background on a separate core of the CPU, parallel to IE.
Microsoft said that IE9 is faster at this benchmark than IE8 and several other browsers.
To improve JavaScript performance even more, Chakra does something quite different from other script engines today. It has a separate background thread for compiling JavaScript. Windows runs that thread in parallel on a separate core when one is available. Compiling in the background enables users to keep interacting with webpages while IE generates even faster code. By running separately in the background, this process can take advantage of today?s multi-core machines ? so, users with a Core2Duo or QuadCore or i7 can apply that power to making webpages faster without any additional effort.
Microsoft also showed its progress in making the same standards-based HTML, script, and formatting markup work across different browsers. The company demonstrated better support for several standards: HTML5, DOM, and CSS3. IE9?s latest Acid3 score is 55, and Microsoft promised that it would continue to go up.
In several demonstrations, Microsoft showed the performance gains that graphically rich, interactive web pages enjoy when a browser takes full advantage of the PC?s hardware capabilities through the operating system. The same HTML, script, and CSS markup work across several different browsers; the pages just run significantly faster in IE9 because of hardware-accelerated graphics. IE9 is also the first browser to provide hardware-accelerated SVG support.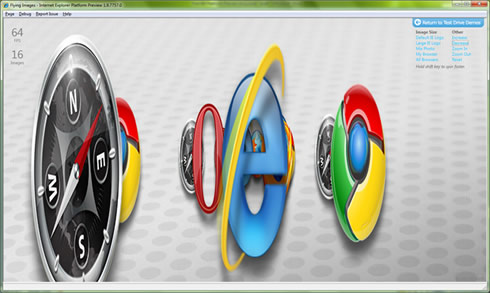 As an example of additional standards support to come in an update to the Platform Preview, Microsoft showed HTML5 video support at the MIX conference, as well as how HTML5 video (specifically industry standard HD-encoded, H.264 720p) has much better performance when it uses the operating system to take advantage of PC hardware for video decoding.
"I am very happy with Microsoft?s commitment to the HTML Working Group and to HTML5," said Philippe Le Hegaret, W3C, Domain Leader.
"Internet Explorer 9 is the first browser to take standard Web patterns that developers use and run them better on modern PCs through Windows," Hachamovitch said.
Starting at MIX10, developers also will be able to track Microsoft?s progress and provide direct feedback on the Internet Explorer 9 Platform Preview by evaluating new code refreshes approximately every eight weeks leading up to the beta release. Developers can download the Internet Explorer 9 Platform Preview at
http://www.IETestDrive.com
. We should note here that Internet Explorer Platform Preview requires Windows 7 (x86 or x64) or Windows Vista SP2 (x86 or x64) (no Windows XP).
"Internet Explorer 9 enabling GPU-accelerated HTML5 is a milestone for visual computing," said Drew Henry, general manager of GeForce and ION GPU business unit at NVIDIA Corp. "By harnessing the power of NVIDIA GPUs, Internet Explorer 9 removes the glass ceiling for Web developers, enabling them to build graphically rich, high-performing Web applications."
As part of Microsoft's engagement with open source communities, Corporate Vice President Scott Guthrie today announced that Microsoft is investing resources to contribute to the development of the jQuery JavaScript Library to help improve the development process of standards-based Web applications. Microsoft will also work to provide better interoperability between ASP.NET and the jQuery JavaScript Library by enhancing ASP.NET so .NET developers can better incorporate jQuery capabilities. In addition, Microsoft will actively promote and distribute versions of the jQuery JavaScript Library by packaging it with popular products such as Microsoft Visual Studio 2010 and ASP.NET MVC 2. As a first step, Microsoft will contribute a templating engine to the jQuery JavaScript Library Team to simplify Web applications.
To enable developers to build cross-platform Web and mobile applications that use data delivered from the cloud, Microsoft also released SDKs for OData, an HTTP and Atom-based approach to data portability, for a number of languages and platforms including .NET, Java, PHP, Objective-C (iPhone and Mac) and JavaScript. In addition, Microsoft announced the second Community Technology Preview (CTP) of Microsoft code-named "Dallas," an information marketplace powered by the Windows Azure platform, which provides developers with access to third-party datasets that can be consumed by Web and mobile applications.
Today, developers can take advantage of more than 30 datasets from content providers, including NAVTEQ, Pitney Bowes Business Insight, Weather Central and Zillow.com, available on the "Dallas" information marketplace. Developers can access the OData SDK at http://www.odata.org and download "Dallas" CTP2 at http://www.Microsoft.com/Dallas.