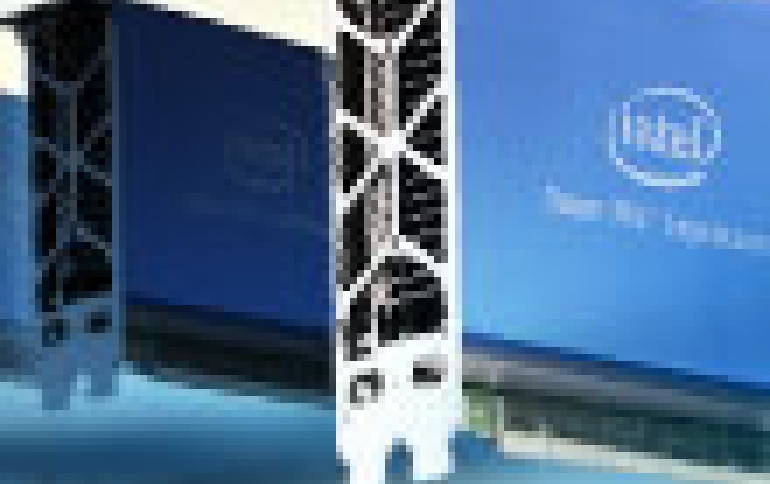 Intel Reveals New Xeon Phi Processors
Intel expands the portfolio of current generation coprocessors with new Intel Xeon Phi 3100 and 7100 product families, providing a variety of cost and performance options. Intel also today disclosed the next generation of 14nm Intel Xeon Phi technology, codenamed "Knights Landing." Since the introduction of Intel Xeon Phi six months ago, Intel Xeon processors and Intel Xeon Phi co-processors have become a powerful combination now powering many of the
world's fastest
supercomputers, including the world's fastest one known as "Milky Way 2," which includes 48,000 Intel Xeon Phi coprocessors and 32,000 Intel Xeon processors and operates at a peak performance of 54.9 PFlops (54.9 quadrillion floating point operations per second). The "Milky Way 2" system has been built for the National Supercomputing Center in Guangzhou China.
Intel is now expanding its current generation Intel Xeon Phi coprocessors with the addition of five new products that feature various performance options, memory capacity, power efficiency and form factors. The Intel Xeon Phi coprocessor 7100 family includes 61 cores clocked at 1.23GHz, 16 GB of memory capacity support (double the amount previously available in accelerators or coprocessors) and over 1.2 TFlops of double precision performance. The Intel Xeon Phi coprocessor 3100 family is designed for high performance per dollar value. The family features 57 cores clocked at 1.1 GHz and 1TFlops of double precision performance.
Lastly, Intel added another product to the Intel Xeon Phi coprocessor 5100 family announced last year. Named the Intel Xeon Phi coprocessor 5120D, it is optimized for high-density environments with the ability to allow sockets to attach directly to a mini-board for use in blade form factors.
Intel also today revealed details of its second generation Intel Xeon Phi products aimed to further increase their supercomputing capabilities. Codenamed "Knights Landing," the next generation of Intel MIC Architecture-based products will be available as a coprocessor or a host processor (CPU) and manufactured using Intel's 14nm process technology featuring second generation 3-D tri-gate transistors.
As a PCIe card-based coprocessor, "Knights Landing" will handle offload workloads from the system's Intel Xeon processors and provide an upgrade path for users of current generation of coprocessors, much like it does today. However, as a host processor directly installed in the motherboard socket, it will function as a CPU and enable high compute density and performance per watt, handling all the duties of the primary processor and the specialized coprocessor at the same time. When used as a CPU, "Knights Landing" will also remove programming complexities of data transfer over PCIe, common in accelerators today.
To further boost the performance for HPC workloads, Intel will significantly increase the memory bandwidth for all "Knights Landing" products by introducing integrated on-package memory.
Product Name

Intel® Xeon Phi™ Coprocessor 3120A (6GB, 1.100 GHz, 57 core)

Intel® Xeon Phi™ Coprocessor 3120P (6GB, 1.100 GHz, 57 core)

Intel® Xeon Phi™ Coprocessor 7120P (16GB, 1.238 GHz, 61 core)

Intel® Xeon Phi™ Coprocessor 7120X (16GB, 1.238 GHz, 61 core)

Code Name
Knights Corner
Knights Corner
Knights Corner
Knights Corner
Essentials
Launch Date
Q2'13
Q2'13
Q2'13
Q2'13
Processor Number
3120A
3120P
7120P
7120X
# of Cores
57
57
61
61
Clock Speed
1.1 GHz
1.1 GHz
1.238 GHz
1.238 GHz
Max Turbo Frequency
 
 
1.333 GHz
1.333 GHz
Cache
28.5 MB
28.5 MB
30.5 MB
30.5 MB
Max TDP
300 W
300 W
300 W
300 W
Memory Specifications
Max Memory Size (dependent on memory type)
6 GB
6 GB
16 GB
16 GB
Max Memory Bandwidth
5 GB/s
5 GB/s
5.5 GB/s
5.5 GB/s
Expansion Options
PCI Express Revision
2.0
2.0
2.0
2.0
Package Specifications
Low Halogen Options Available
See MDDS
See MDDS
See MDDS
See MDDS