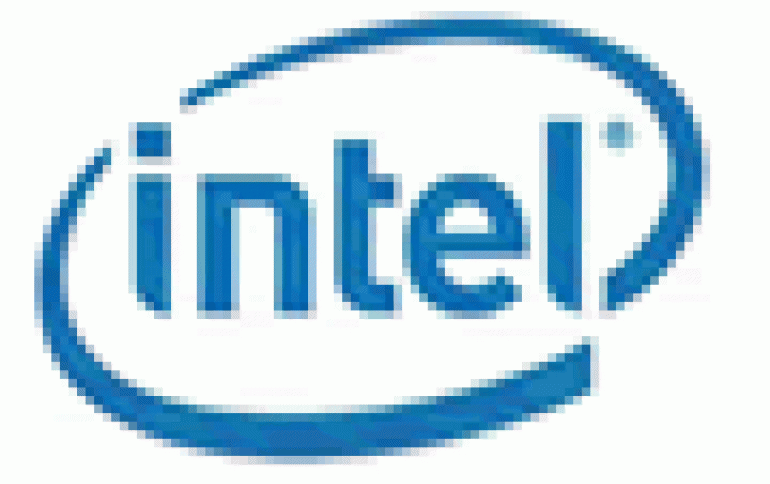 Intel Introduces Dual-core Haswell Chips, Atom SoCs For Tablets, Smartphones, Servers
Intel today officially announced its dual-core Haswell processors along with 22nm quad-core Intel Atom SoCs for tablets and smartphones. We have already
posted information
about the company's quad-core Haswell processors, so today we present the dua-core SKUs.
On the desktop side, currently there is only a single dual-core SKU listed (Core i5-4570T), while the rest dual-core parts are part of the mobile Haswell chips:
Intel 4th Gen Core i7/i5/i3 Dual-Core M-Series and
Desktop i5 Dual-Core T-Series Processors
Model
Core i5-4570T
Core i7-4600M
Core i5-4330M
Core i5-4300M
Core i5-4200M
Core i3-4100M
Core i3-4000M
Cores/Threads
2/4
2/4
2/4
2/4
2/4
2/4
2/4
CPU Base Freq
2.9
2.9
2.8
2.6
2.5
2.5
2.4
Max SC Turbo
3.6
3.6
3.5
3.3
3.1
n/a
n/a
Max DC Turbo
3.5
3.5
3.4
3.2
3.0
n/a
n/a
TDP
35W
37W
37W
37W
37W
37W
37W
HD Graphics
4600
4600
4600
4600
4600
4600
4600
GPU Clock
400-1150
400-1300
400-1250
400-1250
400-1150
400-1100
400-1100
L3 Cache
4MB
4MB
3MB
3MB
3MB
3MB
3MB
DDR3/DDR3L
1333/1600
1600
1600
1600
1600
1600
1600
vPro/TXT/VT-d
Yes
Yes
Yes
Yes
No
No
No
The Core i7 and i5 parts have Turbo Boost and Core i3 doesn?t. The Core i7-4600M along with the i5-4330M and i5-4300M also support vPro/TXT/VT-d, and the i5-4200M and the Core i3 models lack those features.
All of the dual-core M-series parts are equipped with the GT2 variant of Haswell, which means 20 EUs and slightly improved performance relative to Ivy Bridge models. TDPs are also up 2W compared to Ivy Bridge, as a result of the additional features now integrated into the CPU die.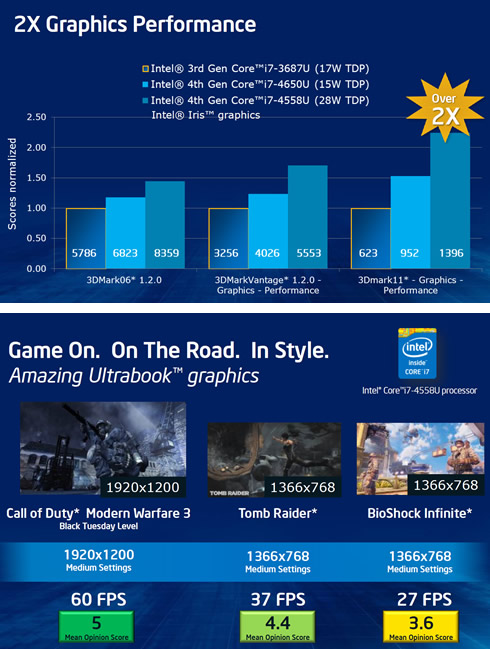 Moving on to the The ULV processors, the maximum dual-core Turbo Boost is now 300-400MHz lower on Haswell. vPro, TXT, and VT-d are no longer supportded by all the chips, and TDPs are down 2W relative to Ivy Bridge. The graphics configurations for the U-series parts include GT3 (HD 5000) with 40 EUs on the higher-spec i7 and i5 chips with GT2 (HD 4400) on the remaining processors.
Intel 4th Gen Core i7/i5/i3 Dual-Core U-Series Processors
Model
Core i7-4650U
Core i7-4550U
Core i7-4500U
Core i5-4350U
Core i5-4350U
Core i5-4350U
Core i3-4100U
Core i3-4000U
Cores/Threads
2/4
2/4
2/4
2/4
2/4
2/4
2/4
2/4
CPU Base Freq
1.7
1.5
1.8
1.4
1.3
1.6
1.8
1.7
Max SC Turbo
3.3
3.0
3.0
2.9
2.6
2.6
n/a
n/a
Max DC Turbo
2.9
2.7
2.7
2.6
2.3
2.3
n/a
n/a
TDP
15W
15W
15W
15W
15W
15W
15W
15W
HD Graphics
5000
5000
4400
5000
5000
4400
4400
4400
GPU Clock
200-1100
200-1100
200-1100
200-1100
200-1000
200-1000
200-1000
200-1000
L3 Cache
4MB
4MB
4MB
3MB
3MB
3MB
3MB
3MB
DDR3/DDR3L
1600
1600
1600
1600
1600
1600
1600
1600
vPro/TXT
Yes
No
No
Yes
No
No
No
No
VT-d
Yes
Yes
No
Yes
Yes
No
Yes
Yes
Intel SBA
 
Yes
Yes
 
Yes
Yes
Yes
Yes
Finally we have the new Y-series processors, which have been designed for tablets. While the Ivy Bridge-based i3-3229Y, i5-3339Y, and i5-3439 had 13W TDP and 7W SDP (Scenario Design Power), while the new Haswell parts have lower 11.5W TDP and 6W SDP ratings. The new Haswell parts are clocked 100MHz lower than their Ivy Bridge counterparts. Te GPU's maximum clock remains at 850MHz but the minimum clock is now 200MHz, which should help improve power use in light/idle workloads.
Intel 4th Gen Core i5/i3 Dual-Core Y-Series Processors
Model
Core i5-4200Y
Core i3-4010Y
Cores/Threads
2/4
2/4
CPU Base Freq
1.4
1.3
Max SC Turbo
1.9
n/a
Max DC Turbo
1.6
n/a
TDP
11.5W
11.5W
SDP
6W
6W
HD Graphics
4400
4200
GPU Clock
200-850
200-850
L3 Cache
3MB
3MB
DDR3/DDR3L
1600
1600
vPro/TXT
No
No
VT-d
No
No
Intel SBA
Yes
Yes
New Intel Core-Powered Ultrabook
The introduction of 4th gen Intel Core ushers in a wave of new Ultrabook in "2-in-1" devices.
All new Ultrabooks are 20mm or less in thickness for systems with displays smaller than 14 inches and 23 mm or less for systems with displays 14 inches or larger.
Ultrabooks wake up in a flash-- going from a very deep sleep state (S4) to screen on in less than three seconds, and wake up from "sleep" mode even faster; additionally, they include SSDs or SSD caches.
The latest Ultrabooks also deliver always fresh data; waking up occasionally to pull data with minimal power consumption still allowing for more than seven days of standby on a single battery charge.
The new devices will be touch-enabled and have Intel Wireless Display capability built in to bring natural touch and motion interactivity and speed mode for low-latency gaming on the big screen. Ultrabooks will also be hardware-ready for voice command and control, giving the user flexibility to choose the most natural way of handling the task at hand.
Ultrabooks are also equipped with built in security capabilities including Intel Identity Protection Technology (Intel IPT) and Intel Anti-Theft Technology (Intel AT) for more computing protection. Websites partnered with Intel IPT help protect log-in information, keeping identities safe based on hardware authentication. Intel Anti-Theft Technology helps protect Ultrabooks by automatically disabling it if lost or stolen. The recently introduced McAfee LiveSafe service brings the deepest protections available by taking advantage of technology in new Intel Core processors and Intel IPT and Intel AT.
Finally, Ultrabooks based on 4th generation Intel Core processors have at least one USB 3.0 port and Thunderbolt technology.
Business, Workstation and Intelligent Systems
Embedded features in 4th generation Intel Core vPro processors strengthen security and increase business productivity. Available today in select business desktops, all-in-one PCs, ultra-small form factor and mobile workstation devices with future availability later this year for Ultrabook, tablet and business laptop devices, Intel Core vPro offers superior performance for secure experiences.
The 4th generation Intel Core processor family is also aimed for the design of high-performance, low-power intelligent systems for retail, industrial, media servers, medical and digital surveillance environments. The improved 3-D graphics and media performance deliver HD media playback, while new Intel AVX 2.0 instructions enable faster calculations.
New features in security:
- Intel Trusted Execution Technology augmented by Intel Boot Guard enhances security throughout the bootup process via a root of trust based in the hardware, and extends that safe boot capability to virtual machines
- Intel Virtualization Technology and McAfee Deep Defender work together to protect virtualized environments against malware and root kit attacks via hardware-based services
- McAfee DeepSAFE Technology detects, blocks and remediates hidden attacks with hardware-assisted security
- Intel Identity Protection Technology provides hardware secured VPN access incorporating private keys, one-time password (OTP) tokens and public key infrastructure (PKI) certificates
- Intel Anti-Theft Technology can remotely send encryption keys to lock down hard drives in missing PCs and has been enhanced for easier enterprise deployability
- New Instructions (AES-NI) enables ubiquitous encryption across business PCs with hardware- based acceleration
- Intel Secure Keys afely generates highly secure encryption keys via the hardware platform
- McAfee ePolicy Orchestrator/Deep Command are extensions of McAfee?s endpoint security management, controlling devices regardless of their on or off power state
- Intel Platform Protection Technology with BIOS Guard protects system BIOS against stealth attacks and unauthorized updates
New features in manageability:
- Enhanced Keyboard - Video - Mouse Remote Control offers full remote diagnose, repair and updating of systems -- now with greater screen resolution and fidelity from anywhere at any time even if systems are powered off or the operating system is unresponsive
- Intel Setup & Configuration Software provides fast and simple PC configuration
- Intel Active Management Technology allows IT or managed service providers to update,disable, lock, wipe or restore thousands of vPro processor-based devices remotely. It does so independent of operating system or power state, promoting an uninterrupted work environment that preserves user productivity in the course of repair.
- Intel vPro Powershell Module for Microsoft Windows Powershell allows customized management and enhanced automation with unique scripts
New features in productivity include up to 2x faster multitasking performance and 19x faster graphics performance over 4-year old systems. Additional features consist of the following:
- Intel Virtual Machine Control Structure shadowing and nesting provides fast and secure virtual desktops to better control data and applications
- Intel Transactional Synchronization Extensions
? New Instructions boosts performance for multi- threaded applications
- Intel Rapid Start Technology provides instant- on access after waking for immediate application use
- Intel Smart Connect Technology keeps email, social networks and other apps that access the Internet constantly updated
Introduced today, the Intel Xeon processors E3-1200 v3 product family comes equipped with graphics featuring hardware accelerated media encode and decode technologies that allows all media and video content providers to deliver up to 4.6 times more videos to customers and decrease their total cost of ownership up to 64 percent versus traditional servers equipped with discrete graphics used today. The new microarchitecture and process technology also allow the lowest-power Intel Xeon processor ever at 13W TDP aimed at microservers and communication infrastructure. Up to 38 percent improvement in graphics performance and up to 18 percent better energy-efficient performance versus the previous generation also provide an opportunity for upgrading workstations, entry-level servers and storage solutions.
Speaking at Computex Taipei 2013, Executive Vice President Tom Kilroy said Intel has more than 50 different 2-in-1 designs in the pipeline across a range of price points, including premium Ultrabook 2-in-1s powered by the new Intel Core processors, and other designs powered by forthcoming processors based on the company's 22nm Silvermont microarchitecture.
Kilroy also highlighted momentum in ultra-mobility, pointing to Intel's next-generation 22nm quad-core and most powerful Intel Atom system-on-chip (SoC; codenamed "Bay Trail-T") yet for tablets coming this holiday, the company's forthcoming 4G LTE multimode solution and its next-generation 22nm Atom SoC (codenamed "Merrifield") for smartphones.
Kilroy also showcased progress in bringing human-like senses to 2-in-1 and other Intel-based devices through the addition of touch, voice and facial recognition and other technologies. Called perceptual computing, these technologies take advantage of Intel processing power to make interaction with devices natural.
He demonstrated short-range gesture and voice-based interaction by giving new Intel Core-based Ultrabook 2-in-1 devices "eyes" with the Creative Senz3D peripheral camera, noting general availability for the camera starting next quarter. Looking to the future, he said Intel is working on an integrated solution to build 3-D depth camera technology directly into future Intel-based devices targeted for the second half of 2014.
Tablets, Smartphones and LTE
Intel's 22nm low-power, high-performance Silvermont microarchitecture is enabling the company to accelerate and significantly enhance its tablet and smartphone offerings.
For tablets on shelves for holiday 2013, Intel's next-generation, 22nm quad-core Atom SoC ("Bay Trail-T") will deliver superior graphics and more than two times the CPU performance of the current generation. It will also enable sleek designs with 8 or more hours of battery life and weeks of standby, as well as support Android and Windows 8.1.
For the first time, Kilroy demonstrated Intel's 4G LTE multimode solution in conjunction with the next-generation 22nm quad-core Atom SoC for tablets. The Intel XMM 7160 is one of the world's smallest and lowest-power multimode-multiband LTE solutions and will support global LTE roaming in a single SKU.
With a number of phones with Intel silicon inside having shipped across more than 30 countries, Kilroy previewed what's coming. He showed for the first time a smartphone reference design platform based on "Merrifield," Intel's next-generation 22nm Intel Atom SoC for smartphones that will deliver increased performance and battery life. The platform includes an integrated sensor hub for personalized services, as well as capabilities for data, device and privacy protection.