Intel Enters The VR Headset Market With Project Alloy
Intel could not stay away from the Virtual Reality market any longer, and announced Project Alloy, an all-in-one VR headset that doesn't need to be connected to a phone or computer. The completely wireless headser is powered by its own processor and battery. It can track rooms on its own, and it tracks your fingers for interacting with virtual objects. There's also a camera that lets you see other objects in your room, as well as nearby people. It's part of Intel's push around "merged reality," which combines both VR and augmented reality into a single experience.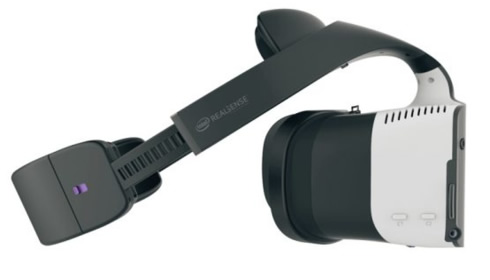 The concept is almost similar with Microsoft's "mixed reality" HoloLens. As a result, Microsoft's Windows Holographic platform will play a key role with Alloy hardware. Terry Myerson, the EVP of Microsoft's Windows devices group, revealed at Intel's Developer Forum that the Holographic platform will be available to all Windows 10 PCs next year. On top of that, Intel will eventually make its Alloy hardware specifications open source, allowing anyone to build one of their own.
In a demo at IDF, an Intel rep wearing a Project Alloy headset was able to wander around the stage, while at the same time navigating a virtual room. When he was prompted to open a door in VR, he reached his hand out to flick a switch. It took a few moments for the headset to recognize his hands. When he approached Krzanich, his boss's face appeared in VR.
Project Alloy doesn't seem as precise as something like the HTC Vive using Valve's Lighthouse laser tracking system. However, it does represent a leap toward merging the type of cordless, lower-budget system we see with Samsung's Gear VR with a higher-end set of capabilities you'd more likely see with the Oculus Rift.