Intel Aims At China With New LTE Cat 6 Solution, Mobile SoC
Speaking at the Intel Developer Forum in Shenzhen, China, Intel CEO Brian Krzanich outlined the company's plans to collaborate with the local technology ecosystem and introduced Intel's 2014 LTE platform and the SoFIA SoC for mobiles.
During his keynote, Krzanich announced the establishment of an Intel Smart Device Innovation Center in Shenzhen and a US$100 million Intel Capital China Smart Device Innovation Fund.

Intel's CEO also detailed several new products and technologies the company will begin offering this year, including Intel Edison, a product-ready, general-purpose computing platform first imagined in the company's research labs in China. He also announced availability of the Intel Gateway Solutions for the Internet of Things (IoT) based on Intel Quark and Atom processors, and demonstrated for the first time SoFIA, Intel's first integrated mobile SoC platform for entry-level smartphones and tablets.

"The China technology ecosystem will be instrumental in the transformation of computing," said Krzanich. "To help drive global innovation, Intel will stay focused on delivering leadership products and technologies that not only allow our partners to rapidly innovate, but also deliver on the promise that 'if it computes, it does it best with Intel' - from the edge device to the cloud, and everything in between."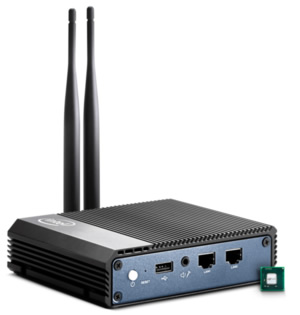 Intel will establish the Intel Smart Device Innovation Center in Shenzhen to accelerate the delivery of Intel technology-based devices to the China market and beyond. The center will expand Intel's work beyond tablets and provide local OEMs, ODMs, and software developers with access to Intel technology platforms and enabling support, including master reference designs for turnkey solutions, development tools, supply chain sourcing, quality management and customer support - acting as a bridge between product conception and commercial deployment.

As 4G LTE service expands in China, Intel sees growth opotunities for its LTE chipsets. Intel's 2014 LTE platform, the Intel XMM 7260, meets the five-mode requirement of China Mobile today, including support for TD-LTE, and TD-SCDMA protocols required in China. Intel is engaged in China for certification of the XMM 7260, paving the way for commercial availability in the second half of 2014 for performance and mainstream device market segments. Krzanich demonstrated the Intel XMM 7260 by conducting the first public, live call using China Mobile's TD-LTE network.

Intel is also developing its SoFIA family of integrated mobile SoCs for entry-level smartphones and tablets. Krzanich demonstrated the family's first silicon, booting up the new integrated Intel Atom platform just months after adding the product to its ultra-mobile roadmap. Intel's SoFIA 3G platform is on track to ship to OEMs in the fourth-quarter of 2014.

Krzanich also said that Intel is on track to ship 40 million tablets this year, and showcased a variety of designs developed in China by OEMs and ODMs.

In addition, Krzanich announced availability of the Intel Gateway Solutions for IoT, an integrated solution based on Intel Quark and Atom processors, in addition to an Intel Galileo-based development platform. These platforms will help businesses reduce costs and offer new services by unlocking data from legacy systems that traditionally haven't had a means to communicate with each other and the cloud. The first platforms integrate Wind River and McAfee software and will be available from the ecosystem this quarter.

Turning to other smart, connected devices that help make up the IoT, Krzanich said Intel Edison is on track for availability later this summer. Krzanich said Intel is extending Intel Edison to a family of development boards that will address a broader range of market segments and customer needs. The first Intel Edison board will now include use of Intel's 22nm Silvermont microarchitecture in development of a dual core Intel Atom SoC, increased I/O capabilities and software support, and a new, simplified industrial design.

Intel also disclosed that the next-generation Intel Xeon processor E5-2600 v3 product family based on the Haswell microarchitecture will be in production in the second half of this year.
Intel also plans to create exclusive content for devices built around its chips, by striking partnerships that would enable the development of software products exclusive to Intel chips, M ore details about the exclusives will be shared on Thursday during the second day of the Intel Developer Forum in Shenzhen, China.