Intel Advances High Performance Computing System Designs
Intel today at announced several high performance computing (HPC) products and programs designed to bring HPC system capabilities and benefits to more industries and workloads. Interestingly, the company also wants to change the game in desktop computing with a workstation that packs its upcoming, 72-core supercomputing chip. Through the Intel Scalable System Framework (Intel SSF), Intel promises to bring high performance computing (HPC) capabilities and benefits to more industries and new workloads. As a foundational element of the Intel SSF, Intel introduced the Intel Omni-Path Architecture (Intel OPA), a new HPC-optimized fabric technology that makes the performance of HPC clusters more accessible to a broader variety of users.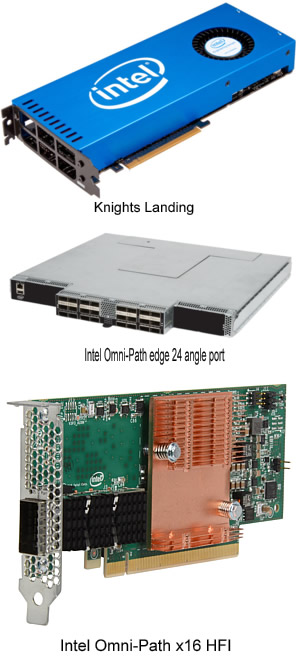 "We're entering a new era in which supercomputing is being transformed from a tool for a specific problem to a general tool for many," said Charlie Wuischpard, vice president and general manager of HPC Platform Group at Intel. "System-level innovations in processing, memory, software and fabric technologies are enabling system capabilities to be designed and optimized for different usages, from traditional HPC to the emerging world of big data analytics and everything in between. We believe the Intel Scalable System Framework is the path forward for designing and delivering the next generation of systems for the 'HPC everywhere' era."
Intel SSF framework combines next-generation Intel Xeon processors and Intel Xeon Phi processors, Intel OPA, silicon photonics, new memory technologies, and the Intel Lustre parallel file system, along with the ability to integrate them into a broad spectrum of system solutions. The framework also provides a ubiquitous and standards-based programming model.
Intel will provide Intel SSF reference architectures, designs and validation tools. These technical system specifications will include hardware and software bill of materials for Intel SSF validated systems.
Colfax, Cray, Dell, Fujitsu Systems Europe, HPE, Inspur, Lenovo, Penguin Computing, SGI, Sugon and Supermicro to announce plans to launch systems based on the Intel SSF early next year.
The Intel OPA is an end-to-end fabric solution that improves the performance of HPC applications for entry level to large-scale HPC clusters. The new fabric features that deliver performance and resiliency without compromise such as packet integrity protection, with no-latency penalty for error detection, and traffic flow optimization for lower MPI latency in mixed storage and MPI traffic environments.
Intel OPA is composed of PCIe host adapters, edge switches, director switches, cabling and open source software tools. It will also be available as an integrated device in Intel Xeon Phi processors (Knights Landing) and future 14nm Intel Xeon processors.
Intel claims that the OPA's 48-port switch enables up to 26 percent more servers than InfiniBand EDR within the same budget and up to 60 percent lower power consumption for a more efficient switch and system infrastructure.
Intel OPA is currently being used at several large sites, including the Texas Advanced Computing Center and the Pittsburgh Supercomputer Center. System vendors are starting to announce Intel OPA-based switches and server platforms, with volume shipments ramping in the first quarter of next year.
Intel's preproduction Intel Xeon Phi processors (code-named Knights Landing) are running in several supercomputing-class systems. But Intel also wants to change the game in desktop computing with a workstation that packs its upcoming, 72-core supercomputing chip.
A limited number of workstations will ship in the first half of next year from Intel, which will also control initial distribution.
Intel's supercomputing workstation will initially be made available to researchers who don't have access to Xeon Phi-based supercomputers for complex scientific calculations.
The Knights Landing chip can deliver over 3 teraflops of peak performance, which is roughly in the range of some high-performance graphics chips used in the world's fastest supercomputers.
Knights Landing is designed for highly parallel computing and varies in design from conventional x86 chips. It mixes conventional x86 CPUs with specialized processing units that help the chip take on heavy workloads.
Knights Landing includes 16GB of on-package MCDRAM memory, in which modules are stacked and connected through a wire. The memory offers five times more bandwidth than the emerging DDR4 memory. Intel also claims the stacked memory is five times more power efficient and three times denser than GDDR5, which is used on graphics cards.
In addition to the OS, programming tools and other software programs will be preloaded on the workstation.