Icybox IB-281U 2.5" HDD USB Case
4. Conclusion
I must admit that I was hesitant about buying a device from a company I had not heard of. But it was the overall stylish case with the leather finish that swayed me and I can say that all in all, I am a satisfied customer.
The IcyBox IB-281U is an attractive 2.5" external case, mainly aimed at professionals who require a stylish case, with good performance of course. The aluminum alloy and leather materials keep that promise. There is no need for an external AC/DC adapter since the device is powered from the USB interface.
The retail package is complete with all required cables. You also don't need a screwdriver to install your HDD in the case. The device has two LEDs, one green and one orange to show the operation status.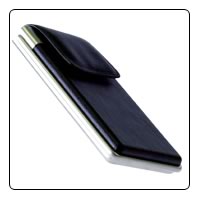 Coming to the performance part, compared with the Akasa Integral, the performance was somewhat slower, by 0.6Mb/sec in the reading and 1Mb/sec in the USB2.0 connection with the Asus M2N32WS Pro motherboard. While numbers don't mean all that much to end users, you will notice the difference when copying large files...
Overall, I can say that the IcyBox IB-281U is a stylish case with good performance. Its price probably places among the more expensive in this category of device, but €25 isn't that much to pay for what this case offers...