Halo 4 Coming Next Week
Almost five years since "Halo 3" launched, the "Halo 4" game title will hit retail stores worldwide on Tuesday, Nov. 6. Microsoft kicked off the "Halo 4" launch excitement earlier this week, transforming some of the most iconic landmarks in the Principality of Liechtenstein into a real-life replica of the "Halo" universe. Dubbed "Experience Halo," for the night of Tuesday Oct. 30, more than 70 media and fans from 16 different countries were taken on a "Halo 4"-inspired adventure in sub-zero temperatures as part of a UNSC military crew. They saw Liechtenstein?s iconic Balzers Castle become an imposing military fort, a working mine become a war-torn battleground, and hundreds of props and pyrotechnics combined to explosively welcome 'Master Chief' back.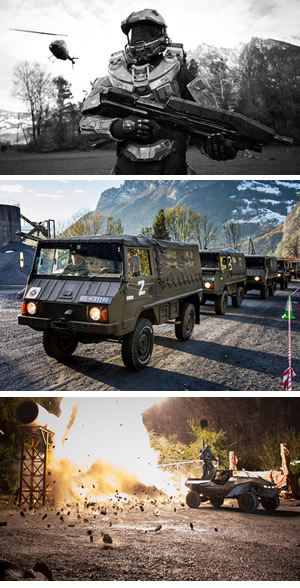 Speaking at the event, Frank O'Connor, franchise development director of 343 Industries - the studio behind "Halo 4" said that "Halo" - had sold more than 46 million copies worldwide and generated more than US$3 billion in value for the franchise since inception in 2001.
Beyond the Liechtenstein event, Microsoft is planning launch events in more than 30 major cities worldwide, including Seattle, Paris, Berlin, London, Toronto, Mexico City, Singapore, Tokyo, Hong Kong, Dubai and Sydney.
In the United States, events will take place at retail locations across the country, including a signature event at the University Village Microsoft Store in Seattle where fans will have the chance to meet the 343 team and get early hands-on time with the game. In Europe, a stunt will take place between the O2 Stadium and Tower Bridge on the Thames River in London on the night of Nov. 5.
In Germany, fans will get hands-on with "Halo 4" and view a screening of the complete "Halo 4: Forward Unto Dawn" series in Hamburg, Berlin and Frankfurt. In Paris, "Halo 4" will be showcased during the Paris Games Week, the biggest gaming fair in France . And across Australia, more than 200 EB Games stores will be open for midnight madness events, and flagship events will run in Sydney, Melbourne and Brisbane.
The standard edition of "Halo 4" will be available for $59.99 (U.S. ERP 3), and the Limited Edition, which includes an extended 90-minute version of the live-action digital series "Halo 4: Forward Unto Dawn" and additional bonus content, will be available for $99.99 (U.S. ERP). Fans can also pick up the Xbox 360 Limited Edition "Halo 4" Console Bundle for $399.99 (U.S. ERP) and a standalone Xbox 360 Limited Edition "Halo 4" Wireless Controller for $59.99 (U.S. ERP).