2. Features
20 Channels "All-In-View" Tracking
Position accuracy of 10 meters 2D RMS
Cold/Warm/Hot Start Time: 42/38/1 Seconds (Signal Strength > 30 dB-HZ)
Reacquisition Time: 0.1 seconds
Support Standard NMEA-0183 at 38400 bps baud rate (Defined by customer 4800 up to 57600)
Support Power Saving Mode
Features SD Slot
Superior Sensitivity for Urban Canyon and Foliage Environment
Ultra s mall, sleek, and lightweight design easily fits in your hand
For our test purposes, Haicom sent us the retail package that includes:
the HI-305III GPS receiver itself
a carrying pouch
a male mini-1394 to PS/II connecting cable
a PS/II to DB9 serial connecting cable (optional)
a CD-ROM with corresponding software
a printed user manual
The current price for the product is around US$99, as found around the net.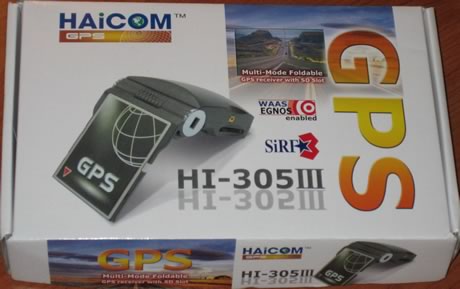 The contents of the retail package are shown below (apart from for the PS/II to DB9 serial connecting cable):
By using different optional connections, the HI-305III offers all kinds of wired GPS receiver solutions.
The HI-305III can be virtually any type of GPS receiver, such as CompactFlash GPS, USB GPS, Bluetooth GPS, Serial GPS, Any PDA GPS, etc. You won't need to buy several GPS receivers to fit your mobile devices, like Notebook PCs, Tablet PCs, PDAs, etc. With the HI-305III, one unit fits all interfaces.
Apart from using it as a complete GPS solution, the HI-305III can also be used as a SD card reader with the CF interface. You can store any file onto any standard SD memory card and the file can be read or written to from the Compact Flash interface. After the proper driver is installed and with the SD memory card inserted, as soon as the Compact Flash interface is plugged into any PC, a folder is created on the host device.
A full list of optional accessories can be found below:
Model Name
Model #
1. MMCX external antenna
ATN-MMC
2. CF-PCMCIA adapter
CF-PCM
3. PS/II to USB connecting cable
PS2-USB
4. PS/II to DB9 serial connecting cable
PS2-DB9
5. PS/II to PDA connecting cable/charger
PS2-XXX
6. Bluetooth Slipper
HI-401BT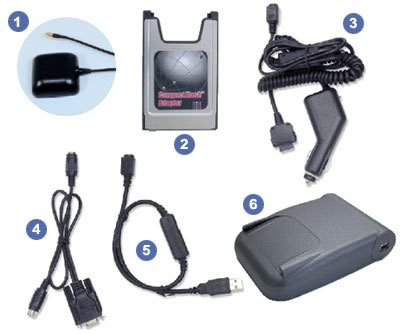 The following picture shows the device and we can get an idea of its size. The HI-305III can be bent at an angle anywhere from 0° to 180° to accommodate the best satellite receiving angle. On the side of the HI-305III, there is the SD memory slot. Users can insert their SD memory card containing mapping software so that the GPS and map data can be accessed simultaneously via the Compact Flash interface through a host device like a PDA, laptop PC, etc.
On the top, we have thee charger interface (mini USB) and the external cable jack (MMCX compatible). The led flashes when the 3D Position is fixed and on when a signal is being searched. Comparing the HI-305 III with the Globalsat BT-338 in size, we can see that it's somewhat smaller although wider: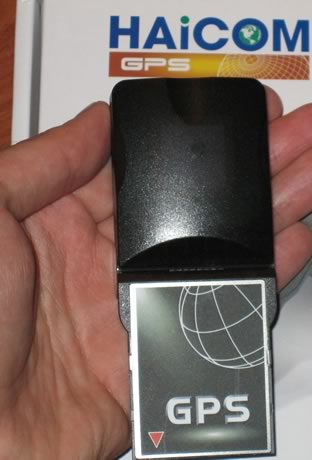 After installing the HI-305III on a Dell Axim x50V, we set it up so that we got the best signal strength. As was mentioned earlier, the device can swivel open, up to a maximum of 180° to achieve the optimum angle when searching for a signal.