GoPro Unveils New Hero6 and Fusion Spherical Cameras
GoPro today unveiled the latest version of its Hero line of wearable action cameras and its first spherical device for virtual-reality video.
The waterproof Hero6 carries the same exterior design over from the Hero 5. But it uses GoPro's custom-designed processor called "GP1" and offers digital zoom, greater image stabilization and other improved features. GoPro claims that the new GP1 processor offers improved dynamic range, extensive manual controls, enhanced color reproduction and better lowlight performance.
Compared to the Hero 5, the new Hero supports slo-mo frame rates, which have largely been doubled across the board. That means you can shoot 4K at 60 frames per second, 2.7K at 120 and 1080p now goes all the way up to 240 FPS. The electronic image stabilization is also improved (it's now six, rather than four axes), though still no OIS, yet.
Other improvements include faster 5GHz Wi-Fi speeds, linear zoom and a new HDR mode.
The new camera still shoots 12-megapixel photos, in JPG or RAW, and GoPro's Wide Dynamic Range mode. But it will supposedly perform better in low light than the Hero 5 Black, too.
The Hero 6 is also rugged as ever and waterproof out of the box to 33 feet. It has GPS, a 2-inch LCD touchscreen on the back, voice controls, and some instant-offloading and instant-editing features to help with the inevitable backlog of footage.
The camera is compatible with the QuickStories application, which automatically creates short videos from the captured content.
The Hero 6 has a price tag of $500.
The Fusion camera, which can capture 360-degree video, will sell for $700.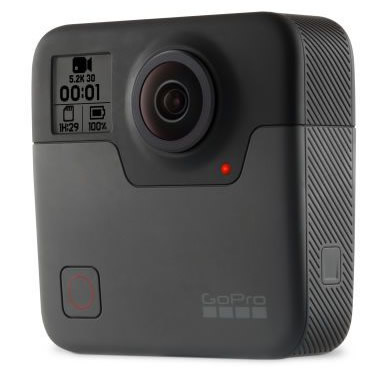 The camera uses two lenses to shoot up to 5.2K video at 30 frames per second, can take 18-megapixel spherical photos, and capture 360-degree sound. It's waterproof up to 16 feet out of the box, and is compatible with "most" GoPro mounts, according to the company.
Fusion also supports GPS, Wi-Fi, Bluetooth, it is equipped with an accelerometer, gyroscope, and compass that the camera uses in concert to stabilize the spherical footage.
GoPro says the Fusion supports "OverCapture," which is a term that actually refers to a few different ways that users can manipulate the footage they shoot with Fusion. Instead of shooting in 360 degrees and posting in 360 degrees, OverCapture allows users to reimagine all that visual information in more traditional, flat, 1080p videos.
OverCapture also allows you to punch out a 1080p frame, or a still photo, from the 360-degree sphere of imagery.
 
HERO5 Black
HERO6 Black
Fusion
QuikStories Enabled
 
Connects to GoPro App
Auto Upload to Cloud
 
5GHz Wi-Fi for Offload to Phone
 
VIDEO RESOLUTIONS
(FPS)
 (FOV)
(FPS)
(FOV)
(FPS)
5.2K
N/A
N/A
N/A
N/A
30
3K
N/A
N/A
N/A
N/A
60
4K
30, 25
Wide 
60, 50 
Wide 
N/A
24
SuperView, Wide
30, 25, 24
SuperView, Wide
4K (4:3)
N/A
N/A
30, 25, 24
Wide
N/A
2.7K
60, 50, 48, 24
Wide, Medium, Linear
120, 100
Wide 
N/A
30, 25
SuperView, Wide, Medium, Linear
60, 50, 30, 25, 24
SuperView, Wide, Linear
2.7K (4:3)
30, 25
Wide
60, 50, 30, 25, 24
Wide, Linear
N/A
1440p
80, 60, 50, 48, 30, 25, 24
Wide
60, 50, 30, 25, 24
Wide, Linear
N/A
1080p
120
Wide, Narrow
240, 200
Wide 
N/A
90
Wide
120, 100, 60, 50, 30, 25, 24
SuperView, Wide, Linear
80
SuperView
60, 50, 48, 30, 25, 24
SuperView, Wide, Medium, Linear, Narrow
960p
120, 60, 50
Wide
N/A
N/A
N/A
720p
240
Narrow
60, 50
Wide, Linear
N/A
120, 60, 50
SuperView, Wide, Medium, Narrow
100
SuperView
30, 25
Wide, Medium, Narrow
WVGA
240
Wide
N/A
N/A
N/A
VIDEO   
Video File Format
MP4 (H.264)
MP4 (H.264/AVC), MP4 (H.265/HEVC)
MP4 (H.264)
Max Video Bit Rate
60Mb/s
60Mb/s, 78Mb/s (Protune)
60Mb/s (PT ON)
PHOTO
 
 
 
Megapixels
12MP
12MP
18MP
Burst Rates (frames/sec)
30/1, 30/2, 30/3, 30/6, 10/1, 10/2, 10/3, 5/1, 3/1
Auto, 30/1, 30/2, 30/3, 30/6, 10/1, 10/2, 10/3, 5/1, 3/1
30/1, 30/2, 30/3, 30/6, 10/1, 10/2, 10/3, 5/1, 3/1
Time Lapse Photo Intervals
0.5, 1, 2, 5, 10, 30, 60 seconds
0.5, 1, 2, 5, 10, 30, 60 seconds
0.5, 1, 2, 5, 10, 30, 60 seconds
Continuous Photo Capture
 
MODES   
Photo
Burst Mode
Night Photo
Video
Looping
 
Time Lapse Photo
Time Lapse Video
Night Lapse Photo
Video + Photo
 
 
KEY FEATURES   
Wi-Fi + Bluetooth?
Simple One-Button Control
Advanced Wind Noise Reduction
Voice Control

Wake on Voice

 
 
Video Stabilization

Spherical Capture

 
 
Stereo Audio
 
360 Audio
 
 
GPS
HDR Photo Capture
 
 
Touch Zoom
 
 
ADDITIONAL FEATURES   
Protune
Auto Low Light
 
HiLight Tag
Fast Charging

(With accessory, sold separately)

(With accessory, sold separately)

(With accessory, sold separately)

3.5mm Audio Mic In

(With accessory, sold separately)

(With accessory, sold separately)

 
HD Video Out

(With accessory, sold separately)

(With accessory, sold separately)

 
Karma Compatible
 
Exposure Control
 
RAW Photo Capture
RAW Audio Capture
 
CAMERA HARDWARE
 
 
 
Waterproof Design
Status Screen
Touch Display
 
GP1 Chip
 
 
HDMI Port

Micro HDMI

Micro HDMI

 
USB Port

USB-C

USB-C

USB-C
Memory Storage
microSD with at least Class 10 or UHS-I rating (sold separately)
microSD with at least Class 10 or UHS-I rating (sold separately)
2 microSD cards with at least Class 10 or UHS-I rating (sold separately)
Microphones
3
3
4
LEDs
3
3
2
Battery
Removable 1220mAh lithium-ion rechargeable
Removable 1220mAh lithium-ion rechargeable
Removable 2620mAh lithium-ion rechargeable