Google Stadia Cloud Game Service to Launch in November at $10 Per Month
Google today announced the pricing and the game titles for its Stadia service ahead of its competitors.
Stadia will launch in November with titles from major game developers including Ubisoft Entertainment SA and Bungie Inc. Access to Stadia's library of games will cost $9.99 a month, while a free version will let people buy games outright and play them through the system.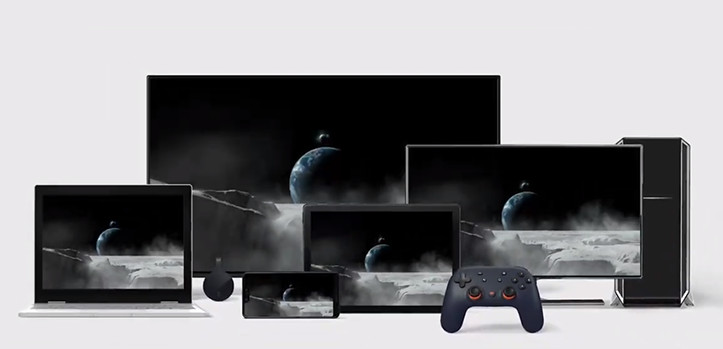 Google said that the following games will be available on Stadia:
DRAGON BALL XENOVERSE 2
DOOM Eternal
Wolfenstein: Youngblood
Destiny 2
Power Rangers: Battle For The Grid
Baldur's Gate 3
Metro Exodus
Thumper
GRID
SAMURAI SHODOWN
Football Manager 2020
Get Packed
The Elder Scrolls Online
The Crew 2
The Division 2
Assassin's Creed Odyssey
Ghost Recon Breakpoint
Trials Rising
NBA 2K
Borderlands 3
Farming Simulator 19
Mortal Kombat 11
Rage 2
FINAL FANTASY XV
Gylt
Tomb Raider Trilogy
Darksiders Genesis
Just Dance 2020

Consumers who already own some of the titles on Stadia will have to buy them again through Google to play them on the service. It's also only available through Chrome or on Google devices, meaning iPhone owners won't be able to take advantage of playing Stadia on their phones. The team is working to bring it to more phones eventually.
Google's Stadia is runing on the company's global network of lightning-fast internet cables and data centers. They allow the company to run games in the cloud and stream them out to peoples' computers, TVs and phones.
Note that purchasing an individual Stadia Controller does not entitle you to Stadia access. To access Stadia in 2019, you'll need to purchase a bundle.
You can now pre-order the Stadia Founder's Edition at the Google Store. Google is offering the Founder's Edition packs -a nearly $300 of value into $129.99 - which includes:
A Chromecast Ultra
A limited-edition Night Blue Stadia Controller
Three months of Stadia Pro (more on that below)
A three month Buddy Pass to bring one friend along for the ride
Dibs on selecting a Stadia Name
The Founder's Edition gives the first set of fans the Stadia Pro and the ability to play games across multiple screens (users with a 4K TV and Stadia Pro will get up to 4K HDR resolution at 60 frames per second with 5.1 surround sound). Stadia Pro will include free content, as well as discounts on titles users buy. The first free title is "Destiny 2," and it comes with the base game, all previous add-ons, the upcoming Shadowkeep expansion and the annual pass. And after a free 3-month subscription ends, Stadia Pro is $9.99 per month.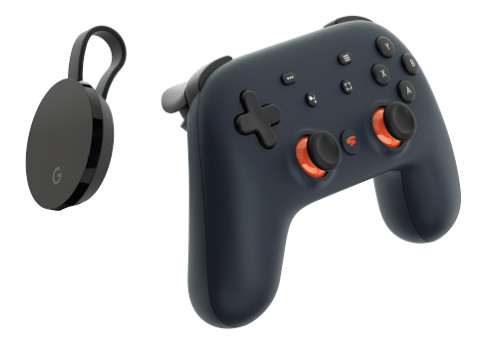 Stadia Founder's Edition tech specs
Stadia Controller
Dimensions:163 mm (6.42 in) x 105 mm (4.13 in) x 65 mm (2.56 in)
Weight: 268g (9.45 oz)
Wi-Fi: Dual-band (2.4GHz / 5GHz) IEEE 802.11 a/b/g/n/ac connectivity
Bluetooth: luetooth Low Energy 4.2 (BLE)
Headset jack:3.5mm headset jack for headsets with or without microphone
USB: USB-C port for charging, wired gameplay, and accessories such as USB-C headsets. HID-compliant
Google Assistant button and microphone: Google Assistant button to trigger microphone
Capture button: Quick access to image and video capture
Battery: Internal rechargeable Li-Ion battery
Colors: Night Blue

Google Chromecast Ultra
Dimensions: 58.20 mm (2.29 in) x 13.70 mm (0.53 in) x 58.20 mm (2.29 in)
Weight: Device: 1.6 oz (47 g), Adapter: 3.5 oz (101 g)
Resolution: Supports all resolutions up to 4K Ultra HD and high dynamic range (HDR)
Wireless: 802.11ac (2.4GHz/5Ghz) 1x2 MISO Wi-Fi for high-performance streaming
Power: Power supply required and included
Ports & Connectors:

HDMI plugs directly into the TV
Micro-USB for power and data
Ethernet port on the power adapter for hard-to-reach Wi-Fi spots in your home

Supported Operating Systems

Android 4.2 and higher
iOS 9.1 and higher
macOS X 10.9 and higher
Windows 7 and higher

Colors: Black

What's in the box
Stadia Controller (Night Blue)
USB-C to A cable
Power Adapter
Google Chromecast Ultra (Black)
Power adapter with integrated cable (required)
Extra controllers for multiplayer games or laptops come in three colors—Just Black, Clearly White or Wasabi—for $69.99.
Those who don't need 4K quality resolution can still play games on virtually any screen with instant access and no downloads, updates, or patches. Coming in 2020, Stadia Base is how users will play games they purchase in up to 1080p resolution and 60 frames per second without an active subscription to Stadia Pro. Stadia Founder's Edition is the first way to get Stadia in November, and Google will be announcing even more games later this summer.
Stadia Pro
Three months included in Founder's Edition.
Part of Founder's Edition
Resolution: Up to 4K
Frame rate: 60 FPS
Sound: 5.1 surround sound
Buy games whenever you want: Yes
Additional free games released regularly: Yes, starting with Destiny 2: The Collection

Stadia Pro-exclusive discounts on select game purchases: Yes
$9.99 / mo
Stadia Base
Coming next year
Resolution: Up to 1080p
Frame rate: 60 FPS
Sound: Stereo
Buy games whenever you want: Yes
Additional free games released regularly: No
Stadia Pro-exclusive discounts on select game purchases: No
Phil Harrison, an industry veteran who now runs Google's gaming division, said the company has developed technology to make streaming work even with middling connections. Multiplayer -- which requires even more bandwidth -- will be as fast as single player, Google said.
"We will surprise people with how low the bandwidth requirements are," Harrison said. Hardcore gamers generally already have strong connections, and those are the people Google is going for first, Harrison said. "We want to get to as many people as possible, but it's not possible to reach everyone at the same time, so we start with the more core enthusiast gamers."
Google recommends an internet speed of at least 10 mbps for a 720p experience on Stadia. Faster connections can experience up to 4k streaming, dependent on connection speed.
If you happen to lose connection during gameplay, Stadia will maintain the game where it got cut off for several minutes so that you can quickly get back online without losing progress. Also, if the bandwidth fluctuates, Stadia will adjust to deliver the best possible visual quality at all times.
Stadia will be launched this November in 14 countries: U.S., Belgium, Canada, Denmark, Finland, France, Germany, Italy, Ireland, Netherlands, Norway, Spain, Sweden, U.K.. Google is working to expand to additional countries in 2020.
Microsoft and Sony have also teamed up to build their own game streaming system, but haven't said how much it will cost. Apple, which also announced its Arcade streaming service in March, hasn't provided pricing details neither. Apple Arcade will feature more than 100 games for download, curated by Apple and exclusive to the service. And Microsoft hasn't said when its Project xCloud.service will launch, but public tests will begin this year.
Sony's PlayStation Now streaming service is $20 for a one-month subscription or $45 for three months. It offers unlimited access to 750 games for streaming or downloads, which allow for offline play. Microsoft's $10-a-month Xbox Game Pass offers about 100 games for free download.