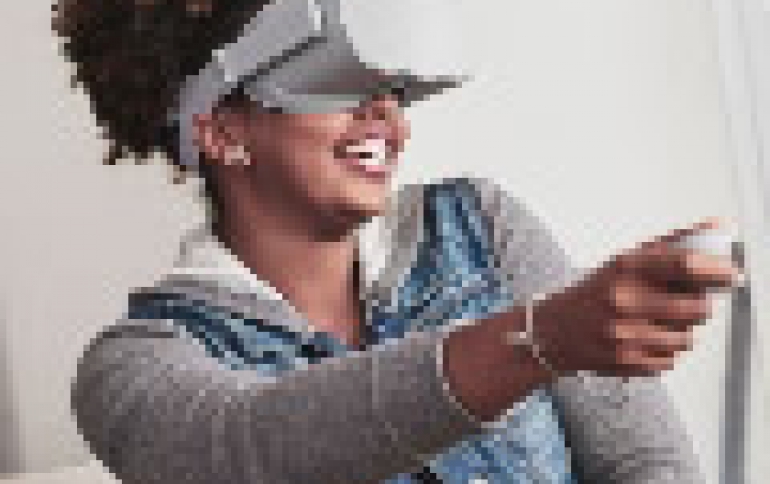 Facebook Introduces Oculus Go, an $199 VR Headset that Doesn't need Your Smartphone
Facebook announced Oculus Go, a $199 VR standalone headset that doesn't require a PC or a phone to get you into VR, at the company's Oculus Connect developer conference.
Oculus Go ships early next year and it can be used to watch movies or concerts, play games, or just hang out with your friends in VR.
This all-in-one device makes VR more accessible than before. It is lightweight, and the new fabric used for the facial interface is soft and breathable. It comes with a high-resolution fast-switch LCD screen which, according to Facebook, improves visual clarity and reduces screen door effect. And new lenses are offering a wide field of view with significantly reduced glare.
Oculus Go also ships with integrated spatial audio. The speakers are built right into the headset, transporting you straight into VR and making the headset easy to share with someone else. If you need it, there's also a 3.5mm headphone jack for private listening.
Gear VR and Oculus Go apps are binary compatible, and they share the same controller input set-that means developers building for Gear VR are already building for Oculus Go. In addition, the Oculus mobile VR content library will be available to everyone on day one.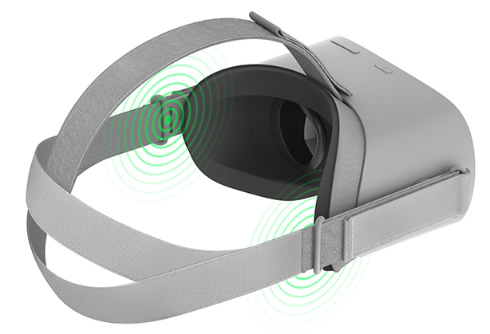 Project Santa Cruz
Facebook's Oculus shared their early work with Santa Cruz at Oculus Connect last year. Although that first prototype had a full-blown mobile computer strapped to the back of your head, it offered a great feeling of freedom with its fully untethered positionally-tracked VR.
Today, Facebook showed the next phase of Santa Cruz development, delivering hand presence with two positionally tracked controllers.
Engineers leveraged the same constellation tracking technology that they developed for Rift and Touch. Getting the infrared LEDs on the new Santa Cruz controllers to work with the sensors used for inside-out tracking on the headset was a significant computer vision, design, and engineering problem. By using four ultra-wide sensors, Oculus engineers achieved a large controller tracking volume, allowing for natural and unrestricted movement.
Oculus also offered a sneak peek into Oculus Venues, a new experience coming next year that lets people watch live concerts, sports, and movie premieres with thousands of other people around the world.
Rift Bundle Now $399
Oculus wants to get VR into more people's hands, so it is permanently lowering the price of Rift to $399 USD.
Each Rift bundle comes with Touch controllers, sensors, and six free apps including Epic's arcade shooter, Robo Recall, and our creative tools, Medium and Quill.
Rift Core 2.0
Oculus today also announced Rift Core 2.0, a complete overhaul of Rift's core experience.
Let's take a look at two new systems: Dash and the fully redesigned Home.
Dash is a redesigned system interface. It rolls up all of Rift's existing menus and UI into a central hub that's accessible from anywhere in VR - all built natively for Touch.
Dash runs as an overlay inside your current VR experience, so you'll be able to switch from one app to the next, open your library, connect with friends, and even use the rest of your PC without any extra steps. This also lets you multitask like never before.
Oculus has built true virtual displays at the hardware level, so you can run multiple apps and windows, all with full graphic fidelity and performance. You can peel off individual windows, place them anywhere, and resize and move them for an infinite workspace. Developers can even debug their VR apps while inside them, using Visual Studio, Unity, and Unreal.
With Rift Core 2.0, you'll be able to customize your Home experience-with toys, furniture, artwork, and more that you can place in virtual space as you see fit.
You can put your various in-game achievements on display, and see your library come to life as a collection of retro cartridges that you can actually use to launch apps.
You can share your Home with friends and visit theirs to see what they've created. In the future, Oculus will open up new possibilities for community and co-presence, letting you hang out, play, and explore with others.
Oculus will release the beta for Rift Core 2.0 as a free update this December.
Bringing VR into the Workplace
Oculus also launched Oculus for Business-a new, professional Rift bundle designed for businesses.
Each bundle includes Rift, Oculus Touch controllers, three sensors, and three facial interfaces. You'll also get dedicated customer support and special extended licenses and warranties you need to set up and deploy your VR systems. Bundles can be ordered, individually and in bulk, at oculus.com/business.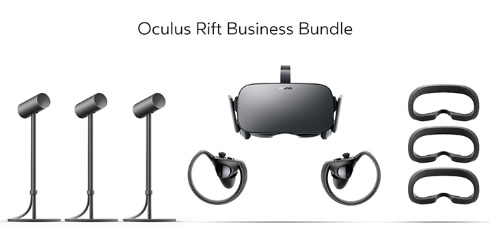 Oculus wants to make VR an indispensable part of daily lives, and impact the ways people collaborate, discover, and learn, at scale.
Businesses of all types can use Rift to boost productivity, accelerate trainings, and present the otherwise impossible to their employees and customers - across industries like tourism, education, medical, construction, manufacturing, automotive, and retail.
Audi now has already Rift installed at their dealerships worldwide, giving people the chance to build their dream car with custom configurations - and thousands of options - in an immersive new way.