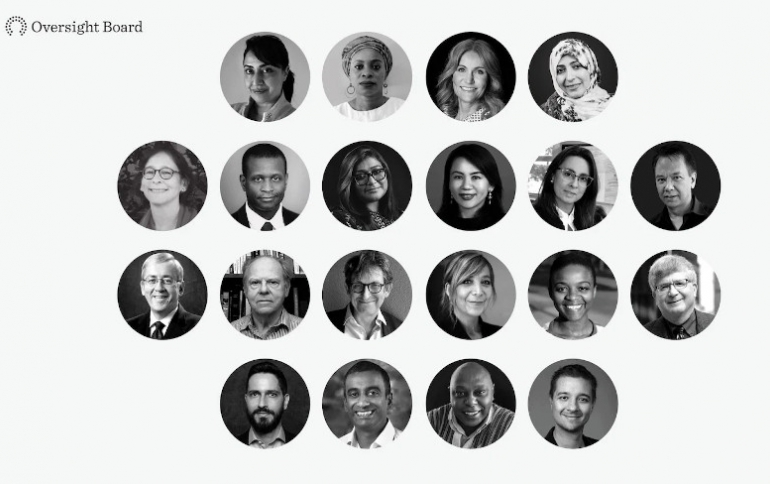 Facebook Announces First Members of its Oversight Board
Today, Facebook's new Oversight Board announced its first members, marking a fundamental change in the way some significant decisions around content on Facebook's platforms will be made.
The Oversight Board represents a new model of content moderation for Facebook and Instagram.
So far, the board includes 20 academics, lawyers, journalists and human rights advocates. The largest social media company created the panel after criticism of Facebook's extensive power, which is only growing: It has about 3 billion users now.
"Up until now, some of the most difficult decisions have been made by Facebook and you could say Mark Zuckerberg," Helle Thorning-Schmidt, oversight board co-chair and former prime minister of Denmark, said Wednesday.
She's co-chairing with Jamal Greene of Columbia Law School, who focuses on constitutional rights, Michael McConnell, a constitutional law professor at Stanford Law School, and Catalina Botero-Marino, dean of the Universidad de los Andes Faculty of Law in Bogota.
Among the initial cohort are: former European Court of Human Rights judge András Sajó, Internet Sans Frontières Executive Director Julie Owono, Yemeni Nobel Peace Prize laureate Tawakkol Karman, Australian internet governance researcher Nicolas Suzor and Pakistani digital rights advocate Nighat Dad.
The oversight board members' roles are part-time but the board's administrative head, Thomas Hughes, said working hours had not been decided. He said members' pay will be set at a normal level for the technology sector but would not be disclosed.
The Board will take final and binding decisions on whether specific content should be allowed or removed from Facebook and Instagram. It will review whether content is consistent with Facebook and Instagram's policies and values, as well as a commitment to upholding freedom of expression within the framework of international norms of human rights.
"We will make decisions based on these principles, and the impact on users and society, without regard to Facebook's economic, political or reputational interests. Facebook must implement our decisions, unless implementation could violate the law," the board said.
The four Co-Chairs and 16 other members announced today are drawn from around the world. They speak over 27 languages and represent diverse professional, cultural, political, and religious backgrounds and viewpoints. Over time Facebook expects to grow the board to around 40 members.
All board members are independent of Facebook and all other social media companies. In fact, many of us have been publicly critical of how the company has handled content issues in the past. Members contract directly with the Oversight Board, are not Facebook employees and cannot be removed by Facebook.
The board is financialy independent from Facebook, and will fund its operations using $130 million trust fund.
When we begin hearing cases later this year, users will be able to appeal to the Board in cases where Facebook has removed their content, but over the following months the board will add the opportunity to review appeals from users who want Facebook to remove content.
Users who do not agree with the result of a content appeal to Facebook can refer their case to the Board by following guidelines that will accompany the response from Facebook. At this stage the board will inform the user if their case will be reviewed.
The board can also review content referred to it by Facebook. This could include many significant types of decisions, including content on Facebook or Instagram, on advertising, or Groups. The board will also be able to make policy recommendations to Facebook based on our case decisions.
All decisions will be made public, and Facebook must respond publicly to them. The board will also issue a public annual report on their work to evaluate how they are fulfilling theorir purpose and whether we believe Facebook is living up to its commitments.
The board will begin hearing cases in the coming months.