2. A Closer Look
- Features
Total solution in power management. Unique Solar Cell re-charging design (patent protected) can extend your GPS operation by up to 15 hrs.
Green environmental protection in a wireless GPS receiver application
WARM/HOT start with built-in battery
Well though out LED/switch button design
Automatically updates almanac/ephemeris in flash memory
20 Channels "All-In-View" Tracking
Position accuracy of 10 meters 2D RMS
Cold/Warm/Hot Start Time: 42/38/1 Seconds (Signal Strength > 30 dB-HZ)
Reacquisition Time: 0.1 seconds
Support Standard NMEA-0183 at 38400 bps baud rate (Defined by customer 4800 up to 57600)
Support Power Saving Mode
Compatible with Bluetooth devices with Serial Port Profile (SPP)
For our testing purposes, F-Tech sent us the retail package that includes:
the Solar 7GPS receiver itself
an AC power adaptor with USB female plug
a cigarette lighter adaptor with USB female plug
a mini1394 to USB cable
finally a CD-ROM with corresponding software and user's Manual
The current price for the product is around US$100, around the net.
The F-Tech Solar 7 GPS receiver is the largest device of its type that we have reviewed. We would say its almost twice the size of the BT-338.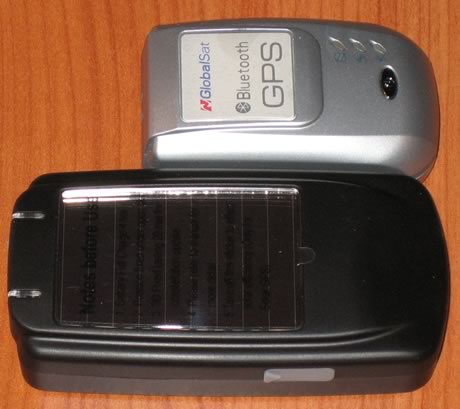 Comparing it with a Sony Ericsson K750i, it still looks big.
while a credit card looks much smaller :-)
Looking at the bottom, we can find some information about the product, like its S/N and the exact model identification (FGPSBT02)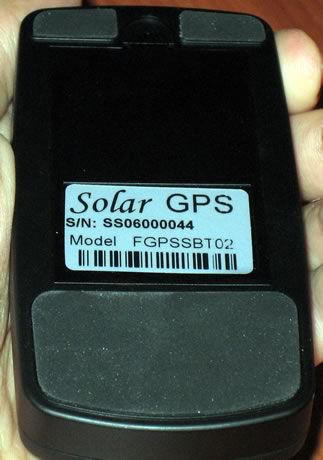 The battery is rated 1000mAh 3.7V
There are two LEDs, indicating the following conditions:
On the top, we find the charger interface (mini USB), the power on/off switch and the two leds. On the left side, we have the external cable jack (MMCX compatible). Both inputs are protected by a rubber cover.
The package, as we saw earlier includes two chargers, one for AC/DC and one for car. Since the device is USB compatible, it can also be powered by a PC USB port!