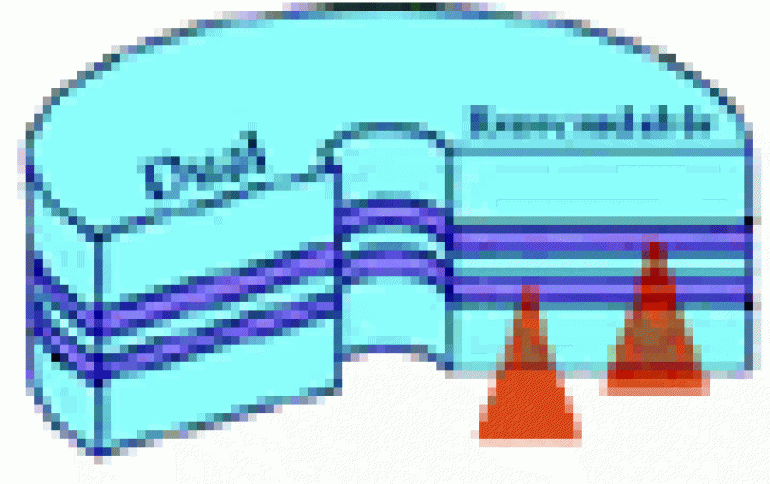 Dual Layer DVD Re-writable Formats On the Way
Although it is uncertain whether there is a market demand for further developments on legacy optical storage formats, both DVD+RW Alliance and DVD Forum are currently promoting dual layer DVD re-writable media aiming at Q4 availability. DVD-RW DL

The DVD Forum, the industry organization that supports and develops technologies related to DVD-R and DVD-RW media, has added the re-writable function to the already applied "DVD-R for DL" concept, in an effort to keep consistency with DVD-R for Dl and single layer DVD-RW. The DVD-RW for DL v1.9 specifications include 8.54GB/side 12 cm and 2.66GB/side 8cm DVD-RW DL discs. The new DVD-RW DL media will offer up to 651 minutes of video playback (EP mode), while the 8cm discs - mainly addressed for DVD cameras - will hold 54 minutes of video (SP mode).

Compared with single layer DVD-RW media, the DVD-RW DL feature a lower reflectivity value (5% to 10%), its jitter upper limit is 9% (8% for DVD-RW SL) and most importantly, the required recording power is 1.0 mW (max), which is 0.3 mW higher than DVD-RW SL. As a result, modifications in playback devices are required to keep playback compatibility.

In the recording procedure, the DVD-RW DL follow the same recording order as DVD-R DL, where layer 1 should be recorded through the recorded layer 0 of the disc. Finalization of the DVD-RW DL disc is also adopted, as well as the recording modes follow the DVD-R SL path (Restricted overwrite + Layer jump). In addition, a modified write strategy has been introduced for Layer 0 recording.

Current specifications for DVD-RW DL indicate a 2x recording speed and use of opposite track path recording procedure.

JVC has developed the first single-sided, dual layer DVD-RW disc technology using a high sensitive recording film, a new recording method and its facing film bonding method promises mass production of the new discs using conventional manufacturing equipment.

The DVD Forum predicts that the DVD-RW DL will enjoy widespread use in applications such as video recorders and optical drives for both mobile and desktop PCs.

DVD+RW DL

DVD+RW Alliance representatives attending the ongoing Computex Taipei 2006 have also revealed plans to introduce 8cm DL (single-sided double-layer) DVD+R and DVD+RW discs in the fourth quarter of this year.

The 2.4x is the debut speed for dual recording, expected to reach 4X in one year. Initial media will be write-once.

The DVD+RW DL media use two phase-change layers. The first semi-transparent layer should be formed in a way that it would balance transparency characteristics with efficient laser beam absorption just like it is the case with single layer recordable DVDs.

High transparency could be achieved by using a thinner recording layer, but this would result in a drop of laser absorption, which is insufficient to form and erase marks (recording signal patterns).

In addition, to maintain compatibility with current DVD players, the discs should feature a reflectivity of minimum 18%, a value technically difficult to achieve. Thus, the DVD+RW DL discs will feature a lower reflectivity. In that case, a firmware upgrade in the existing DVD players/writers would be essential to maintain compatibility.

Global demand for 8cm DVD discs of all standards is estimated to increase to 120 million discs this year, according to the representatives. Mainly due to fast growing demand for higher storage capacities for use in portable digital video camcorders and DVD recorders, 8cm DVD+R/+RW DL discs will be in more demand beginning next year, the representatives indicated. The DVD+RW Alliance finished the technological specification for the 8cm DVD+RW DL format in March of this year, paving the way for its volume production.