Disney+ Service Coming in November for $6.99
The Walt Disney Company's Investor Day provided an overview of Disney's direct-to-consumer strategy, and included presentations on Hulu, Hotstar, ESPN+ and the upcoming Disney+ service, which will launch in the U.S. market on November 12, 2019, at $6.99 a month.
The ad-free monthly subscription service will offer fans content from the company's iconic entertainment brands, including Disney, Pixar, Marvel, Star Wars and National Geographic, and will be available on connected TV and mobile devices.
"Disney+ marks a bold step forward in an exciting new era for our company—one in which consumers will have a direct connection to the incredible array of creative content that is The Walt Disney Company's hallmark. We are confident that the combination of our unrivaled storytelling, beloved brands, iconic franchises, and cutting-edge technology will make Disney+ a standout in the marketplace, and deliver significant value for consumers and shareholders alike," said Bob Iger, chairman and chief executive officer.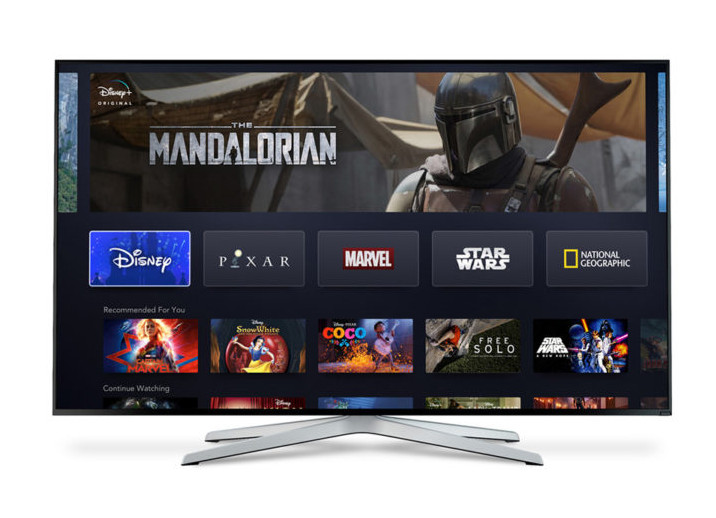 Disney+ will launch in November with a library of theatrical and television content, and in its first year will release more than 25 original series and 10 original films, documentaries and specials by some of the industry's most prolific and creative storytellers. New original titles for Disney+ announced today include:
From Marvel Studios:
The Falcon and The Winter Soldier, a live-action series with Anthony Mackie returning as Falcon and Sebastian Stan reprising his role as Winter Soldier
WandaVision, a live-action series with Elizabeth Olsen returning as Wanda Maximoff and Paul Bettany reprising his role as The Vision
Marvel's What If…?, the first animated series from Marvel Studios and takes inspiration from the comic books of the same name. Each episode will explore a pivotal moment from the Marvel Cinematic Universe and turn it on its head.
From Walt Disney Animation Studios:
Into the Unknown: Making Frozen 2, a documentary series showing the hard work and imagination that go into making one of the most highly anticipated Walt Disney Animation Studios features of all time
From Pixar Animation Studios:
Toy Story-based projects Forky Asks a Question, an animated short series, and the short film Lamp Life
From National Geographic:
The World According to Jeff Goldblum, a documentary series where Goldblum pulls back the curtain on a seemingly familiar object to reveal a world of astonishing connections, fascinating science and a whole lot of big ideas Magic of the Animal Kingdom, a documentary series which takes viewers behind the scenes with the highly respected animal-care experts, veterinarians and biologists at Disney's Animal Kingdom and Epcot's SeaBase aquarium
From Disney Television Animation:
The Phineas and Ferb Movie (working title), an animated film featuring many of the original voice cast
Scripted originals previously announced for Disney+ include The Mandalorian, the world's first scripted live-action Star Wars series; the exclusive new season of Star Wars: The Clone Wars; High School Musical: The Musical: The Series; the untitled Cassian Andor series starring Diego Luna and Alan Tudyk; the Marvel Studios' series Loki starring Tom Hiddleston; Monsters at Work, Diary of a Female President; and live-action films Lady and the Tramp, Noelle, Togo, Timmy Failure and Stargirl. Nonfiction series also announced earlier this week include Be Our Chef, Cinema Relics: Iconic Art of the Movies (working title), Earthkeepers (working title), Encore!, the untitled Walt Disney Imagineering documentary series, Marvel's 616, Marvel's Hero Project, (Re)Connect, Rogue Trip and Shop Class (working title).
Additionally, Disney+ announced that all 30 seasons of The Simpsons will be available on the service on day one. In the service's first year, audiences will also have access to family-friendly Fox titles like The Sound of Music, The Princess Bride and Malcolm in the Middle as part of a collection of more than 7,500 television episodes and 500 films including blockbuster hits from 2019 and beyond.

Disney also unveiled a product experience that makes it easy for subscribers to navigate, discover, and watch their favorite programming, with dedicated branded tiles and dedicated pages for Disney, Pixar, Marvel, Star Wars and National Geographic. Subscribers will have the ability to create custom profiles, with each receiving personalized experiences curated to their tastes based on past behaviors and preferred content.
Disney said it has struck deals with Roku Inc and Sony to distribute Disney+ on streaming devices and console gaming systems and expects it to be widely available on smart televisions, tablets, and other outlets by launch. It did not mention if it would be available on Apple's upcoming video service, but it is expected to be. The service will adjust to the best possible high-definition viewing experience based on a subscriber's available bandwidth, with support for up to 4K HDR video playback. Content will also be available to fans for offline viewing.
Following its U.S debut, Disney+ will rapidly expand globally, with plans to be in nearly all major regions of the world within the next two years.
Disney also forecast Hulu's subscribers to reach 40 million to 60 million by fiscal 2024 and reach profitability in the United States by either 2023 or 2024. Hulu currently has 25 million subscribers and is expected to lose $1.5 billion in the current fiscal year.
ESPN+, Walt Disney Co's sports video streaming service, could attract between 8 million and 12 million paying subscribers by the end of the fiscal 2024 year, the company also said on Thursday.
Disney will join the market at a time when audiences are facing a host of choices, and monthly bills, for digital entertainment. Apple, AT&T Inc's WarnerMedia and others plan new streaming services.