2. Package
CyQve MP3 Deluxe - Page 2
- The Package
We tested the retail version of CyQve MP3 Deluxe player. The package contains: the MP3 Player, 5 pieces of 8cm CD-R media, a printed operation manual, in-ear headphones, a colored carrying pouch, two re-chargeable batteries and one AC/DC adaptor. The re-chargeable batteries are not included in the basic package, only in the Deluxe version among with better ear headphones. In addition, CyQve has bulked a retail version of InterVideo's WinRip v2.1.6 (MP3 Audio Encoder/Player/Ripper using Padus Engine):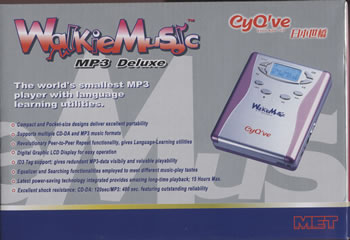 The drive is really small with dimensions of 106m/m (L) x 85m/m (W) x 25m/m (H). The weight is around 160gr without 8cm CD-R inserted.
In the bottom of the player lies the open switch. In order to open the MP3 player just push it gently to the right
In the left side, there are power source (DC-In) and the Hold (on/off) switches. If you enable the Hold switch the buttons of the player are disabled.
In the right side, we find the volume control, the headphone jack and the battery charge switch: