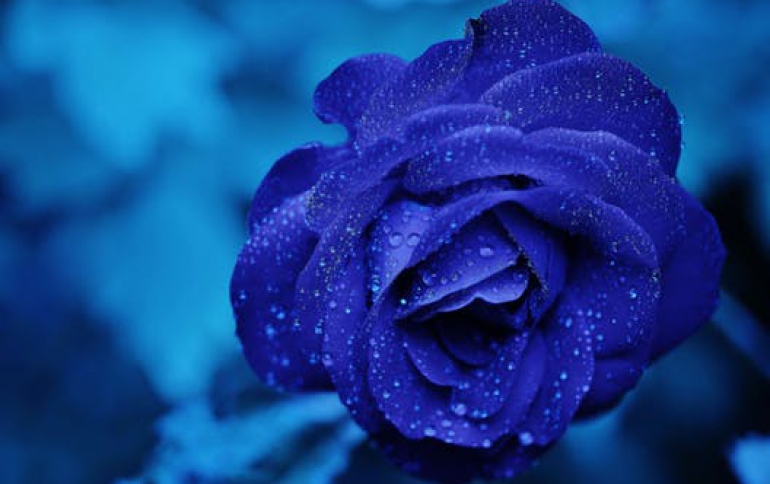 Creative Showcases X-Fi Sonic Carrier, Super X-Fi Headphone Audio Holography and Smart Home Speakers at CES
Creative Technology is showcasing the X-Fi Sonic Carrier, the Super X-Fi holographic adio technology, Smart Home speakers and more at CES 2018.
Sonic Carrier
The Sonic Carrier has now begun shipping in the United States. It is a powerful home entertainment system with 17 drivers in a 15.2 configuration and 1000W RMS power that works out-of-the-box to deliver a powerful audio solution.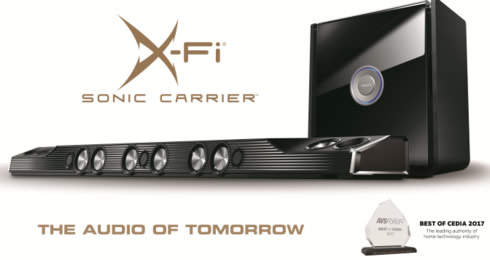 Headphone Audio Holography
Creative also today unveiled Super X-Fi, a technology that allows headphone users to enjoy 3D holographic audio. Super X-Fi technology is a leap from Creative's X-Fi technology suite that powers many Creative products, including the X-Fi Sonic Carrier.
"Imagine capturing the listening experience of a high-end multi-speaker system in a theater and actually re-creating that same expansive experience - the same depth, detail, soundstage, three dimensionality, immersiveness, realism and more. It's like the magic of 3D holography, but in audio - for the headphones," Creative says.
Leveraging on precision technology that maps the distinct acoustics of an audio system projecting sound to the human ear in three-dimensional space, the Super X-Fi holographic audio experience intelligently translates that complex information into an identical listening experience for the headphones.
Super X-Fi is a computationally intensive and algorithmically complex technology. This technology custom fits audio for every individual through a Head and Ear-Mapping process. It maps hundreds of anthropological features in high precision using real-time image detection and analysis. Then, an artificial intelligence (AI) engine extracts these anthropological features along with the dynamics of the targeted headphones, and synthesizes them with a multi-dimensional map of the desired room acoustics. Using this synthesized SXFI map, Super X-Fi recreates the audio holography.
Super X-Fi will be rolled out as a crowdfunding project shortly after CES 2018 and will offer backers a full range of solutions:
A flagship over-the-ear headphone with built-in Super X-Fi and additional virtual reality features (to be announced later)
Over-the-ear and in-ear headphones with Super X-Fi technology built into tethered dongles
Dongles with Super X-Fi technology that allow users to connect their own headphones
Smart Home Speakers
Creative is also showcasing upcoming and newly launched products. The company offers sneak previews of upcoming smart home Alexa-enabled speakers like the Creative Nova, Creative Muvo Genie, and Creative Halo Genie. The showcase also features the newly launched Creative Aurvana Trio audiophile-grade in-ear headphones and the Sound BlasterX AE-5 sound card.
Creative Nova is the first device to integrate all the goodness of a light and sound spa and a 5-driver bi-amplified WiFi/Bluetooth multi-room speaker system; and it is also includes an Amazon Alexa-enabled voice assistant with far-field voice recognition.
The Creative Muvo Genie has now with Amazon Alexa support. Featuring a splashproof outer-shell, the compact Muvo Genie is small enough to fit into just about any bag. Users can play their music out loud anywhere, in wet weather, or the wildest pool party, or when off the beaten track.
Creative Halo Genie is a 16 million color lightshow Bluetooth speaker with Amazon Alexa support. Under the hood, Halo Genie is designed with 2 full-range drivers mounted into a large reflex chamber, together with a passive woofer.
The Aurvana Trio features a triple driver array - two balanced armatures consisting of a super tweeter and a mid-range driver, while a dynamic 10mm Bio-cellulose driver pumps out powerful bass.
Honored in both 'Computer Hardware and Components' and 'Computer Accessories' categories, the Sound BlasterX AE-5 is designed to deliver the ultimate audio performance with the full force of a 122dB 32-bit/384kHz ESS Sabre DAC. It is the first of its kind to feature Xamp, a custom-designed 600O discrete headphone amp in a dual-amp design that amplifies each audio channel individually to deliver audio to sensitive in-ears and studio-grade headphones from 16 Ohm to 600 Ohm. The AE-5 is also the first sound card with a built-in RGB controller with fully customizable Aurora Reactive lighting system to allow gamers the flexibility to build their dream gaming rig.