16. Conclusion
The X800XL's performance had its ups and downs. In some of our benchmarks, it showed great rendering power that only a high end card would show, but in the majority of the tests, it yielded results that would place it somewhere in the middle between the enthusiast 6800 Ultra and the budget-oriented 6600GT.
Placing the X800XL alongside the other two cards used for comparison in this review, the Connect3D X800XL costs US$320 whereas the N6600GT costs around US$230 and the MSI NX6800 Ultra costs US$600. Considering the differences we witnessed in our benchmarks, it is obvious that the extra cost of the X800XL over the 6600GT is justified by the extra performance. Conversely, the NX6800 Ultra's performance compared with the X800XL's does not justify double the price tag. The X800XL is definitely a value for money graphics card.
The overclocking potential of the Connect3D was just a little more than satisfactory. The boost gained by the 700 more 3dmarks is quite enough but nothing that would be clearly detectable in gameplay.
As with all the Connect3D graphics cards we've reviewed so far, there is no bundled software included along with the X800XL, in order to keep the overall cost to a minimum.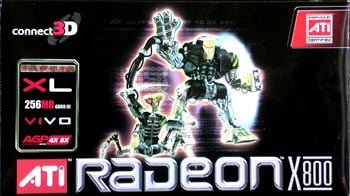 If the budget 6600GT doesn't cover your needs and you're willing to spend a little more money for an AGP card, the X800 XL is the current excellent choice.
Pros:
- Great performance in the majority of benchmarks
- Worth the extra cost
Cons:
- No software bundle

| | |
| --- | --- |
| | |
| | |
| | |
| | |