15. Overclocking
No matter your graphics card, there comes a time in your computer's life when it can no longer cope with the latest technology the ever so popular games use. This is one of the main reasons for overclocking your graphics card. Gamers are always looking forward for a little extra boost in terms of framerate. Even though most of the times the boost is far from noticeable, overclocking remains the last resort when you can't afford to buy a brand new VGA card.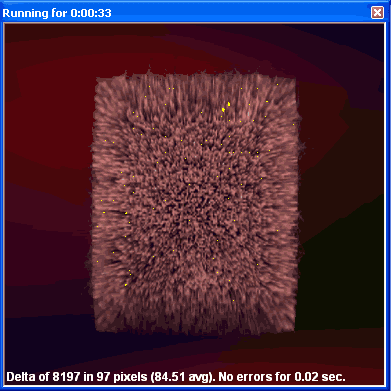 Increasing the memory clock too much,
produces the so-called "artifacts".
The default clock speeds for the Connect3D X800XL are 400MHz for the core and 490MHz for the memory. Using the latest version of ATITool (0.0.23), after lots of trials and errors we managed to find out the highest stable overclocking settings for the Connect3D X800XL.
The highest stable settings we could achieve
The new clocks are acceptably higher, with 30MHz and 60MHz for the CPU and memory clock. Let's see the performance boost we got:
The difference in the games is relatively good. The card's framerates increased by 3-9 fps under each resolution and the card gained around 650 more 3DMarks.