2. Package, installation
The Cogage True Spirit cooler comes in a well-designed package. It is available at a rather competitive price of about $40. However, the cooler supports only the Intel LGA1366 platform.
Inside the box everything is placed into two boxes. The first box includes the main body of the cooler, an installation manual, an 120mm fan, a Cogage sticker, mounting brackets and a thermal paste.
The size of the cooler is typical for this category. The base is rather well cared off, with four (4) U-shaped full copper heatpipes (6mm diameter) coming from the base up to the hetasink - a stack of 48 aluminium fins. According to the product specifications, the fins have bent winglet design to minimize airflow resistance. Its weight is around 670g (heatsink only) and it measures L133 x W156 x H38 mm.
The base of the TRUE Spirit has a mirror like finish and is even and level from side to side, as we can see in the picture below: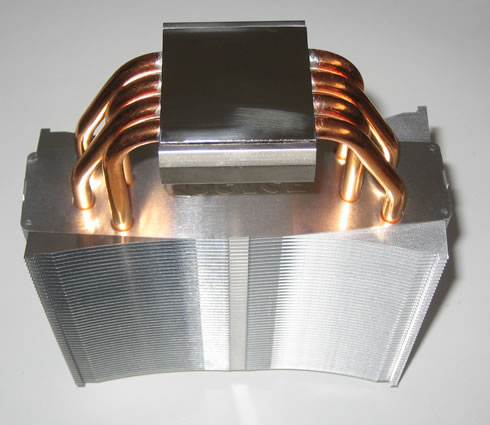 The Cogage logo is imprinted on the exterior side of the top fin:.
The included 120mm fan supports the PWM function (1000~1500rpm ±15%) and allows you to set the rotation speed through the BIOS of your PC.
Installing the TRUE Spirit is a breeze thanks to the push-pin mounting system employed. First you need to place the backplate under the motherboard. Then apply some thermal paste and place the cpu cooler at the processor area.
The next step is the place the X metal plate above the cooler base and secure the system using the supplied screws. Using a long screwdriver may be helpful here. Also mounting the screws diagonally is preferred.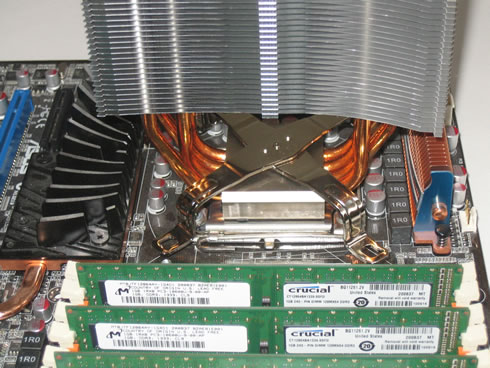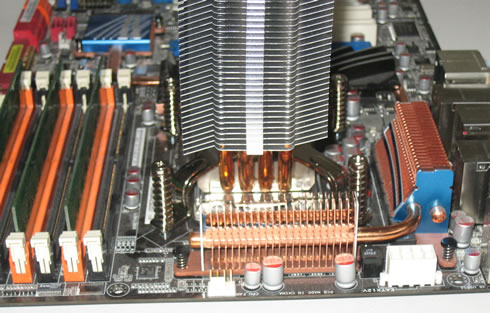 Finally you need to mount the included fan at the main body. Nothing to worry about here, just use the available brackets and mount the fan into the two holes placed on the top and the bottom sides of the heatsink.
As you can see the coolerdoes not impose on the first DIMM slot on our motherboard. While it does sit a bit close, there is ample room to fit more RAM if we wanted.