Black Friday Nintendo DSi Bundles Come Loaded With New Games
Two new versions of releases of the Nintendo DSi come pre-installed with more than $20 in software value, the comnpany announced today. Starting Nov. 27, U.S. consumers can purchase Metallic Blue or White Nintendo DSi systems that come pre-installed with more than $20 in software value.
Fans of global gaming superstar Mario will be especially eager to get their hands on the Metallic Blue Nintendo DSi, which comes pre-installed with five Mario-themed Nintendo DSiWare titles, including:
- Mario vs. Donkey Kong: Minis March Again: Can Mario and his Mini Marios rescue Pauline from Donkey Kong?s clutches yet again?
- Dr. Mario Express: Mario once again dons his stethoscope to battle the forces of illness in this downloadable version of the classic puzzle game.
- WarioWare : Snapped!: Wario returns with more manic action made especially for the Nintendo DSi system. WarioWare: Snapped! uses the built-in Nintendo DSi Camera to make players the star of the show by placing them right into fast-paced mini-games.
- Mario Calculator: Mario and Luigi take a break from their normal adventures to dedicate their heroic talents to working with numbers.
- Mario Clock: Mario Clock includes both analog and digital clocks that use the system?s internal clock or allow you to offset the time however you like.
The White Nintendo DSi bundle is designed for anyone who has a passion for brain teasers. The special White system bundle comes pre-installed with the following Nintendo DSiWare title:
- Brain Age Express: Arts & Letters: Test your spelling in Word Attack, enjoy literary classics in Reading Aloud and tune your musical skills in Piano Player.
- Brain Age Express: Sudoku: Solve a variety of puzzles at three different skill levels using the touch screen and an intuitive interface.
- Brain Age Express: Math: Players can enjoy a mix of new and familiar exercises, including Change Maker, Triangle Math, Sum Totaled and Multi Tasker.
- Clubhouse Games Express: Card Classics: Play familiar favorites like Blackjack and Five Card Draw, or test your ability in the fast-paced Last Card, Last Card Plus and President.
- Photo Clock: Experience all the enjoyment of a photo album while ensuring you won?t lose track of the time.
Beyond the pre-installed titles, Nintendo DSi owners also have access to additional games and applications in the Nintendo DSi Shop. Owners with wireless broadband Internet access can exchange Nintendo DSi Points for the titles and wirelessly download them directly to their Nintendo DSi systems. A Nintendo Points Card can be purchased at retail locations, or Nintendo DSi Points can be purchased online directly through the Nintendo DSi Shop.
Nintendo DSi is the latest iteration of the world?s top-selling portable game system. Its features include dual screens, a touch screen and wireless networking capabilities. Two built-in cameras and audio-manipulation functions let users create customized content and share it with others.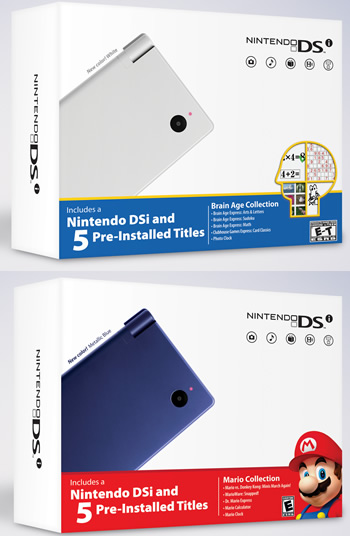 Pay-per-view Service of Movies For Wii
In related news, Nintendo started on Saturday a pay-per-view service of old television programs and popular classic movies for users of its Japanese Wii video game console. Twelve companies, including Yoshimoto Kogyo Co and Toei Co, began providing about 120 pieces such as comic dialogue and cartoons, charging 30 yen to 500 yen each, via ??Wii no Ma?? on-demand service that uses the Internet.
Three others plan to join the service by the end of this year, according to the company.