ASUS Unveiled Lamborghini VX2 Notebook Series
VX2 series is based on the latest Intel Centrino Duo Mobile Technology and Microsoft Windows Vista operation system. The VX2 is designed to give users not only the impression of the Lamborghini spirit but innovative materials and details are incorporated to make the notebook look, feel and run like a supercar. The sensational design starts with the signature colors of Lamborghini yellow and black with each one cast with aluminum-magnesium alloy and carbon fiber, respectively. The special mirror painting surface of the LCD cover not only gives the notebooks an automobile finish, but it also enhances toughness of the cover.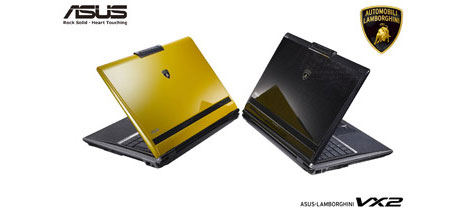 Upon opening the notebook, users are presented with glare-type LCD display, metallic keyboard and a leather bound palm rest area completed with yellow stitching just like that of a car interior - capturing the Lamborghini luxury in a new tactile way. Speakers placed on the sides of the keyboard deliver a distraction-free audio performance. Rounding up, the fan lid of the notebook located on the back adopts the wheel rim concept, giving the practical feature a touch of ingenious creativity.

"The birth of the new edition of the ASUS-Lamborghini notebook is no doubt the result of great efforts from both the design and computing technology sides," said Stephan Winkelmann, President and CEO of Lamborghini. "We are very pleased to say that the VX2 is a perfect translation of Lamborghini - in both body and spirit."