ASUS STRIX GD30 Gaming Desktop Released
ASUS Republic of Gamers (ROG) today announced the Strix GD30, a powerful gaming desktop featuring a sleek black-and-white design, with interchangeable front panels.
The desktop is equipped with up to the latest 7th Generation Intel Core i7 processors delivering clock speeds of up to 4.2GHz and NVIDIA GeForce GTX 1080 graphics.
An advanced thermal system - featuring large air vents at the front and underside plus an isolated power supply chamber - provides improved airflow for better cooling and greater system efficiency. Exclusive ASUS Aegis III software allows gamers to track CPU and memory usage, monitor networking status, and control fan speeds and ASUS Aura RGB lighting effects.
ROG Strix GD30 features two removable front panels that can be attached or removed in multiple combinations for a total of six styles. An integrated, removable hanger can be used to keep a pair of gaming headphones always within reach. Inside GD30, there is room for up to six HDDs, two SSDs, five fans, and a water-cooling system.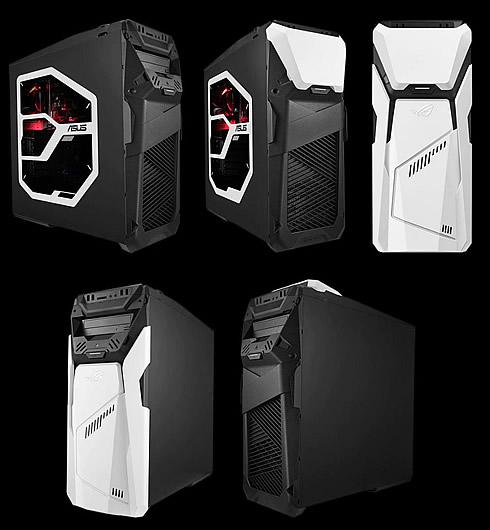 ASUS Aura RGB lighting lets gamers further stylize their system with a choice of over 8-million colors and multiple effects. The motherboard can display pulsing or static effects in a single color or up to ten colors in a continuous cycle, and the cooling fans are even ringed with red LEDs that provide a bold accent.
GD30 includes a USB Type-C (USB-C) port and USB 3.1 Gen 1 technology for fast data transfer rates of up to 5Gbps. The reversible USB-C port also supports Quick Charge, which provides 15W (3A/5V) of power for rapid device charging.
The transparent side-panel on ROG Strix GD30 not only shows off the ASUS Aura lighting effects on the motherboard, but also features an integrated iron screen with a oneycomb design to reduce electromagnetic emissions.
Processor options: Intel Core i5-7400 and Core i7-7700
Graphics options: NVIDIA GeForce GTX 1050, GTX 1060 6GB, GTX 1070, and GTX 1080
Memory: Add your own, up to 64 GB DDR4-2400 (4 slots)
Motherboard chipset: Intel H270 Express
Storage options: 512 GB M.2 PCIe SSD, 512 GB M.2 SATA SSD, 512 GB 2.5-inch SATA SSD, and 3 TB 3.5-inch SATA HDD
DVD-RW
Networking: Gigabit Ethernet, 802.11ac WLAN, and Bluetooth 4.0