10. Conclusion
Asus was one of the first manufacturers to shipped motherboards based on Intel's new P35 chipsets. We will not go in depth into the benefits of the new Intel chipset, there are already many articles on the web that cover this. We will rather focus on the test results for this motherboard and offer our opinion as to whether someone should take step and buy an Intel P35 based motherboard.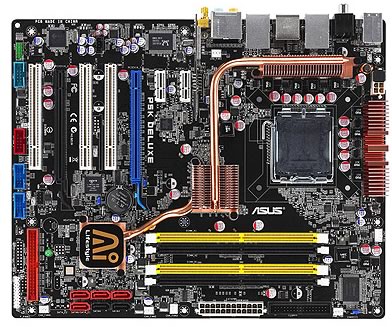 This board offers more or less the same CPU/Memory performance as the "previous" Intel P965 based motherboards. Our test results showed no great difference in CPU or memory performance over the other boards. The overall board design is very good, with lots of copper heatsinks to help keep board temperatures down, although the heatsinks themselves do get very hot!
One thing we didn't like is the fact that the P5K Deluxe no longer has a PS2 Mouse port. It seems that Intel wants only USB based devices, so you will probably need a new USB mouse if you don't already have one. The overclocking capabilities of the P5K Deluxe were very good. We reached an impressive 484MHz FSB with an Intel C2D E6600 CPU. It's possible that with other Intel processors, higher overclocking is possible.
The retail price of the P5K Deluxe is around €195. In comparison the P5B Premium is around €180~200. Both boards offer very good performance, very high overclocking capabilities with no major problems. While we expected that the Intel P35 chipset would offer significant improvements, it didn't, at least not with DDR2 memory installed, since Asus also ships the P5K3 Deluxe with DDR3 memory support. More details on that, later on this month in this review ...