ASUS M70 PC Is The First NFC-Enabled Desktop
ASUS today announced the M70 Desktop PC with the latest 4th generation Intel Core processor and Near Field Communication (NFC) technology for wireless pairing with Android-based devices. The ASUS M70 desktop PC is available with the latest 4th generation Intel Core i3/i5/i7 dual-core processors and users have the option to pair that with a variety of NVIDIA GeForce discrete graphics cards (up to GTX 650).
The ASUS M70 also features SonicMaster Technology, and MaxxAudio from Waves for enhanced audio. It also comes with the ASUS AudioWizard interface, allowing users to tailor sound settings with five modes for music, movies, games, voice recording, and speech. The M70 features an angled tower case with a polished metal finish. LED indicators housed within the chassis reflect the operational state of any attached external USB storage device.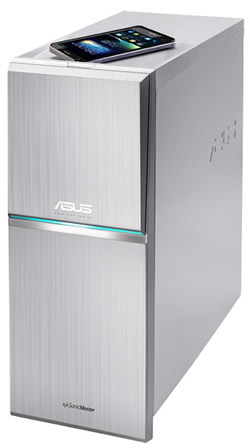 The desktop features NFC technology for wire-free pairing of desktop PCs with Android smart devices, this gives users the ability to log into Windows, share content, and launch applications with a simple tap of their mobile device.
The ASUS NFC Express software automatically backs up photos and videos in Android mobile devices on the desktop. It can also detect and only backup files added since last sync. Quick Launch saves shortcuts to favorite apps, which can then be started with the ease of a single tap. NFC Express also allows for password-free Windows 8 login, so users can go directly into the operating system.
The ASUS M70 has also a built-in Uninterruptible Power Supply (UPS) that automatically kicks in whenever power to the machine is cut. The UPS will supply power to the M70 to save all data and programs into the hard drive before entering hibernate mode.
The M70 also features an ASUS Wireless Charger tray for wireless recharging of smartphones and tablets that support the Qi inductive power standard even when computer is shut down. ASUS Ai Charger is a utility that provides faster recharge times for your mobile devices through USB 3.0 even when the M70 is shut down.
The M70 has the ASUS Universal Storage Module (USM), a hot-swap drive bay that makes it easy to add and share storage. The USM interface is around twice as fast as USB 3.0 and cartridge-based drives can be also connected to any computer via a USB adapter.
Asus did not provide pricing and a release date informaion.