ASUS Introduces Motherboard Technologies at Global Series of Seminars
ASUS has showcased its latest motherboard innovations based on Intel's Sandy Bridge processors at a series of seminars around the world. The seminars provided a stage for several new ASUS technologies, all featured on upcoming ASUS motherboards that use new Intel P67 and H67 chipsets. These include the Dual Intelligent Processors motherboard design that features two dedicated co-processors for performance and power management, the Turbo Processing Unit (TPU) and Energy Processing Unit (EPU). Attendees were also treated to an introduction of next-generation Dual Intelligent Processors 2 with DIGI+ VRM digital power management.
Brand new motherboards from ASUS' celebrated Republic of Gamers brand were also on show, as were ruggedized models from its TUF (The Ultimate Force) range. These high-performance motherboards have some of the most sophisticated overclocking capabilities in the world, along with superior cooling technology.
ASUS first introduced the Dual Intelligent Processors technology in June 2010. It combines the advantages of TPU overclocking and performance optimization with EPU power consumption optimization on the motherboard itself, increasing overall system performance and saving money through reduced energy costs.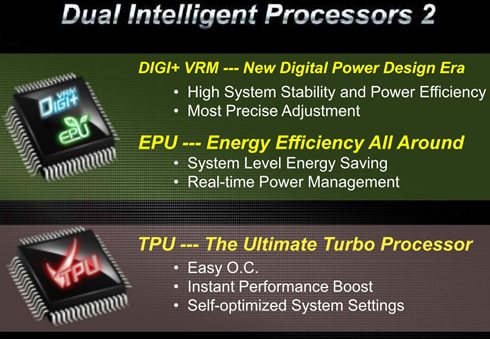 The new Dual Intelligent Processors 2 technology introduces all-digital DIGI+ VRM power controls that allow far greater flexibility when managing a PC?s energy infrastructure. The improved response and fidelity of the power provided to the entire system increases stability and extends component lifespan for substantially better performance and value.
ASUS also highlighted its advancements in user-friendly interface design. These include BT GO! Bluetooth enhancement and consolidation (with no need for additional adapters), EFI BIOS (adding mouse input to BIOS settings) and one-stop user interface AI Suite II. The latter brings a wide range of exclusive ASUS utilities together for an optimized user experience.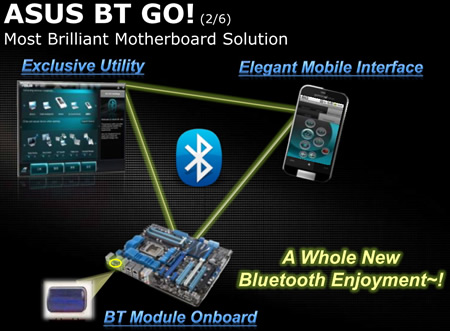 All of these features and technologies are found on new ASUS P8P67 Series motherboards, based on Intel?s P67 chipset.
ASUS established the Republic of Gamers (ROG) brand in 2006 to bring the best gaming and overclocking hardware to those who demand it. One of the latest products under the ROG brand is the upcoming Maximus IV Extreme motherboard, based on the new Intel P67 chipset.
The Maximus IV Extreme is equipped with familiar overclocker-friendly features, including ROG Connect and RC Bluetooth for external devices. It also adds ROG iDirect for iPhone and iPad support, while the new GPU TweakIt feature allows users to fine tune both CPU and GPU performance via the same interface.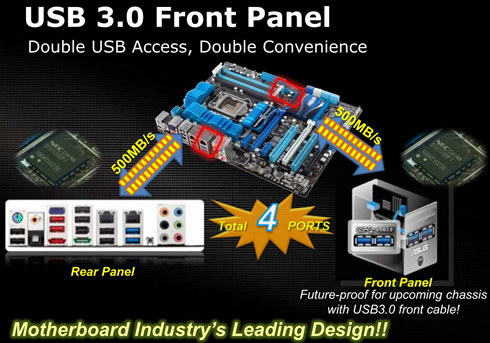 ASUS is also working on a new ROG product that combines both network-processing unit (NPU) and sound card. Inspired by feedback from ASUS users, the product will deliver lag-free performance and enhanced sound quality for the ultimate online gaming experience.
The SABERTOOTH P67 brings the latest Intel technology to the TUF Series. This includes the exclusive Tactical Vest ? a unique design that forces cool air from CPU and case fans towards critical parts all over the motherboard via a proprietary shunt design. It also covers most of the motherboard to shield it against heat generated by connected components such as graphics cards. This keeps temperatures down, delivering greater system reliability and longevity.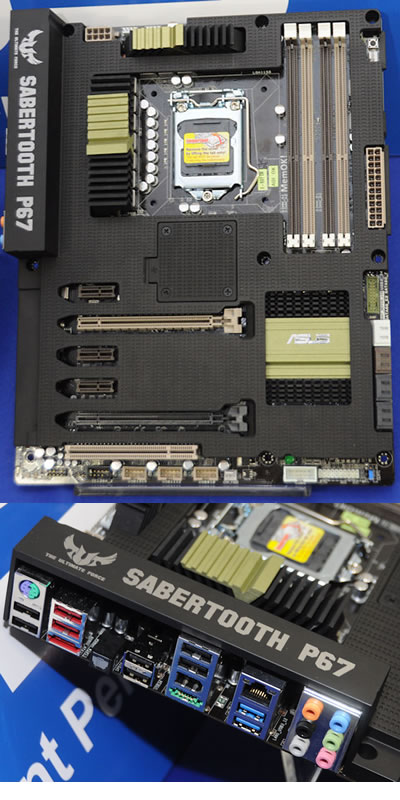 The SABERTOOTH P67 motherboard showcased during the technical seminar series also includes the new ASUS Thermal Radar technology. This uses sensors embedded in vital parts of the motherboard that provide accurate temperature readings that the motherboard uses to automatically adjust CPU and case fan speeds, leading to better cooling and lower operating noise.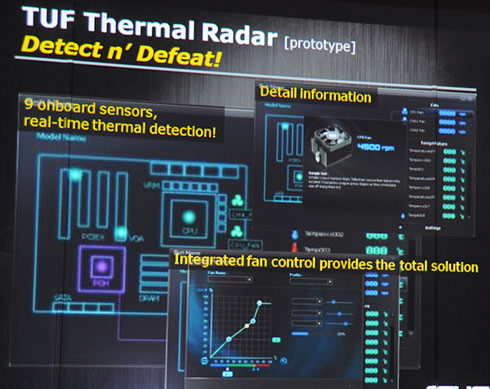 The ASUS Autumn 2010 Technical Seminars took place in Germany, England, Taiwan, France, the United States, Japan, China, Singapore and Korea.