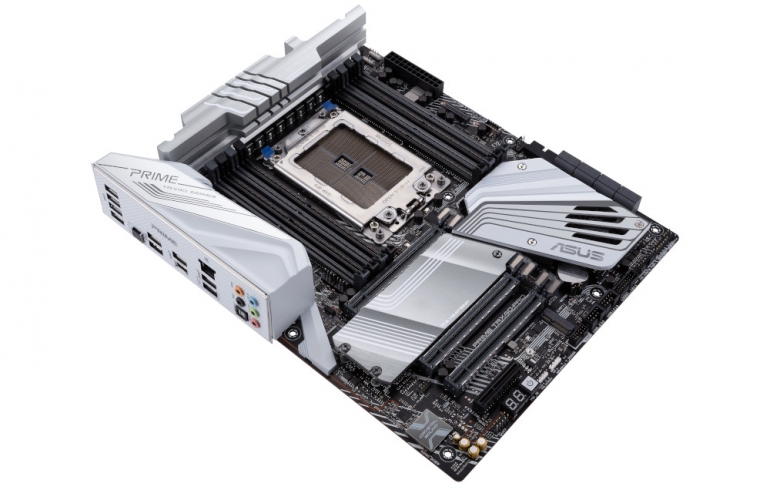 Asus, Gigabyte, MSI Announced Their TRX40 Motherboards
New motherboards based on the new AMD TRX40 chipset and the 3rd Gen AMD Ryzen Threadripper processors are prepared from Asus, MSI and Gigabyte.
The new AMD TRX40 chipset motherboards, available later this month, are a necessary update as they deliver the extra socket bandwidth required to make the platform meaningful, they also deliver PCIe 4.0 to HEDT platforms for the first time.
It is noticeable that the previous X399 motherboards are not compatible with the 3rd Gen Ryzen Threadripper processors.
Asus
ASUS introduced the ROG Zenith II Extreme, ROG Strix TRX40-E Gaming and the Prime TRX40-Pro.
For high-end desktop users, the TRX40 series offers four memory channels for up to 256 GB of RAM across eight slots. 3rd Gen Threadripper CPUs maintain their predecessors' support for ECC memory, too. You can take your rig to new heights with bumped up 3200MHz stock RAM speeds and push the limits even further with an extra boost from our exclusive OptiMem III technology in the Republic of Gamers (ROG) Zenith II Extreme.
The board's styling strikes a balance between industrial power and gamer-friendly flash. With the lights off, the Zenith II looks stealthy, but once you fire up the multi-zone Aura RGB LED lighting, the Zenith II becomes a high-end showpiece. The decorative panel atop the I/O shield has a holographic Infinity Lighting motif, while a full-color LiveDash OLED display can display POST codes, critical system information, or custom graphics. Aluminum ROG Armor covers most of the front of the board, and a metal backplate fortifies the board against the weight of massive heatsinks and expansion cards.
The Zenith II employs a 16-power-stage VRM design, suitable for the most extreme overclocking efforts. The Zenith II Extreme's main VRM heatsink uses two semi-passive fans that only turn on when the underlying component temperatures reach 60º C. To further enhance heat dissipation, a heat pipe joins the main VRM heatsink with an auxiliary heatsink under the I/O shroud. Another fan underneath the chipset heatsink draws heat away from the main M.2 slots and the TRX40 silicon itself, and its airflow also helps keep the SoC VRM cool during memory overclocking. Every one of those fans is smart enough to only turn on when they're needed and are controlled by the Fan Xpert 4 utility.
Storage capabilities are enabled by the Zenith II's five M.2 slots each using up to four lanes of PCIe 4.0, with three slots directly on-board and two coming from the exclusive DIMM.2 module. The Zenith II also provides eight SATA ports for all your mass storage needs.
The Zenith II Extreme features a trio of network interfaces. An Intel I211-AT Gigabit Ethernet controller gets the party started, but the Aquantia AQC-107 10GbE controller really fires things up as it makes short work of multi-terabyte transfers. You can also experience the fastest Wi-Fi 6 performance with exclusive ASUS GameFirst V technology featuring Intel® AX200 Wi-Fi 6 hardware with Bluetooth 5 support.
The back panel contains a total of seven USB 3.2 Gen 2 ports with 10Gbps of throughput, but the real highlight is the super-fast USB 3.2 Gen 2x2 Type-C connector with 20Gbps of bandwidth. You also get a pair of front-panel USB 3.2 Gen 2 connectors, four USB 3.2 Gen 1 ports and three USB 2.0 headers.
The Zenith II also uses a SupremeFX S1220 codec coupled with a high-end ESS Sabre 32-bit DAC. The audio package further includes software support for DTS Sound Unbound.
The ROG Strix TRX40-E Gaming motherboard has the high-end desktop credentials and it fits all of that power into a standard ATX form factor with customization options, sleek Strix Cybertext aesthetics and a 1.3-inch LiveDash OLED display. Its angular design extends to the M.2 heatsink and audio circuitry covers, and most of the board is blacked out so that it can look its best under any shade of RGB LED lighting.
This Strix board feeds its CPU with a 16-stage VRM with two semi-passive fans above the heatsink. ProCool II power plugs and their pins help ensure stable power delivery to Threadripper's many cores and keep the connectors themselves cool under load.
The board also provides plenty of options for storage devices and peripherals. There are three M.2 sockets, each linked to four lanes of PCIe 4.0, as well as eight SATA ports that adorn the edge of the board. Around the back, you'll find eight USB 3.2 Gen 2 ports with 10Gbps of bandwidth (one in the Type-C form factor), alongside another four USB 2.0 Type-A connectors. The Strix also offers dedicated headers for both AIO and custom-loop pumps in addition to its standard arsenal of fan headers.
This board also comes with a trio of network controllers. The ASUS GameFirst V technology using Intel AX200 Wi-Fi 6 hardware with Bluetooth 5 support, alongside a potent 2.5G Realtek ethernet controller paired with the Intel I211-AT Gigabit Ethernet controller. For your audio needs, the Strix uses a SupremeFX S1220 audio codec in addition to providing DTS Sound Unbound support.
The Prime TRX40-Pro features a brushed-aluminum VRM heatsink that wicks heat away from a 16-stage power-delivery subsystem comprising Infineon TDA21462 integrated power stages paired with chokes and components.
Every single expansion slot comes loaded with the performance of PCIe 4.0, too: three PCIe x16 SafeSlots grace the main portion of the board, and they're poised to run all-out in an x16/x16/x16 configuration.
The Prime TRX40-Pro includes three M.2 slots, wired up to PCIe 4.0 x4 bandwidth. Creators working with massive video files can RAID together multiple NVMe devices for massive I/O bandwidth and playback in their editing bays. Two of those slots rest under a dedicated heatsink for preventing SSD throttling under heavy loads. The third M.2 slot positions SSDs vertically to take advantage of ambient airflow around the CPU socket.
The USB port selection on the back panel includes three USB 3.2 Gen 2 Type-A connectors and a reversible USB 3.2 Gen 2 Type-C port to provide up to 10Gbps for connecting external storage, audio interfaces, dedicated video editing controllers, and more. The Prime TRX40-Pro also has a full set of fan and liquid-cooling headers controllable with our Fan Xpert 4 utility. Although the Prime doesn't have built-in wireless connectivity, Asus has added an E-key M.2 2230 socket for those who want to add a Wi-Fi module of their own. Wired connectivity comes from a Gigabit Ethernet port backed by an Intel I211-AT chip.
The Realtek S1220 audio codec offers audio, helped along by EMI shielding and separate PCB layers for the left and right channels to maintain signal integrity. For times where you need to pump up the volume, you can engage DTS:X Ultra support to bring 3D spatial audio to your existing set of headphones or speakers.
Gigabyte
GIGABYTE launched the TRX40 AORUS motherboards. The flagship TRX40 AORUS XTREME packs a direct 16+3 phase digital power design and pairs it with an impressive thermal solution consisting of Fins-Array Technology, a Nanocarbon Baseplate, an 8mm mega heatpipe, aluminum I/O armor, and a 5cm chipset fan. TRX40 AORUS motherboards are PCIe 4.0 ready.
With features such as server-class Intel X550-AT2 Dual GBE LAN, 8DIMM quad-channel DDR4 memory with XMP 4400MHz+ performance, Intel WIFI 6, 4-way dual width PCIe slots, GC-TITAN RIDGE AIC, and more, the enthusiast-grade TRX40 AORUS motherboards are ideal for content creators.
Select boards feature a 16+3 direct digital power design with all Infineon components. With a direct power design and no doublers used, the motherboards have lower Vcore ripple and higher power efficiency compared to motherboards which adopt a traditional parallel power design. Each phase in the power design is capable of holding up to 70A, for a total power output of 1330A. Raw power aside, the abundant phase count also improves the load balance so that the phases aren't overworked and generating excess heat, which can be detrimental to the board's durability. 2X Copper Low-Loss PCB design on the TRX40 AORUS motherboards also allows for overclocking as it provides a solid amount of power trace paths between components so that the boards can handle greater than normal power loads. This design also removes excess heat from the critical CPU power delivery area.
The boards feature Fins-Array Technology with a stacked fin heatsink design which increases heat dissipation surface area to offer 300% more cooling compared to traditional heatsinks. Select boards feature a Nanocarbon baseplate which is made with aluminum instead of iron, tripling thermal conductivity. A thin layer of Nanocarbon is coated on the backplate for enhanced thermal radiation capability. On the flagship TRX40 AORUS XTREME, the 8mm diameter heatpipe provides superior cooling compared to the standard 6mm diameter heatpipe as its 30% diameter increase allows it to transfer a great amount of heat in the same time period. TRX40 AORUS XTREME's I/O armor is also made with aluminum much like its Nanocarbon baseplate and is connected to the Fins-Array to bolster heat dissipation around the MOSFETs. A 5cm ball bearing silent fan and a multilayered TRX40 heatsink with Fins Array heatsink keep the chipset cool and quiet while operating optimally. Users can select a fan profile tailored towards performance or quiet settings. The 5cm ball bearing silent fan deactivates when the system is idle.
The PCIe 4.0 re-driver on the TRX40 AORUS motherboards strengthens the PCIe 4.0 slot signal for up to 3.3x stronger slot stability compared to PCIe 3.0 while the 2X Copper Low-Loss PCB minimizes the dissipation factor up to 4x lower compared to standard PCBs to prevent signal loss. The PCIe 4.0 slots are also reinforced with Ultra-Durable armor to support bulkier graphics cards. Workstation users seeking superior rendering and graphical performance can utilize the 4-way dual-width PCIe slot configuration to install up to four, dual-width PCIe cards and set up multi-graphical configurations. The dual-width PCIe slot configuration offers adequate clearance so that multiple devices can be installed without crowding the area.
Select TRX40 AORUS motherboards come with four PCIe 4.0 x4 M.2 slots and the M.2 heatsinks have been redesigned to provide full support for these high-end storage devices. The board's PCIe 4.0 M.2 heatsinks are larger than previous generation M.2 heatsinks and offer greater heat dissipation surface area.
The AORUS Gen4 AIC Adaptor is included with the TRX40 AORUS XTREME and TRX40 DESIGNARE models and enables both PCIe 4.0 and 3.0 performance. It comes with four NVMe PCIe 4.0/3.0 x4 M.2 slots so users have flexibility for storage device setups. Users can install their own M.2 SSDs with the AORUS Gen4 AIC Adaptor and configure a RAID 0 Array with a single click. GC-Titan Ridge AIC Card is bundled with the TRX40 DESIGNARE and offers transfer speeds up to 40Gb/s and support for up to 3 devices for each port. Users can daisy-chain up to 6 devices with the dual USB Type-C ports.
The flagship TRX40 AORUS XTREME features a pre-mounted, server-class Intel X550-AT2 chip for Dual 10 Gbe LAN. The Dual 10 Gbe LAN setup utilizes link aggregation for higher bandwidth, offers higher fault tolerance with its two independent connectivity links as a failsafe, and allows users to set up both internet and intranet configurations. With the intranet configuration, users can set up a home network or link their PCs to a NAS. The board also comes with WIFI 6 (802.11ax) for gigabit wireless performance and offers 5.5x higher throughput compared to the 802.11ac 1x1 standard. The wireless connectivity is not only faster than standard wireless connections but also gets the job done with its 4x better network capacity and works effectively even in dense areas with lots of devices using WIFI. The dual band antenna supports higher signal gain and has 2x the signal strength compared to standard antennas. The antenna design also comes with multiple angle tilt and a magnetic base which makes it flexible for many different setups. TRX40 AORUS MASTER comes with AQUANTIA 5Gbe LAN which provides up to 5GbE network connectivity, 5x faster than a standard gigabit port.
GIGABYTE has also redesigned its old BIOS in favor of a newer BIOS with better user options and tools for experienced as well as novice users. The new Easy Mode displays important information on CPU clock rates, memory, storage devices, fan information, and more. New items can also be added to the list or to the user's favorite list. All changes to the BIOS settings are listed before saving so users can confirm all adjustments before proceeding with the changes.
MSI
MSI has announced a trio of AMD TRX40 motherboards for various use, including Creator TRX40, TRX40 PRO 10G and TRX40 PRO WIFI to satisfy any type of users.
The Creator TRX40 motherboard is built with an aluminum design, enlarging heatsink size that contains more surface to cool down CPU, extended heat-pipe and a stacked Fin Array to maximize the heat dissipation effect with steady aircurrent and enlarge the radiating area. For chipset thermal design, Frozr Heatsink includes double ball bearings patented fan with Propeller Blade Technology to generate more airflow. Furthermore, all three M.2 slots are covered with double side M.2 Shield Frozr to avoid throttling of M.2 devices.
Featuring the latest PCIe 4.0 technology, the Lightning Gen 4 solution provides the fastest PCI-E data transfer bandwidth with 64GB/s. PCIe 4.0 also ensures both backward and forward compatibility with older and newer specifications. To carry the increasingly heavier graphics card, PCI-E Steel Armor supports more weight with extra soldier points and prevents electromagnetic interference. Creator TRX40 is equipped with triple Lightning Gen 4 M.2 slots, which is the fastest onboard storage solution to offer up to 64 Gb/s transfer speed.
For heavy processor loading operation, 16 phases 70A digital power guarantees precise power delivery to the processor and high power carrying capacity. Double 8-pin power connectors offers stable power supply to avoid shutdown or other serious issues.
Creator TRX40 is equipped with Dual LAN including a 10G Super LAN. 10G Super LAN offers up to 10Gbps high-bandwidth and lower latency, in combination with other 10G-supported devices to gain incredible data transfer speed. Also, the latest Wi-Fi 6 AX solution supports up to 3x bandwidth and 4x network capacity with two-way MU-MIMO technology for better efficiency.
Creator TRX40 is equipped with total 19x USB ports. Besides, Creator TRX40 also offers the latest USB 3.2 Gen 2x2 solution. The transfer speed is four times faster than the most common USB 3.2 Gen1 solution. In terms of the latest USB 3.2 Gen 2x2 solution, there are already a number of products out to support USB 3.2 Gen 2x2. For instance, Western Digital recently introduced "WD_BLACK P50 Game Drive SSD" that will be coming soon and features USB 3.2 Gen 2x2 interface, pushing the read speed up to 2000 MB/s.
For professional and office use, TRX40 PRO 10G and TRX40 PRO WIFI motherboards are designed to satisfy various workflows. Enhanced power design includes 12+3 digital power phases and dual 8 pin EPS-12V power connectors. With MSI extended PWM heatsink, heat-pipe, and Frozr heatsink, the thermal design ensures best heat dissipation effects while running at full speed with high-end processor. Besides, two Lightning Gen 4 M.2 slots are both equipped with M.2 Shield Frozr heatsinks for better protection and prevent throttling.
Lightning USB 20G, the latest USB solution, is also available on both TRX40 PRO 10G and TRX40 PRO WIFI to provide up to 20 Gbps transfer speed. Dual LAN onboard including 2.5G and Gigabit LAN cannot be ignored for more efficient data transfer and network connection. Specifically, TRX40 PRO 10G offers a 10G Super LAN card with higher bandwidth, higher density and lower latency for large file transfer. TRX40 PRO WIFI, on the other hand, is equipped with Wi-Fi 6 AX solution onboard.
TRX40 PRO 10G and TRX40 PRO WIFI all have M.2 XPANDER-Z GEN 4 add-on card expands 2x M.2 slots with heatsink and fan for more storage.