ASUS Extreme N6600GT Silencer
1. Introduction
Low noise fans and CPU heatsinks, even low noise storage drives have become the rage computer hardware. Today's end users prefer a silent solution and rightly so, be it for a 12cm case fan or an adjustable power supply. In the following pages, we will be reviewing Asus' latest addition to the "silent" movement, the N6600GT Silencer PCI-E model.
The main difference between the Silencer and the previous N6600GT models is of course the fanless, heatsink design and the available memory, with the Silencer providing 256 M of DDR3 while the previous model only had 128Mb. There is a slight difference in the core and memory clocks but not one worth investigating.
Throughout the review tests, we will be posting the results of the Silencer 6600GT in comparison with those of the N6600GT Extreme PCI-E interfaced card.
- Specifications
Graphics Engine
GeForce 6600GT
Video Memory
256 M DDR3
Engine Clock
500MHz
Memory Clock
1GHz (500MHz DDR3)
RAMDAC
400MHz
Bus Standard
PCI-Express
Memory Interface
128-bit
Max Resolution
2048x1536
VGA Output
Standard 15-pin D-sub
TV Output
HDTV-out
DVI Output
DVI-I
2nd VGA Output
Yes
Adaptor/Cable Bundled
HDTV out adaptor
DVI-to-2nd VGA adaptor
Software Bundled
Joint Opts
ASUS DVD XP
Power Director
Media Show
ASUS Utilities & Drivers
-Features

- NVIDIA® CineFX™ 3.0 engine
Full support for Microsoft DirectX9.0 Shader model 3.0 enables stunning and complex special effects
- NVIDIA SLI Multi-GPU ready
Dramatically scales performance by allowing two graphics card to be run in parallel.
- High-Speed GDDR3 memory interface
Support for the world's fastest GDDR3 memory delivers fluid frame rates for even the most advanced games and applications.
- NVIDIA UltraShadow™ II technology
Enhances the performance of bleeding-edge games
- NVIDIA® Intellisample™ 3.0 technology (HCT)
The industry's fastest antialiasing delivers ultra-realistic visuals, with no jagged edges, at lightning-fast speeds
- NVIDIA® nView™ multi-display technology
Provides the ultimate in viewing flexibility and control for multiple monitors
- Microsoft® DirectX 9 and OpenGL 1.5 support

- Asus SilentCool Technology provides the quietest environment and superior Cooling effect.
- ASUS Splendid : Bring Every Pixel To Life. Watching video on PCs is now as good as on the best TVs.
- ASUS GameFace ™ Messenger : Don ' t Type, Just Talk. Easy IM & live game conference in any PC games
- ASUS GameLiveShow : Stream live gaming action onto the Internet and share with other gaming enthusiasts.
- ASUS GameReplay : Record gaming action and strategy into MPEG4 files to share with other gaming enthusiasts.
- ASUS Video Security™ Online: Whether you're online or not, ASUS VideoSecurity Online provides you a flexible and economical security system. It can easily turn your computer into your own security server.
- ASUS OnScreenDisplay (OSD): OSD allows you to instantly adjust various display settings in almost any PC game without leaving the game.
- Diversified displays connectivity (DVI, VGA, DVI+VGA, DVI+TV-out)
- High-quality TV output for big screen gaming or presentations
As it can be seen from the above image, the new 6600GT Silencer maintains lower temperature levels compared to the previous 6600GT releases. This is the major merit of Asus' new release and we will see how well it performs later on.
- Retail/Package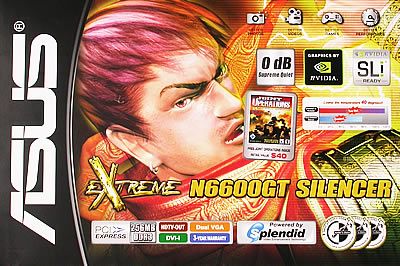 We've become used to ASUS' stylish, attractive retail boxes, and the N6600GT Silencer is no exception. It includes the standard software bundle consisting of Asus DVD XP, Power Director, Media Show and of course the usual utilities and drivers. Also included are the "Join Operations" and "Xpand Rally" full game versions, as well as three new bundle games which ASUS uses in its latest releases, "Second Sight", "Powerdrome", and "Chaos League".
The retail box contains the usual array of cables, an HDTV out adaptor and a DVI to VGA adaptor. As for manuals, ASUS includes two color manuals, one for Utilities and Driver installation and the other a helpful step by step graphics card installation guide.
The very useful and comprehensive manual and setup guide...
The retail package contains all that's required for a basic graphics card setup. Note here that the driver included is not the official Nvidia release. Instead, ASUS releases an "Asus modified version" for its graphics card release. It is recommended this one be used as it is tuned to perform better with ASUS cards.
The bundled cables...
Having run through the specs and features of the new N6600GT Silencer edition as well as an overview of the retail box, let's continue on to the next page and the rest of the review.