ASUS EXPEDITION GTX1050TI-4G review
6. SteamVR Performance Test, power consumption
The SteamVR Performance Test is a free utility meant to evaluate whether your computer is ready to support VR content in its current form.
The two-minute SteamVR Performance Test runs several different scenes from the Aperture Science Robot Repair demo, measuring how many frames are rendered, how many frames drop below 90 FPS, average fidelity and if a frame's output is limited by the CPU. Once the benchmark completes, it provides out a somewhat vague "Not Ready," "Capable" or "Ready," with suggestions about how to improve performance.
The SteamVR Performance Test is not presenting the same sequence with the same detail settings. It's metric adjusts the image quality (fidelity) in an effort to maintain at least 90 FPS. Your score is determined by the average fidelity your hardware maintains, combined with the average frame rate.
The Geforce 1050Ti got a 2.8 fidelity score, which rated the card as "VR capable".
The GeForce GTX 950 wasn't up to par. We didn't expect it to return a "capable" result, though. With a score of 1.2, the GM206-based board suffered low fidelity in exchange for a high-enough frame rate. The GTX 960 is marginally better. It its way up to 2.8, enough to achieve medium fidelity.
The GTX 960 OC was also rated as "VR capable", but the Radeon RX 460 was not "VR Ready".
In any case, you should invest in a GeFOrce 1060 or higher GPU in order to be ready for VR gaming. A VR-ready system meets the specifications set forth by HTC and Valve for developers to target when they build VR games. Oculus is also asking for the same level of hardware for its VR system. Just because the SteamVR Performance Test says your system is "capable" doesn't mean you'll be able to run all the games, nor does it mean you'll enjoy the experience. You should always follow the recommended and minimum specs for each VR title.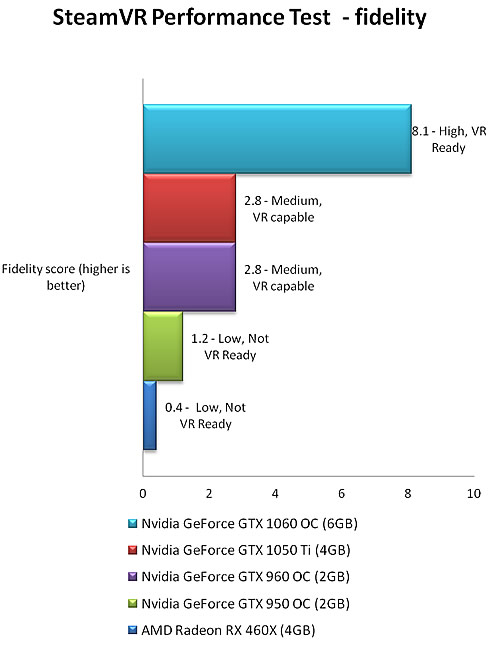 Power consumption
We measured the power consumption of the system during the benchmarks with each GPU. Both idle and maximum power figures we recorded.
The idle power consumption of the Nvidia GeForce GTX 1050 Ti was 28W, a figure close to that measured for the rest cards (28-32W).
During almost all the benchmarks, the maximum power consumption of the GTX 1050 Ti was in the 80-125W range, pretty close to the consumption of the Radeon RX 460. Compared to the consumption of the GTX 950/960 cards, the GTX 1050Ti consumed some 20-30 Watt less during our benchmarks.