1. Introduction, features
Asus recently released an overclockable version of Nvidia's 9600GT card, the "EN9600GT TOP" . The core of the card has been clocked at 720MHz, compared to the 650MHz of Nvidia's reference design, a difference that should give you a 10 percent performance boost, according to Asus.
The Shader clock of this card is also overclocked to 1800MHz and the memory has been pushed to 2GHz (1GHz effective). The card also comes with a PCB designed by Asus and its Asus Glaciator fan, also met in the company's latest TOP edition models.
Asus' Glaciator fan should help lower GPU temperatures while it is still relatively quiet, producing 25db of noise, according to the official specifications. The card is also HDMI certified via a DVI-HDMI adapter and an S/PDIF connection to motherboard's internal S/PDIF header, which is not the best solution we could thing. Lastly, Asus EN9600GT Top uses Japanese polymer capacitors for more stable operation and comes bundled with Asus SmartDoctor for easier overclocking of Shader clocks.
- Retail package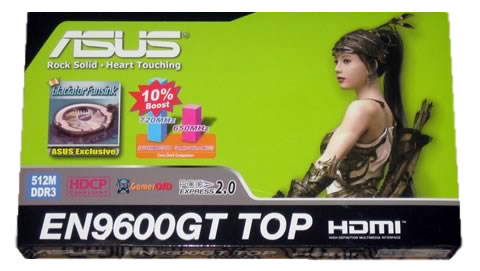 Inside the box you find a DVI to D-Sub adaptor, a DVI-to-HDMI adaptor, an HDTV-out cable, a Power cable and an internal audio cable to connect at the SPDIF internal header of the motherboard. There are also two optical discs with drivers and utilities.
The Asus EN9600GT Top has been designed by Asus and as we mentioned, it is cooled by the Glaciator fansink.
A closer inspection reveals that the fan is made out of copper.
You will need a 6-pin power supply to operate this graphics card.
The GPU core runs at 720MHz, the memory at 1000MHz and the Shader clock at 1800MHz. Below are several screenshorts from GPU-Z and Everest Ultimate Edition.