11. NFS Carbon
Need for Speed Carbon delivers the next generation of adrenaline-filled street racing and will challenge players to face the ultimate test of driving skill on treacherous canyon roads.
What starts in the city is settled in the canyons as Need for Speed Carbon immerses you into the world's most dangerous and adrenaline-filled form of street racing. You and your crew must race in an all-out war for the city, risking everything to take over your rivals' neighbourhoods one block at a time. As the police turn up the heat, the battle ultimately shifts to Carbon Canyon, where territories and reputations can be lost on every perilous curve.

Lets race...
Need for Speed Carbon delivers the next generation of customization giving you the power to design and tweak your crew's cars in every way using the ground-breaking new Autosculpt technology. Represent your car class, your crew, and your turf in Need for Speed Carbon, the next revolution in racing games.
In order to benchmark the graphics cards, we made the same two rounds on the same track with the same car. By using FRAPS, we recorded all 2 minutes of driving.

Black and beautiful...
Keep in mind that all tests results were done with "Blur Effect" and "Rain" disabled, since enabling them gives a huge performance hit on all cards. In any case, all other detail settings are maxed out. As usual, AA/AF modes are set from Nvidia's 3D control panel.
Without enabling AA/AF, we can see the performance of each card at 1280x1024.
NFS Carbon is a game that performs better with ATI cards. The Asus EN7900GS Top was faster than the Foxconn 7900GS.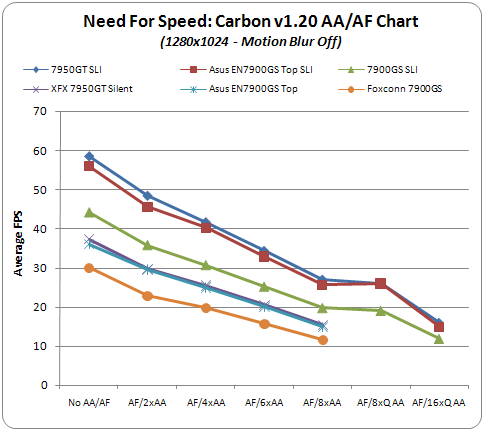 Enabling AA/AF at NFS Carbon is...demanding on all VGA cards. Both the 7950GT SLI and Asus EN7900GT Top were very close.