ASUS Chairman Unveils Many New Products at IFA 2015
ASUS Chairman Jonney Shih today revealed details of the company's latest innovations in mobile, wearable and home computing technology, plus the latest gaming products from ASUS Republic of Gamers (ROG), in a pre-IFA 2015 press event held at the Bolle Meierei, in Berlin, Germany. New products announced included RT-AC5300, which Asus descibes as the wiorld's fastest Wi-Fi router, and VivoStick PC, a slim and stylish ultra-miniature Windows 10 'stick' PC. The latest ZenFone lineup, including the new ZenFone Zoom model, was introduced to Europe, along with the announcement of pricing and availability for ZenWatch 2 and the latest models in the ZenPad and Zen AiO families.
Featuring in the lineup were the G752 gaming laptop, ROG Maximus VIII Extreme/Assembly, ROG Matrix 980Ti, ROG Swift PG348Q, ROG 7.1 headset, and ROG G20 Special Edition. The 165Hz ROG Swift PG279Q gaming monitor was also showcased. Before leaving the stage, Mr. Shih surprised the audience with a sneak preview of GX700, the first water-cooled gaming laptop.
ROG Gaming
ROG G752 is the new generation of ROG gaming laptop. With the new Windows 10 Xbox app, gamers can play their Xbox games on G752 directly, simultaneously play a game on G752 while streaming it to any room, or enjoy cross-platform Xbox gameplay with friends who are using the Xbox One via Xbox Live.
G752 features backlit anti-ghosting 30-key rollover, and also has a dust-release thermal solution that that captures dust and channels it out of G752, eliminating dust buildup for increased system stability and longevity. It has a 6th-generation Intel CPU and the latest NVIDIA GTX 900M Series graphics. The G752 features the new ROG color scheme with Armor Titanium and Plasma Copper accents.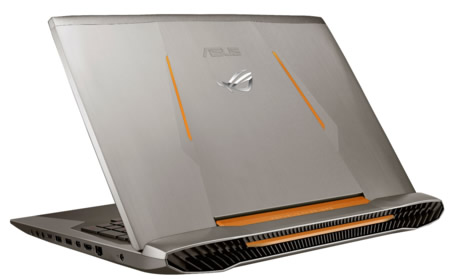 ROG Maximus VIII Extreme/Assembly sports the new Plasma Copper ROG color scheme and is based on the Intel Z170 Express chipset. It features several exclusive technologies to maximize the overclocking potential of the Intel 6th-generation processors and DDR4 memory. Maximus VIII Extreme/Assembly includes the ROG 10Gb/s Ethernet card. With its low-latency design, this Ethernet card is backwards-compatible with all Ethernet standards and supports speeds of 100Mbit/s, 1Gbit/s, 2.5Gbit/s, 5Gbit/s, and 10Gbit/s. It is suitable for any PCIe 2.0 x4 connection.
ROG Maximus VIII Extreme/Assembly also features the ROG SupremeFX Hi-Fi headphone amplifier. This uses an ESS ES9018K2M digital-to-audio converter (DAC) for lower audio jitter, with two Texas Instruments LM4562 operational amplifiers for greater audio signal amplification, plus a TPA6120A2 headphone amplifier to drive high-fidelity headphones.
ROG Matrix GTX 980Ti Platinum gaming graphics card features DirectCU II with 10mm heat pipes for 25% cooler performance and three-times (3X) less noise than reference cards. Asus says its patented Wing-blade Fan technology maximizes airflow by delivering 105% more air pressure for more efficient cooling.
Memory Defroster is an ASUS-exclusive technology that takes overclocking to extremes – it defrosts the Matrix card's memory during subzero overclocking to ensure sustained stability. ROG Matrix GTX 980Ti Platinum has a one-click Safe Mode that restores VBIOS to its original settings; while the color-coded ROG load indicator lets users check GPU load levels at a glance. It features the GPU Tweak II user interface, which makes gaming and overclocking easier and more visual than ever. It also comes with a 1-year XSplit Gamecaster premium license — a $99 value — so gamers can stream or record their gameplay via a convenient, in-game overlay.
ROG Swift PG348Q is a 34-inch gaming display with a curved 3440 x 1440 resolution IPS panel for gaming. This 21:9 aspect display has built-in NVIDIA G-SYNC technology and a 100Hz refresh rate for smooth gaming visuals with no screen tearing or lag. ASUS GamePlus gives users four different crosshair options, an in-game timer and an FPS counter for an added advantage in first-person-shooter and real-time-strategy games; while ASUS GameVisual technology provides six preset display modes for optimized gaming visuals. ROG Swift has a frameless curved design and is ergonomically-designed with tilt, swivel, and height adjustments.
In addition to ROG Swift PG348Q, the new 165Hz ROG PG279Q with built-in NVIDIA G-SYNC technology was shown in the product demonstration area.
The ROG 7.1 surround gaming headset features 10 discrete neodymium-magnet drivers to surround-sound. An audiophile-grade headphone amplifier ensures richly and dynamic sound for all channels. A dedicated plug-and-play USB audio station works as a USB soundcard and provides useful in-game audio controls.
The audio station provides up to 90% cancellation of environmental noise. It also features Sonic Studio, a tuning suite that gives users full control over audio settings, including Reverb, Bass Boost, Equalizer, Voice Clarity and Smart EQ settings, for truly amazing sound.
ROG G20 Special Edition is designed to dominate the field of small-form-factor gaming desktops. ROG G20 features a 9.5-liter chassis and is powered by a 6th-generation Intel Core i7 processor and NVIDIA GeForce GTX Titan X graphics for smooth gameplay in 4K/UHD resolution.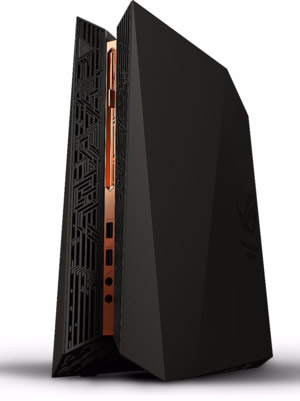 The chassis takes advantage of natural convection for efficient heat management, and utilizes hidden airflow channels and two internal fans to cool its internal components. The chassis has customizable LED effects that showcase up to 8 million colors which can be tailored to suit the feel of the game currently being played, or configured to light up in tempo with the currently-playing audio.
ROG GX700 is the first water-cooled gaming laptop and delivers stable performance. Like the G752, GX700 features the new ROG color scheme with Armor Titanium and Plasma Copper accents. It is powered by an overclockable 6th-generation Intel K-SKU processor, with the latest NVIDIA graphics processing unit (GPU). Gamers can enjoy real 4K/UHD laptop gaming on the 17-inch 4K/UHD in-plane switching (IPS) display.
Zenwatch 2
ZenWatch 2 is an evolution of the original ZenWatch, with a 2-day battery life and a choice of 2 sizes, 3 case colors and 18 strap options.
Powered by Android Wear and produced in partnership with Google, the ZenWatch 2 is a precision watch that serves as a smart assistant to Android and iOS smartphones, providing wearers with information at a glance and letting them get things done with a simple touch or voice command.
Wearers can customize even further to express their sense of style. Available in two sizes and three case colors, with 18 different strap material and color combinations, ZenWatch 2 also includes over 50 instantly-changeable watch faces, along with a FaceDesigner app that lets wearers design their own.
ZenWatch 2 builds upon the original ZenWatch, offering an even more refined design, a full-featured activity tracker, and a workout coach. ZenWatch 2 now includes a metal watch crown that provides a new way to interact with the watch. It also comes with an all-new magnetic charger that features effortless attachment, and which can charge ZenWatch 2's battery to 50% capacity in just 36 minutes.
ASUS ZenWatch 2 is a smart assistant for Android and iOS smartphones that provides wearers with at-a-glance view of incoming calls, messages, notifications, and other important information without having to remove their phone from their pocket or bag. It comes with a wide-range of software features, including ASUS ZenUI apps, Business Helper, FoneHelper, Remote Camera, and ZenWatch Message.
ZenWatch 2 integrates with ZenUI on ASUS smartphones, letting wearers enjoy wearable-optimized versions ZenUI apps, such as What's Next and Do It Later. What's Next keeps wearers informed of important information as they need to know it, such as details of their next upcoming appointment or the weather at their next destination. Do It Later lets wearers defer events such as incoming phone calls and messages by automatically adding them to a list of reminders, so they can stay focused on their current task.
ZenWatch 2 introduces Business Helper, a suite of features to assist wearers with common business-related tasks, such as checking their agendas, managing email, and viewing their call logs. In addition to Business Helper, ZenWatch 2 comes with an improved version of FoneHelper, a collection of features - including Quick Settings, Cover to Mute, Unlock My Phone, and Forgot Phone Warning.
Remote Camera lets wearers display their smartphone's camera viewfinder on their ZenWatch 2. This frees them to take photos from creative angles where the viewfinder would be difficult to see, such as when holding their phone overhead at a concert or other crowded event. Remote Camera is also useful for group photos, letting the photographer compose the photo, release the shutter, and check the final result while being included in the shot. Remote Camera has been improved for ZenWatch 2, offering faster performance, greater range, the ability to switch between the phone's front and rear cameras, and zoom capability.
ZenWatch Message is a new watch-to-watch communication app that lets wearers exchange short messages, emojis, and drawings with other ZenWatch 2 wearers right from their wrists.
ZenWatch 2 will be available in Europe in October starting at €149.
Zenpads

ZenPad S 8.0 (Z580CA) is an 8-inch Android tablet. Powered by an Intel Atom Z3580 processor, ZenPad S 8.0 is the firsttablet with 4GB RAM. It has a QXGA IPS screen with a 324ppi pixel density and ASUS Tru2Life+ display technology. ZenPad S 8.0 supports the optional Z Stylus for writing and drawing input,and features DTS-HD Premium Sound with 6 speakers.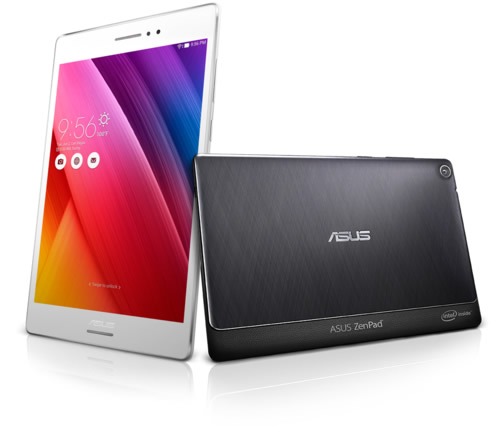 ZenPad 10 (Z300) combines styling, entertainment capabilities and performance with optional accessories that enhance functionality. It is available in three models with LTE/Wi-Fi (Z300CL), 3G/Wi-Fi (Z300CG), and Wi-Fi (Z300C) connectivity, there is a ZenPad 10 to suit any kind of user.
ASUS Audio Dock is a detachable keyboard with Bluetooth stereo speakers that provides entertainment and productivity for ZenPad 10. ZenPad 10 also supports the optional Z Stylus for writing and drawing input.
Zen AiO S
Zen AiO S is a beautiful, high-performance all-in-one PC that fuses art with the latest technology.
ASUS announced the 23.8-inch Zen AiO S Z240IC and the 21.5-inch Zen AiO S Z220IC. They are featuring an all-aluminum design, performance delivered by 6th-generation Intel Core up to i7 processors and gaming-grade NVIDIA GeForce GTX 960M graphics with up to 4GB of video memory. Other technology showcased in the Zen AiO S Series includes the latest USB 3.1 Gen 2 Type-C port, up to PCIe 3.0 x4 M.2 SSD storage, and up to an Intel RealSense camera.
Motion-sensing of people or objects in front of the camera is now possible, enabling previously-unimagined ways of interacting with a PC. For example, with precise 3D facial recognition, a user's face can become their login password, or families can just have fun interacting with the latest motion-controlled games.
For family entertainment, both new Zen AiO S models are equipped with a six-speaker ASUS SonicMaster Premium sound system that delivers 16W of stereo sound.
And for all-device connectivity, Zen AiO S also has a full complement of 4 USB 3.0 ports plus a USB 2.0 port, along with the latest ultra-fast 802.11ac Wi-Fi.
And with the exclusive ASUS HomeCloud, PC Link, Share Link and SyncUp apps, Zen AiO S can also act as a household cloud storage hub, allowing family members to organize their files and data on multiple mobile devices and access them instantly from anywhere, on any device.
ASUS HomeCloud allows users to create their very own personal cloud storage, with wireless file access from any mobile device. Zen AiO S users get a 100GB ASUS WebStorage account free for one year, and HomeCloud can sync with this to create automatic off-site backups, or mirror user-selected files online.
PC Link allows users to link and project a mobile device's screen to Zen AiO S, allowing incoming-call and app notifications to be monitored on the PC.
Share Link enables the wireless transfer of any size or format of file between Zen AiO S and mobile devices, and SyncUp automatically syncs files between Zen AiO S and mobile devices, with customizable settings to allow seamless editing from any device.
RT-AC5300
The RT-AC5300 is a AC5300-class tri-band wireless router that delivers ultra fastWi-Fi — with Broadcom NitroQAM RT-AC5300 delivers up to 1000Mbit/s on the 2.4GHz band and up to 2167Mbit/s on each of the two 5GHz bands, for a combined total of up to 5334Mbit/s. T
It is equipped with eight external antennas in a four-transmit, four-receive (4T4R) configuration, giving a coverage of up to 500 square meters. AiRadar beamforming focuses the Wi-Fi signal, giving stronger Wi-Fi performance for each device.
Tri-Band Smart Connect ensures that each device is assigned automatically to the most appropriate band for maximum speed and stability. Multi-user MIMO (MU-MIMO) enables multiple devices to connect at their maximum speeds without slowing down the network, and Link Aggregation (802.11ad) can combine two LAN ports into one superfast 2Gbit/s wired connection using two network cables.
VivoStick PC
ASUS VivoStick PC is a slim Windows 10 'stick' PC equipped with a cap to protect the HDMI connector. The small device is designed for everyday enjoyment, turning any HDMI-enabled TV or monitor into a fully-functional PC, and allowing users to stream and share content anywhere, anytime. It can even be remotely controlled from a mobile device using a special ASUS app.
Measuring just 137.9 x 34.0 x 14.9mm, weighing only 68g, VivoStick PC can also be used for essential daily computing, with full connectivity including fast 802.11n Wi-Fi, two USB ports, an audio output jack, plus Bluetooth 4.0 for connecting a keyboard and mouse. VivoStick PC comes with 2GB of RAM.
ZenFone Zoom
The ZenFone Zoom is the world's thinnest smartphone to feature a 13MP camera with a 3X optical zoom. ZenFone Zoom's rear camera features a 10-element lens with up to a 12X zoom for even finer close-up detail. ZenFone Zoom also has an optical image stabilizer (OIS) for shake-free photos and professional Panasonic SmartSFI sensor for optimized image, combined with a fast laser auto-focus for sharp images.
The smartphone is powered by a 2.5GHz Intel Atom Z3590 quad-core processor with 4GB RAM.
Advanced users will appreciate the flexibility of ZenFone Zoom's Manual mode, which allows professional-grade manual control of ISO settings, shutter speed and more.
Other features include 4GB of dual-channel DDR3 RAM, up to 128GB of storage as an option, LTE Category 4+ for download speeds up to 250Mbit/s, and a 60ms touch-response time. it also packs a 3000mAh battery and ASUS BoostMaster technology for turbo-speed charging that takes the battery from zero to 60% in just 39 minutes.
ZenFone Zoom's 5.5-inch 1920x1080 Full HD IPS display offers wide 178-degree viewing angles, and a 403ppi pixel density.