ASUS at CES 2010
Today ASUS chairman Jonney Shih unveilled Asus' latest innovations including collaborations with two of the world?s most celebrated designers: the ASUS NX90 Bang & Olufsen ICEpower notebook by David Lewis and the Eee PC Seashell Karim Rashid Collection. Mr. Shih also revealed three concept devices inspired by Waveface, ASUS' context-based vision of digital life. These devices are designed around mobility and the cloud, and reflect the "see only what you need, when you need it" principle that governs Waveface.
Furthermore, five Asus products were awarded with CES 2010 Innovations Design and Engineering Awards. These products include the MATRIX GTX285/HTDI/1GD3 graphics card, Disney Netpal by ASUS (Eee PC MK90H), MS246H LCD monitor, RT-N16 router and Videophone Touch AiGuru SV1T.
ASUS NX90 Bang & Olufsen ICEpower Notebook
The luxurious ASUS NX90 Bang & Olufsen ICEpower notebook has been designed by award-winning B&O Chief Designer David Lewis. The NX90 features a polished aluminum exterior and palm rest that matches to the matte-black keyboard and dual touchpads. Two speakers featuring ICEpower technology flank a display reminiscent of high-end consumer flat screen televisions. Exclusive Sonic Focus technology helps to ensure that all audio is reproduced as flawlessly as possible. The NX90 also offers a unique way to interact with the system, in the form of dual touch pads. These work in concert with the Rotation Desktop software to provide users with a DJ-like control. Featuring the latest in Intel Core i7 technology, the notebook also has the power to replace a desktop.
Eee PC Seashell Karim Rashid Collection
The Eee PC Seashell Karim Rashid Collection is the realization of Karim's vision of computing - one that is more sensual, more human, and ultimately more hip. The stylish Hot Pink and Coffee Brown colors make a fashion statement that will please even the most discriminating users.
ASUS ROG G73Jh: The Gamer's Notebook
Developed in response to gamers' demand for a technically advanced mobile gaming machine, it looks as good on the desktop as it does on the go. At the heart of the G73Jh lies the latest Intel Core i7 processor, DirectX 11 capable ATI Radeon HD5870 graphics, up to 8GB of DDR3 system memory, 8-channel HD audio with EAX 4.0 compatibility, on-the-fly overclocking, ambient lighting, and 1TB of storage space.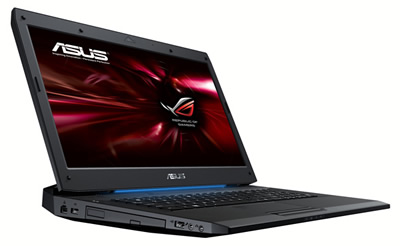 On the technology front, ASUS phases in USB 3.0 into its motherboard and notebook product line-up. ASUS has also introduced the Bamboo U33Jt, a new notebook clad in environmentally friendly bamboo. The notebook has been produced using an improved In Mold Layer (IML) manufacturing process.
A panel of independent industrial designers, engineers and members of the trade press has selected the following ASUS products as Innovations Design and Engineering Awards honorees:
ASUS MATRIX GTX285/HTDI/1GD3 Graphics Card
The MATRIX GTX285/HTDI/1GD3 is a custom-designed graphics card that integrates hardware and software to deliver a 14% increase in performance and 12% more cooling efficiency. The card also features the iTracker2, a utility which offers exclusive memory-timing tuning and a VBIOS recovery application that provides gamers with advanced control over the graphics card.
Disney Netpal by ASUS (Eee PC MK90H)
For the Disney Netpal by ASUS (Eee PC MK90H), ASUS engineers have combined advances in technology and industrial design to deliver a kids-friendly product featuring software that makes learning easy, a web-safe parental control system, and fun games.
ASUS Ultra-slim Designo MS246H LCD Monitor
The 16.5mm sleek geometric design of the MS246H combines straight lines and elegant curves while integrating specs such as Full HD 1080p resolution, 2ms gray-to-gray response time, 50,000:1 contrast ratio and a unique ring stand with Ergo-Fit technology for easy tilt-adjustment.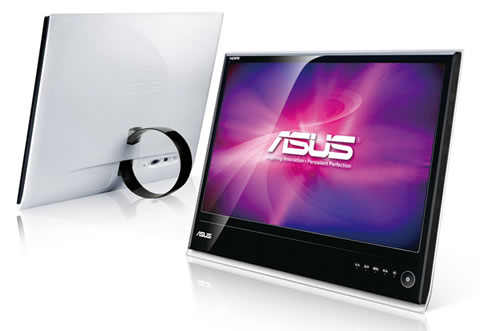 ASUS RT-N16 Wireless Router
The RT-N16 is a high performance Gigabit Router compatible with IEEE 802.11n, which adopts MIMO (Multiple Input Multiple Output) technology to provide up to 300Mbps WLAN throughput in an easy to configure product.
ASUS Videophone Touch AiGuru SV1T
The AiGuru SV1T is the first videophone to feature a large 7" touchscreen, speeding up character input and making the user's video call a significantly more intuitive and fun experience.
These products will be showcased at a special display during CES 2010.
This year's advanced project is Waveface, ASUS' context-based vision of digital life.
"ASUS believes that the future of information technology will be rooted strongly in mobility, with the cloud at its heart. By embedding multiple sensors in products, virtually every element in the user?s environment?and, indeed, even the user?s own physiology and emotional state?can be sources of rich data that can be leveraged to deliver the right information and services, at the right time," Asus said.
Three Waveface concept products will be on show at CES 2010:
Waveface Casa
The Waveface Casa is a large widescreen display that acts as both entertainment center and internet portal. When not in use, a flexible, decorative cover obscures most of the screen, only exposing small areas that display contextually-relevant information.
Waveface Light
Equipped with a touch-sensitive screen and backed by a soft, flexible material, the Waveface Light is an interface to the cloud that can be used in a conventional screen-keyboard configuration or as a flat, single-screen tablet.
Waveface Ultra
A highly-portable device that can be strapped to one's wrist, the Waveface Ultra provides anywhere, anytime access to information and services. Its display can be snapped flat to enlarge the viewing area.