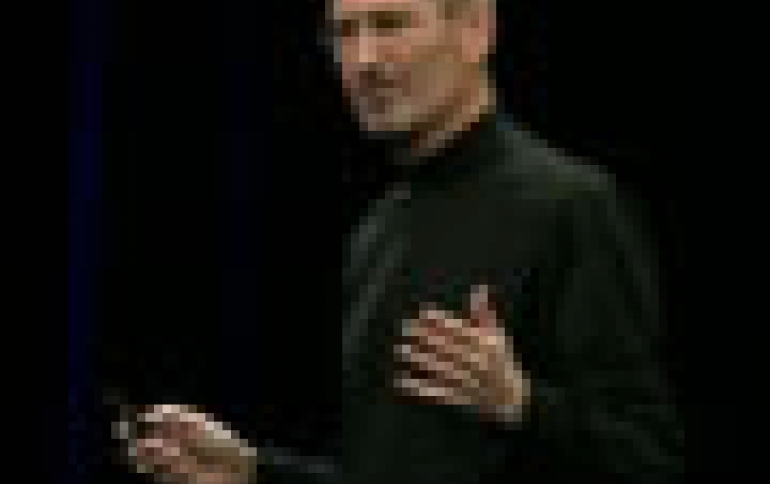 Apple Unveils Ultra-thin "Air" Laptop, Web Movies
Apple on Tuesday launched an aluminum-clad laptop just three-quarters of an inch thick, as well as upgrades to its iTunes. Steve Jobs' talents as a showman were on display when he took the stage at the annual Macworld convention in San Francisco .
He detailed a series of new products and services but saved the laptop, dubbed the MacBook Air, for last.
Jobs said the new notebook was the thinnest available, measuring 0.76 inches at its thickest point and tapering to just 0.16 inches.
In addition to a 13.3-inch LED-backlit widescreen display, MacBook Air offers a full-size and backlit keyboard, a built-in iSight video camera for video conferencing, and a spacious trackpad with multi-touch gesture support, letting users pinch, rotate and swipe. The new notebook is powered by a 1.6 GHz or 1.8 GHz Intel Core 2 Duo processor with 4MB L2 cache, and it includes as standard features 2GB of memory, an 80GB 1.8-inch hard drive, and the latest 802.11n Wi-Fi technology and Bluetooth 2.1.
Priced from $1,800, the Air bridges the gap between Apple's entry-level and high-end laptops, but analysts voiced concern that it could steal customers away from pricier products.
Phil Schiller, Apple's vice president of marketing, said the new laptop could appeal to a large swath of customers, including business travelers, those in education and people who wanted a more attractive computer at home.
Jobs showed off new iPhone features such as displaying a user's location on a map and a way to customize the main screen with icons linking directly to specific parts of a Web site. IPhone users will be also able to text message multiple people in one message; create Web Clips for their favorite websites; customize their home screen; and watch movies rented from the new iTunes Movie Rentals right on their iPhone. All these will be available through iPhone software update v1.1.3.
"The iPhone is not standing still. We keep making it better and better and better," Jobs said.
But the company has struggled to find a big audience for Apple TV, a product originally designed as a Mac accessory for watching Internet video on a television and unveiled alongside the iPhone a year ago. A new version of Apple TV will be able to connect to the Internet directly and download TV shows, movies and music through iTunes. Viewers will be able to choose movies directly from their TVs and Apple said viewers could start watching within seconds if they had a fast Internet connection. Jobs announced deals with all six major movie studios and several smaller ones to offer movies for rental through iTunes, with new releases costing $3.99 and library titles $2.99. High-definition movies will also be available.
20th Century Fox, Walt Disney, Warner Bros, Paramount, Universal, Sony Pictures, Lionsgate, MGM and New Line have all signed on to Web rentals, Apple said.
Apple also announced iTunes Digital Copy for iTunes, which provides customers who purchase a DVD of a Fox movie title with an additional Digital Copy of the movie. The iTunes Digital Copy can be transferred to iTunes and then viewed on a PC or Mac, iPod with video, iPhone or on Apple TV?just like a movie purchased and downloaded from the iTunes Store. The first DVD to debut with iTunes Digital Copy is being released in stores today. It?s the Special Edition DVD premiere of the Family Guy "Star Wars" parody, "Family Guy Presents: Blue Harvest," and the first of many more to come.