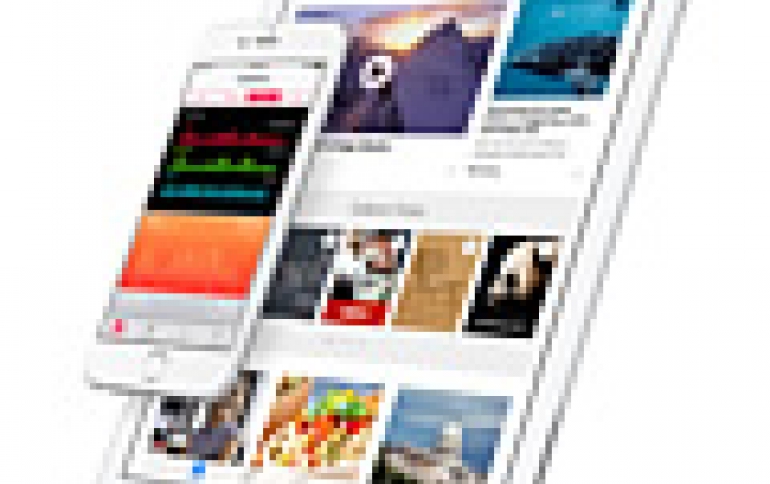 Apple Unveils New Watch Bands, iPhone Recycling Robot And iOS 9.3
Besides the announcements of the new iPhone SD and the 9.7-uinch iPad Pro, Apple today released iOS 9.3, new Apple Watch bands and procided information about the robotic system called Liam used to take apart junked iPhones.
New Apple Watch nylon band, new Sport colors
Appel has added add red, orange, blue, brown, and gray colors to your wrist.
The company will now sell a woven nylon band option that features a four-layer construction and comes in some flashy colors, including light blue, pink, and yellow. The Sport band collection is receiving some new colors as well, and Apple has also added a black version of the luxe Milanese Loop band.
Each Apple Watch comes with just one band - if you want extra options, you'll have to shell out more money. Additional bands don't come cheap, either: the Sport bands are $49 each and the Milanese Loop along with the Classic Buckle straps are $149 when purchased separately.
As for the Watch itself, it's being reduced to $299 from the previous base price of $349.
Recycling Robot Takes Apart iPhones
Apple kicked off today's event by talking about recycling and enviromental measures the company takes in order to become a fully "green" company.
As part of its efforts, the company said it is using a robotic system called Liam to take apart junked iPhones and recover valuable materials that can be recycled, such as silver and tungsten.
The move is an attempt to address criticism that Apple's products, while sleek and seamless in design, are so tightly constructed that their components can be difficult to diassemble, refurbish and reuse.
Liam will initially focus on the iPhone 6. Apple plans to modify and expand the system to handle different devices and recover more resources, the company said.
The system can take apart one iPhone 6 every 11 seconds to recover aluminum, copper, tin, tungsten, cobalt, gold and silver parts, according to Apple.
The recycling system consists of 29 robotic modules on a single site near Apple's headquarters in Cupertino, California. It will focus initially on iPhone 6 phones sold in the United States, where Apple gets about 40 percent of its revenue.
A second Liam is being installed in Europe, Apple said.
iOS 9.3 released
Today also marks the official release of iOS 9.3. iOS 9.3 has been in beta for quite some time now, with there being both a developer and a consumer beta stream. The update brings both new features and bug fixes included.
Possibly the most significant feature in iOS 9.3 is Night Shift. It basically alters the white balance of your display to reduce the blue component of luminance and offer you an easier sleep.
Night Shift has a few options. You can enable or disable it from the settings app or from Control Center, and you can also set it to enable on a schedule. There's also a slider that controls how far the white point is shifted toward red, with the warmest setting being about as far as you can go without disrupting usability.
Another notable iOS 9.3 feature is support for Touch ID in the Notes application.
The update also brings some changes to the Health app. It now integrates deeper with the Activity application that gathers data from the Apple Watch, and includes a new dashboard pane that summarizes your exercise info from the Activity app. Apple has also added sliders in certain sections that can reveal featured apps that integrate and aggregate data in the Health app.
iOS 9.3 also offers new features for Apple CarPlay. The "For You" option in Apple Music for CarPlay now include songs, artists and albums picked by curators and content based on your preferences, which will be displayed on the CarPlay screen. There is also a Nearby feature in Maps for CarPlay that lets you find gas, parking, restaurants, coffee shops and more points of interest with a simple tap.
In addition, Apple said the best classroom experience is about to get better through iOS in Education - which is integrated within iOS 9.3. Features built into iOS in Education include Shared iPad for students, a new Classroom app, Apple School Manager and Managed Apple IDs.
For iPhone 6s and 6s Plus users, iOS 9.3 adds 3D Touch support from the home screen for a few additional applications, including Weather, App Store, Health, Compass, Settings, and Stocks.
iOS 9.3 will be coming to compatible iOS devices today. It will be supported on all devices that support iOS 9, which includes all iPads from the iPad 2 onward, and all iPhones from the iPhone 4s onward.
Apple is dropping update to OS X 10.11.4, tvOS 9.2, and WatchOS 2.2. The audates are available to download today for all supported devices.
The tvOS update fixes a lot of the platform's most glaring omissions, including voice dictation for usernames and passwords and folder support for the home screen. Bluetooth keyboard support is also back. WatchOS 2.2 mainly adds a new version of the Maps app with support for searching for nearby locations. It also supports pairing multiple Apple Watches to a single iPhone.