Apple Introduces 16-inch MacBook Pro, New Mac Pro and Pro Display XDR
Apple today unveiled a new 16-inch MacBook Pro notebook and confirmed that the Mac Pro, desktop and Apple Pro Display XDR will be available in December.
The new MacBook Pro features a 16-inch Retina Display, the latest 8-core processors, up to 64GB of memory, next-generation graphics with up to 8GB of VRAM and a new thermal design.
It is featuring a new Magic Keyboard with a redesigned scissor mechanism and 1mm travel for a more satisfying key feel. The 16-inch MacBook Pro also includes a six-speaker sound system, longer battery life, Touch Bar, Touch ID, the Force Touch trackpad and the Apple T2 Security Chip.
Pros love the 500 nit, P3 wide color gamut Retina display on MacBook Pro, and at 16 inches, it's the largest Retina notebook display ever. It is featuring a resolution of 3072x1920 and a higher pixel density of 226 ppi to delivers nearly 6 million pixels. Each display is individually calibrated in the factory for accurate gamma, white point and primary colors.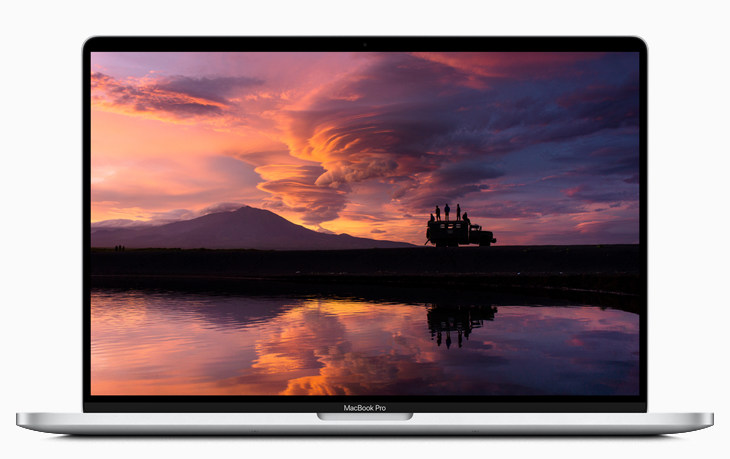 The 16-inch MacBook Pro features a new Magic Keyboard with a refined scissor mechanism that delivers 1mm of key travel and a stable key feel, as well as an Apple-designed rubber dome that stores more potential energy for a responsive key press. The new Magic Keyboard also features a physical Escape key and an inverted-"T" arrangement for the arrow keys, along with Touch Bar and Touch ID.
The 16-inch MacBook Pro uses the most advanced thermal architecture ever in a Mac notebook to enable the system to run at higher power for sustained periods of time. The fan design features a larger impeller with extended blades along with bigger vents, resulting in a 28 percent increase in airflow, while the heat sink is 35 percent larger, enabling significantly more heat dissipation than before. Together, these advancements in cooling capacity allow the 16-inch MacBook Pro to sustain up to 12 more watts during intensive workloads than the previous design.
To deliver fast performance, the 16-inch MacBook Pro features the latest 6- and 8-core 9th-generation processors with Turbo Boost speeds up to 5.0 GHz. In terms of graphice, the laptop features new AMD Radeon Pro 5000M series graphics — the first 7nm mobile discrete GPUs for pro users. Paired with GDDR6 video memory and with an 8GB VRAM option for the first time, pro users will be able to tackle GPU-intensive tasks faster than ever.
To power all this performance, MacBook Pro features a 100Wh battery for an additional hour of battery life of up to 11 hours of wireless web browsing or Apple TV app video playback.
The new MacBook Pro also doubles the SSD storage to 512GB and 1TB on standard configurations. And for the first time, MacBook Pro can be configured with a 8TB of storage — the largest SSD ever in a notebook.
The 16-inch MacBook Pro also introduces a completely redesigned six-speaker, high-fidelity sound system. New Apple-patented force-canceling woofers use dual opposed speaker drivers to reduce unwanted vibrations that distort sound. An upgraded high-performance mic array delivers a 40 percent reduction in hiss and an improved signal-to-noise ratio that rivals that of popular professional-grade digital microphones.
Starting at $2,399, the 16-inch MacBook Pro is available today through apple.com and the Apple Store app. It will be in Apple Stores and Apple Authorized Resellers in the US later this week and coming soon to stores around the world.
Mac Pro and Pro Display XDR
Apple also announced that the new Mac Pro desktop, and Apple Pro Display XDR will be available in December.
Mac Pro features workstation-class Xeon processors up to 28 cores, a high-performance memory system with a massive 1.5TB capacity, eight PCIe expansion slots and a graphics architecture featuring the world's most powerful graphics card.
Pro Display XDR features a 32-inch Retina 6K display with P3 wide and 10-bit color, 1,600 nits of peak brightness, 1,000,000:1 contrast ratio and a superwide viewing angle.
Mac Pro starts at $5,999 and Pro Display XDR starts at $4,999. Both will be available to order in December through apple.com.
16-inch Macbook Pro Specs
Price $2399 and $2799 (for the provided configurations)
Finish: Silver Space Gray Display
Retina display: 16‑inch (diagonal) LED‑backlit display with IPS technology; 3072‑by‑1920 native resolution at 226 pixels per inch with support for millions of colors
Supported scaled resolutions:

1920 by 1200
1680 by 1050
1280 by 800
1024 by 640

500 nits brightness
Wide color (P3)
True Tone technology
Refresh rates: 47.95Hz, 48.00Hz, 50.00Hz, 59.94Hz, 60.00Hz
Processor:

2.6GHz 6‑core Intel Core i7, Turbo Boost up to 4.5GHz, with 12MB shared L3 cache

Configurable to 2.4GHz 8‑core Intel Core i9, Turbo Boost up to 5.0GHz, with 16MB shared L3 cache

2.3GHz 8‑core Intel Core i9, Turbo Boost up to 4.8GHz, with 16MB shared L3 cache

Configurable to 2.4GHz 8‑core Intel Core i9, Turbo Boost up to 5.0GHz, with 16MB shared L3 cache

Storage:

512GB SSD, configurable to 1TB, 2TB, 4TB, or 8TB SSD
1TB SSD, configurable to 2TB, 4TB, or 8TB SSD

Memory:
16GB of 2666MHz DDR4 onboard memory , configurable to 32GB or 64GB of memory
Graphics:

AMD Radeon Pro 5300M with 4GB of GDDR6 memory and automatic graphics switching

Intel UHD Graphics 630
Configurable to AMD Radeon Pro 5500M with 4GB of GDDR6 memory or AMD Radeon Pro 5500M with 8GB of GDDR6 memory

AMD Radeon Pro 5500M with 4GB of GDDR6 memory and automatic graphics switching

Intel UHD Graphics 630
Configurable to AMD Radeon Pro 5500M with 8GB of GDDR6 memory

Charging and Expansion: Four Thunderbolt 3 (USB-C) ports with support for:

Charging
DisplayPort
Thunderbolt (up to 40Gb/s)
USB 3.1 Gen 2 (up to 10Gb/s)

Full-size backlit Magic Keyboard with:

65 (U.S.) or 66 (ISO) keys including 4 arrow keys in an inverted‑T arrangement
Touch Bar
Touch ID sensor
Ambient light sensor
Force Touch trackpad for precise cursor control and pressure-sensing capabilities; enables Force clicks, accelerators, pressure-sensitive drawing, and Multi-Touch gestures

Wi‑Fi

802.11ac Wi‑Fi wireless networking
IEEE 802.11a/b/g/n compatible

Bluetooth: Bluetooth 5.0 wireless technology
Camera: 720p FaceTime HD camera

Video Support: Simultaneously supports full native resolution on the built-in display at millions of colors and:

Up to two displays with 6016‑by‑3384 resolution at 60Hz at over a billion colors
Up to four displays with 4096‑by‑2304 resolution at 60Hz at over a billion colors

Thunderbolt 3 digital video output

Native DisplayPort output over USB‑C
VGA, HDMI, DVI, and Thunderbolt 2 output supported using adapters (sold separately)

Audio

High‑fidelity six‑speaker system with force‑cancelling woofers
Wide stereo sound
Support for Dolby Atmos playback
Studio‑quality three-mic array with high signal-to-noise ratio and directional beamforming
3.5 mm headphone jack

Battery and Power

Up to 11 hours wireless web
Up to 11 hours Apple TV app movie playback
Up to 30 days of standby time
Built‑in 100‑watt‑hour lithium‑polymer battery2
96W USB‑C Power Adapter

Size and Weight

Height: 0.64 inch (1.62 cm)
Width: 14.09 inches (35.79 cm)
Depth: 9.68 inches (24.59 cm)
Weight: 4.3 pounds (2.0 kg)

Operating System: macOS